Amy Shark pens the type of lyrics you want tattooed on your forearm. It's kind of poetry you're typing and deleting in an anxiety drenched message to that special someone. Musically, it strikes an equilibrium between heart-blaring vulnerability and ease.
"It's important for me to not hold back, and I just want to write good songs, stories that can also help people," said Amy on the enthralling creative process for her debut album Love Monster.
For Amy, Love Monster is a confident statement ten years in the making. At its core, Love Monster is a telling narrative detailing life's ups, pleasure and trying times, coated in a modern alternative-edged pop production blanket.
"Everything's sounding the same at the moment and I just want a different sound that kind of reflects the 90s a little bit and then have a little bit of that punk flair, and R&B, soul. It's a big juggling act when I'm in the studio trying to get that 'Shark' sound, but I get there eventually."
When her breakout hit 'Adore' was unleashed on to an unsuspecting world in 2016, it showcased a sophisticated sense of perfect pop minimalism with a universal message. It captured the hearts of the nation and accumulated a string of prestigious accolades and saw Amy take to the stage of the country's biggest festivals. Amy has dominated the Aussie music circuit for the last two years.
Despite the whole world watching, Love Monster is Amy's most emotionally open effort yet. The key to this vulnerability Amy says, is the ability to detach oneself from the expectations of others, and of course, practice.
"It's like anything you do, if you practice it and you do it for long enough you're going to get good at it. I just did what I always have done, but the only thing I did keep in mind was that I do have an audience."
"The minute I start worrying about that that's just going to kill my vibe so I just try and detach everything and just write the way I've always kind of written, only now I understand it more."
"But I think why this all happened and why Adore connected and everything was because I didn't really hold back and I just kept it really quite real, and didn't really obsess over who's going to listen to it, who's going to play it, is it going to fit in with radio."
Lead single 'I Said Hi' stormed the Australian charts upon its release – a tale of overcoming the expectations of others and spitting in the face of adversity. The track has already managed to nab Platinum status – the lead up to the release of Love Monster is one of excitement and nerves.
"It's important for me to not hold back, and I just want to write good songs, stories that can also help people"
"I'm so anxious about this album. I didn't have 16 writers writing with me on this record, I did it all myself and it's been a build up for the last 10 years, and it's all my very, very personal stories, so I'm not doing a bunch of co-writes, this is legit out of my soul, so it's different, I feel like it's different."
"I'm not saying I'm the only one doing that, there's plenty of people doing that, but that's why I'm a little bit more apprehensive and just, taking deep breaths before this is released."
Tracks on Love Monster like ultra-vulnerable 'The Idiot' show Amy at her most confessional.
"There are songs like The Idiot that people are going to be like, "Yeah I know that, that's about me, or I know that's about that person, and that was a really shitty time for her", and I don't know, I just know that people will ask questions. Everyone, I think everyone can relate to a story like The Idiot. So, it's a hard balance, fam. It's really hard."
Although the themes on Love Monster deal with universal feelings of infatuation, fear, regret and hope, it's the intricacies and subtleties within Shark's poetic writing that send each track into a near realm of personable.
"I try and pick words that are going to explain the situation and tell the story just with as minimal as possible, but also not being super obvious. And, a lot of the time I don't even really think about it, I just kind of find a riff, or find a guitar bit that I'm really liking and proud of and think that it sounds cool, and then I'll just spit some stuff out and it's like it's all in my subconscious, there's all these little – I guess I've come accustomed to just picking, cherry-picking really tiny moments that we all, like some people just skim over?"
"It was pretty full on, like I'm working with someone with Jack Antonoff and he's done Taylor Swift and Lorde and Sia and all this amazing shit, and I have to write to him and say 'Hey, I think this snare's a bit loud at 1 minute 57,' and it's like who am I to write that?"
Musically, Love Monster culminates in a stunning glow of synth pop, hip hop grooves, nostalgic, punk-tinged hooks and whimsical indie textures – it's a lot to take in, boiled down to a concise, hook-laden feast.
Pop this perfect requires meticulous attention – provided with guidance from some of the industry's best.
"It was pretty full on, like I'm working with someone with Jack Antonoff and he's done Taylor Swift and Lorde and Sia and all this amazing shit, and I have to write to him and say, 'Hey, I think this snare's a bit loud at 1 minute 57,' and it's like who am I to write that?"
"I literally got told 'Go and make an album,' and that was just the best thing ever, 'cos I just was left alone and I could work with people that I wanted to work with, and I guess just with having the life experience that I've had, I'm a little bit more confident and stronger and I'm not scared to voice my opinion."
Jack Antonoff isn't the only A-lister to pop up in the credits for Love Monster, pop punk legend Mark Hoppus of blink-182 lent his hook-writing abilities to the track Psycho. A photo of Mark and Amy hanging out in LA circulated around the internet last year, sending music fans into total disarray in the hopes of a collaboration. Meeting, let alone working with a member of blink-182 is every pop punk kid's dream – one that came very true for Amy.
"I was actually on my way to LA and I went and met him for a coffee and Mark is just obsessed with music. Tom's obviously got so many other interests in film, and aliens and all of his conspiracies, Travis has a lot of rap work he does on the side, but Mark is like, music, he just thrives on it, that's how he breathes."
"So we just spoke about music for so long and he was just so interested in the album and what I was doing, and I said to him, I'd love for you to be involved and he kind of just jumped on it, like, 'Yes, I'd love to be involved too if you've got time while you're here,' and so I kind of left everything to him."
"He arranged for us to go to David Grohl's private studio and I sent him Psycho that night and he was like, "I love this song, I love the demo of it, I want to do it". So then we were in the studio and this is the first time I really got the taste of, this is a real rock star right here, this guy has seen big record sales and he's big money."
As a pop punk lover, there's no surprise Amy's music effortlessly embraces vulnerable feelings of infatuation and angst – Love Monster pays homage to the sounds of her youth.
"I've listened to so much punk for so many years that, I think I was obsessed with it because those melodies are so hooky and a lot of the time I'll listen back to an old punk album like Sum 41 or Jack's Mannequin or whatever, and it's quite rhyme-y, and the lyrics aren't as good as I remember them but the melodies and the hooks are just incredible and that's what I was obsessed with and that's what I think of sort of borrowed, those ideas for my songs."
Love Monster is out now. 
AMY SHARK – 'LOVE MONSTER' AUSTRALIAN TOUR
Presented by triple j, UNIFIED and Select Music 
FRIDAY 24 AUGUST – HQ, ADELAIDE
SATURDAY 25 AUGUST – METROPOLIS, FREMANTLE
FRIDAY 31 AUGUST – THE FORUM, MELBOURNE
SATURDAY 01 SEPTEMBER – ENMORE THEATRE, SYDNEY
FRIDAY 07 SEPT – THE TIVOLI, BRISBANE
SATURDAY 08 SEPTEMBER –NIGHTQUARTER, GOLD COAST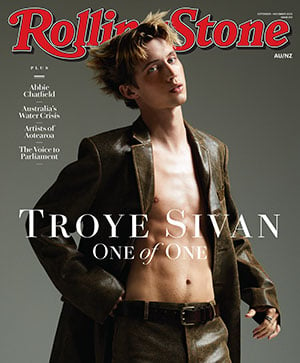 Get unlimited access to the coverage that shapes our culture.
Subscribe
to
Rolling Stone magazine
Subscribe
to
Rolling Stone magazine