Bluesfest Byron Bay has pulled off another incredible year of soulful hits and unforgettable music moments.
The Byron Bay event is a communion of culture. Indeed the festival's Founder and Director Peter Noble noted in a speech this year that he and the festival itself have become inextricably linked to the local community.
"I'm part of Byron. I've been part of Byron for over 30 years, and I'm not going to go 'I'm part of Byron' and some other guy owns me and all I end up with at the end of it all is a backstage pass to the event I created," he said, adding, "We're an institution and we're not going anywhere."
As well as the rewards, Noble and festival organisers are well aware of the risks associated with staging such an epic show, particularly during the past half-decade, where the country has been ravaged by everything from fires and floods to pandemics and lockdowns. On top of the weather risks, there's artist fees and staging, staff and insurance costs, all of which have to be offset by selling enough tickets.
The festival didn't scrimp on costs though – this year they offered up twice the bar staff, reducing wait times for drinks and improving the overall reveller experience.
Despite the myriad challenges, Bluesfest remains committed to staging the show every year, with a focus on strong lineups facilitating the artists' visions.
We already can't wait for next year, but to highlight the best performances of 2023, here is our review of the top 13 highlights (in alphabetical order).
Love Live Music?
Get the latest Live Music news, features, updates and giveaways straight to your inbox Learn more
1. Beth Hart
Singer-songwriter Beth Hart's heartfelt and emotional delivery was one of the highlights of the festival, as she poured her soul into every song and left the audience spellbound. Her powerhouse vocals were a force to be reckoned with, and her performance was a true testament to the power of music to move and inspire.
2. Bonnie Raitt
Blues legend Bonnie Raitt's soulful voice and virtuosic guitar playing were a true highlight of Bluesfest 2023. Her ability to convey raw emotion through her music and her dedication to the blues were on full display and her performance was one of the most memorable of the festival.
3. The Cat Empire
Australian band The Cat Empire brought their infectious energy and unique blend of funk, jazz, and Latin rhythms to the Bluesfest stage, delivering a performance that had the crowd dancing and singing along from start to finish. Their showmanship and musicianship were top-notch, and their set brought people together and created a sense of community and joy.
4. Eric Gales
Guitar virtuoso Eric Gales delivered a masterful performance at Bluesfest 2023 that left the audience in awe.
5. Eric Stang with Clarence Bekker Band
Eric Stang with Clarence Bekker Band played to a packed tent. Their musical prowess made for a standout performance at Bluesfest 2023. My personal favourite.
6. Kaleo
Icelandic rockers Kaleo took the Bluesfest stage by storm, delivering a powerful and energetic set that had the crowd on their feet and singing along to every word. Their blues-infused rock sound was a perfect fit for the festival, and their musicianship and showmanship left a lasting impression on all who were lucky enough to witness their performance.
7. Keb' Mo'
View this post on Instagram
I posted on my instagram that when I grow up, I want to be Keb' Mo'. I stand by it.
Bluesman Keb' Mo's vintage sound transported the audience back in time to the golden age of blues. His talent as a musician and his dedication to the genre was on full display, and his performance was one of the most memorable of the festival.
8. LP
Singer-songwriter LP's powerful vocals and catchy melodies were a perfect fit for the Bluesfest stage. Speaking to punters throughout the weekend, this powerful performance was many attendees' favourite.
9. Marcus King
Guitar prodigy Marcus King's bluesy solos and soulful vocals has everyone at Bluesfest absolutely captivated. He left the stage and we wanted more.
10. Michael Franti
View this post on Instagram
Michael Franti's infectious energy and positive message is Bluesfest 101. His set is church for the unchurched, and was one of the most uplifting and inspiring of the festival.
11. Paolo Nutini
With a setlist that spanned his entire career, Nutini took the audience on a journey through his music that left a lasting impression.
12. Tash Sultana
No Bluesfest review would be complete without mentioning one-person band Tash Sultana. Their incredible talent and unique sound made for an unforgettable performance at Bluesfest 2023. Their virtuosic guitar skills and mesmerising voice had the audience captivated from start to finish, and their genre-defying sound was a masterclass in musical experimentation and innovation.
13. Vintage Trouble
Vintage Trouble are a Bluesfest staple and for good reason – their high-energy showmanship and soulful sound consistently delivers a set that is both electrifying and entertaining. They are always a must-see and this year was no different.
Check out some photo highlights from Bluesfest here.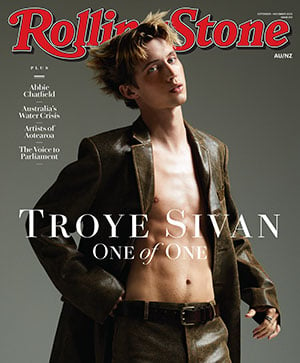 Get unlimited access to the coverage that shapes our culture.
Subscribe
to
Rolling Stone magazine
Subscribe
to
Rolling Stone magazine