Dave Grohl is one of rock n roll's remaining sole defenders, standing up for its original ethos and sound in a world that often shoot down its relevance. Having previously gone on record to say that he believes the genre is "alive and well", it'd be fair to assume the Foo Fighters frontman would be in the know when it comes to up and coming acts who are changing the game.
In a recent interview on the Brits red carpet, Jimmy Hill from Radio X asked the legendary frontman what he'd been listening to at the moment, to which he replied,
"Lil Pump. That's all I gotta say. Lil Pump. I'm not kidding man. I got sucked into Lil Pump's world and I'm stuck. I can't get out!"
Hear us out – there are striking similarities between the SoundCloud rap stalwarts and the rebellious nature of punk, with its distinctly youthful, rowdy nature playing a massive role in the overall sound and aesthetic, so it's not too surprising Dave has found himself gravitating towards it.
The musical foundations of the recent rap style are increasingly less polished and have a slightly aggressive edge, without compromising catchiness, removing itself from the clean-cut beats and superficiality of radio hip hop.
If you're thinking Grohl was simply taking the piss, he continued to mention a few of his favourite tracks by the 17-year-old rapper, "I've got Gucci Gang, I've got D-Rose. D-Rose is kind of my jam", continuing to lay down a few bars including, "I drive foreign cars, I fuck foreign bitches. Hundred on my wrist, eighty on my wrist."
Having released Concrete And Gold last year, we might not be hearing another Foo Fighters album for a while, however with Grohl musing, "why can't we write fucking songs like that?", it seems like the band could be taking a bit of a stylistic turn.
Check out the full interview below: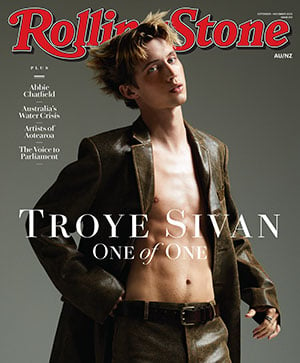 Get unlimited access to the coverage that shapes our culture.
Subscribe
to
Rolling Stone magazine
Subscribe
to
Rolling Stone magazine