Behind every copy of Chicago 18 you see in op-shops for a dollar or two could be sitting a rare gem worth more than the building it is being sold from. That's the thing about vinyl, it is highly collectable, but also highly disposable, which means sometimes you strike it lucky and score a valuable find.
In the spirit of this, here are five of the most expensive records ever bought, sold, and hoarded.
Wu-Tang Clan – Once Upon a Time in Shaolin
Wu-Tang might be for the children, but even the Sultan of Brunei's kids would probably pass on this ultra-rare Wu-Tang album.
Of course, its value was build into it from the start, with only one copy ever produced, and auctioned to the higher bidder. Unfortunately for humanity, it was Pharma-terrorist Martin Shkreli — aka the most punchable man in the world — who won the bid, forking over US$2m for bragging rights.
Wu-Tang member Ghostface Killah wasn't happy, calling him a "shithead" and saying he should released the music to the people.
Ringo's copy of The White Album
In Paul McCartney's biography, he said that John got the first ever pressed copy of The Beatles eponymous 1968 album (after the band gave EMI pressing plants a migraine by insisting the covers each be individually-numbered), but in 2015 it was revealed that Ringo actually got copy No. 0000001 and was selling it.
Love The Beatles?
Get the latest The Beatles news, features, updates and giveaways straight to your inbox Learn more
The record went for a whopping US$790,000, despite the fact that Ringo almost certainly spilled baked bean sauce on it at some point. For comparison's sake, a copy of Sgt. Pepper's signed by all four Beatles only fetched $290,500 in 2013.
The Quarrymen – That'll Be the Day/In Spite of All the Danger
A 78-rpm acetate of the first ever sounds committed to tape by the pre-Beatles Beatles is estimated to be worth £200,000. A 1958-pressed acetate, cased in a plain white sleeve, there was only one copy made, as it was produced for demo purposes only – and considering Sir Paul himself owns this copy, it's hard to imagine it will ever be sold. But if we were to break in…
Elvis Presley – My Happiness
The King's blistering cover of the Powderfinger classic… no, just kidding – it's actually a pop music standard, and a rather lacklustre recording, except it happens to be the first very thing that Elvis ever recorded, at Sun Studios in Memphis in August 1953.
Elvis claims he recorded the song as a gift for his mother, but Sun Records boss Sam Phillips seemed impressed by the young man (who was no doubt shaking out of nervousness, rather than as any signature dance move) and made a note. "Good ballad singer. Hold."
The acetate of this session was purchased by Jack White for US$300,000 in early 2015. White obviously bought the rights to the recording too, as he repressed the record and put it out through his own label on Record Store Day.
John and Yoko's Double Fantasy
What is it about these Beatles that inspires such rocketing prices?
Well, in the case of a version of John Lennon and Yoko Ono's Double Fantasy, it's a rather grim tale – this was the very last copy of anything John Lennon is known to have signed, just five hours before he was murdered. Not only that, but it was signed for one Mark David Chapman – John's murderer.
The record fetched US$150,000 when it was sold in 1999, but given the immense historical value of such an artifact, the price will only rise and rise.
Even if you don't have any $100,000+ records in your collection, you still need to take care of them. Danish company AM have a range of products designed to make your vinyl deliver the cleanest sound possible. Head over their website to check out some of the amazing products they have on offer – after all, you wouldn't drop money on a Ferrari and then scrimp on the oil.
Take your music seriously. (That's not their official slogan – but it sounds good, just like your records will after cleaning them with AM)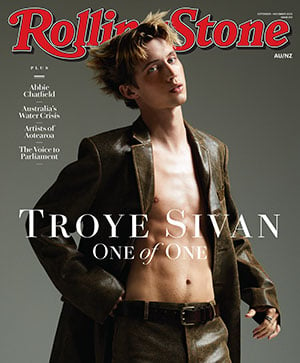 Get unlimited access to the coverage that shapes our culture.
Subscribe
to
Rolling Stone magazine
Subscribe
to
Rolling Stone magazine