The mammoth one. The notorious one. If a music event still running today could ever be compared to the Holy Grail than Glastonbury would be it.
We could list a mountain of acts to prove as much, but it might be quicker to list who hasn't played the event. And do we really need to mention its popularity? 135,000 tickets sold in 2013 does all the talking there needs to be done that issue.
First held in 1970 and seen as a direct result of the free festival movement and the hippie ethics of that time, current organizer Michael Eavis took over head duties in 1981.
Eavis gradually turned the event from a small time music paradise into the world's leading music festival over the course of 40 plus years. While the 2005 event saw a peak ticket sales of 153,000 future events were capped at 135,000 to ensure the future longevity of not just the event but the site at Worthy Farm.
Typically held annually there have been years where the event has been rested such as in 2001, 2006 and most recently in 2012 due to the London Olympics to again ensure the Glastonbury legacy can live on.
While booking the world's biggest acts along with a select group of up and comers is undeniably what has allowed for the festivals reputation Glastonbury has retained the Green Fields area in order to preserve its hippie past.
There should be little convincing needed to be on our part to get you to Glastonbury.
While it's on the same audience scale as Coachella, Roskilde and Rock In Rio the British festival's reputation stands above its contemporaries because it has not only consistently booked lineups that beggars belief but because it provides a festival experience that so many others have strived to replicate.
For the full ticket details and other need to know information read on below for our five-step guide to event.
1. Book Ahead Before It's Too Late
Standard weekend passes go on sale on October 5th, but there's a few things you need to know before the mad rush for tickets begin. The full price for tickets £220 plus a £5 booking fee which translates to approximately $410 AUD. Tickets go on sale at 9am BST which is 6pm AEST. But first you must register before tickets come on sale to be eligible for Glasto 2015. You can do that via this link.
2. How To Get To The Festival Site
From London there are several ways to get to the Glastonbury festival site. The festival actively encourages punters to make their way there via public transport or bicycle to reduce their carbon footprint. Those that do will become a Festival Green Traveller (read more about the benefits in the Tips section).
In 2013 the festival partnered with First Great Western to run additional train services between London Paddington and Castle Cary stations. The earlier you travel the cheaper your fare will be with ticket prices starting from $40.
From Castle Cary ticketholders can access a free shuttle bus to the Festival Bus Station.
If you happen to be travelling to the festival from cities other than London the 2014 bus partners, National Express, offer services from over 60 locations. You can find more information here.
Those driving are required to purchase car park tickets, which are valued around $40 and will be available next April. From London drivers are suggested to take the M3 to the A303 and then the A37 route. More specific information from different locations can be accessed here.
If you're really keen bike options are detailed here. Those who are travelling with campervans will have to purchase a pass valued at $145, which goes on sale in next April.
3. All The Camping Information You Need To Know
In the likely event that Aussie travellers rule out campervans their next two options are either tents or the festival's legendary tipis. Tipis will set you back a whopping $1600 with a groundsheet, rain catcher included although you must bring your own bedding and camping equipment.
Camping then?
With the price included in your ticket things are a little less jaw dropping. There are several camping areas with each having their own vibe. Pennard Hill Ground is seen as lively, while Limekilns and Hitchin Hill Ground are far quieter.
If you're worried about finding a camping space for you and your friends take a quick look at this map and the long list of options should alleviate your fears.
4. From ATMs to Phone Charging Stations We've Got The Answers To Your FAQs
On the practical side of things Glastonbury has you covered with more than 4,500 toilets across the festival site with free paper rolls available at information points.
There are several ATMs located on site with NatWest Cash Machines, that don't include fees, located near the farmhouse. Other ATMS can be found near Park Home Ground Medical Centre, near the John Peel stage and on the walkway between the Jazz World Stage and the Other Stage. EE phone charging stations – with WIFI included – are located around the grounds to ensure each and every partner can take part in the annual 'be annoying and take too many photos and brag on social media' contest. Or maybe to just let Mum know you're safe.
Property lock-up locations are situated around the grounds, are free of charge and give out free soap and toilet rolls.
Are you worried that buying a ticket to Glastonbury means you'll miss out on quality spiritual time? Don't fret! The festival site includes its own church, Harl Krishna, Jewish tent, Muslim Prayer, Healing Fields and other such locations which you can read more about here.
5. Extra Curricular Activities? Glasto's Got Plenty
A festival this size has a breadth of choice of things to experience outside of the main headliners. Theatre and circus? They've got it, a film-set world entitled Shangri-La? Yep. A kids area, dance village and green fields are all attractions worth checking out. Find more information here.
Shopaholics rejoice! The Glastonbury market will provide for the weird and the wonderful. While over 250 food stalls should keep the hungry fed regardless of what you're after.
For more details head to the official Glastonbury website.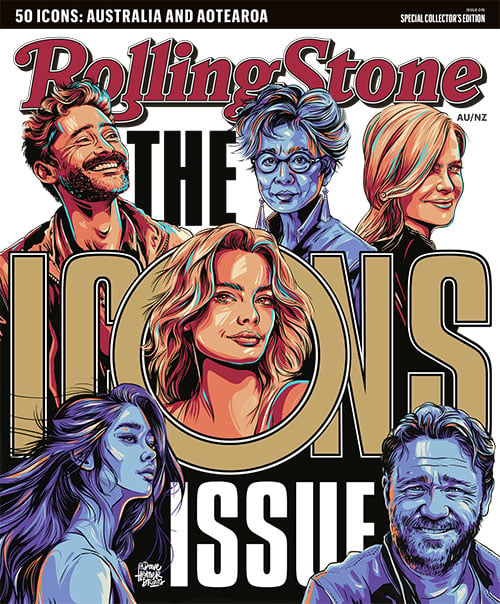 Get unlimited access to the coverage that shapes our culture.
Subscribe
to
Rolling Stone magazine
Subscribe
to
Rolling Stone magazine