It's the trans-Tasman music story that just keeps getting more and more bizarre each week. Now, beleaguered AC/DC drummer Phil Rudd has declared his intentions to return to his post with the legendary hard rock outfit, despite the fact that he is facing charges of threatening to kill and drug possession.
As New Zealand's One News reports, the troubled drummer recently told the news outlet, "I'm going back to work with AC/DC, and I don't care who likes it and who doesn't. I want my job back, I want my reputation back and I'm gonna get it back. I'm gonna fucking take it back."
[include_post id="428200″]
Of course, whether or not a return to keeping rhythm for the iconic group will help Rudd reclaim his "reputation" is up for debate. As Tone Deaf recently reported, the individuals Rudd allegedly threatened to kill were revealed by court documents to be a man and his 10-year-old daughter.
In his first interview since his much-publicised arrest earlier this year, the AC/DC sticks man described the charges initially laid against him, which famously included one charge of attempting to procure a murder, later dropped due to insufficient evidence, as "ludicrous".
"This has just been a big ball of cheese, and all the rats are gathering and having a piece. That's just life. But that's not who I am," he said. "Everyone listens to the wrong people. They should listen to me. I'm a good guy – and a pretty good drummer, by the way. Ask Angus [Young], he'll tell you."
[include_post id="424841″]
Since his arrest, Rudd had remained adamant that he is innocent, pleading not guilty during a recent court appearance. The embattled rocker, whose status with AC/DC is unclear at present, is scheduled to appear in court again in February, before the case goes to a judge-alone trial later in 2015.
While Rudd appears on AC/DC's latest album, Rock or Bust, guitarist Angus Young has stated that the drummer was unreliable during recording and that his personal troubles have prevented him from promoting the record – Rudd has not appeared in any recent press shots of the band or in their music videos.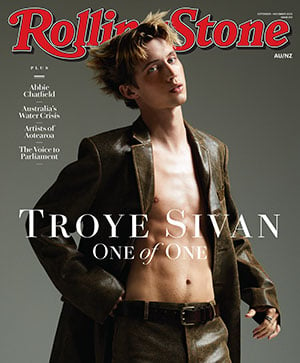 Get unlimited access to the coverage that shapes our culture.
Subscribe
to
Rolling Stone magazine
Subscribe
to
Rolling Stone magazine