There's some things money can't buy, for everything else there's always a corporate sponsor.
Yes, music and business mogul Jay-Z has a new album Magna Carta Holy Grail, announced in a rather unorthodox method via a commercial aired during ame five of the NBA Finals.
The video features Jay-Z and all-star producers Pharrell Williams, Swizz Beatz, Timbaland, and Rick Rubin in the studio working on the new record. According to Billboard, in addition to the cast seen in the clip, the album also boasts collaborators such as The-Dream, Drake, Nas and Justin Timberlake.
But don't be mistaken in thinking record companies have all of a sudden found some spare cash to splash around, this ad was paid for by Jay-Z's new corporate pals – South Korean electronic giant Samsumg.
It's all part of a $20 million deal Jay-Z signed last month, that has also seen Samsung buy up 1 million copies of the album before it's even hit the shelves. The company plans to hand out the copies for free a full 782 hours prior to its official release to 1 million Samsung mobile phone users reports ABC News.
With about 70 million smartphones in the global market in the fourth quarter of last year, and with a massive advertising presence to create awareness, Samsung is a large and effective distribution network for the artists it partners with.
Users will receive the music through the Magna Carta app, out later in the month.
But while you may be forgiven for thinking that the business deal guarantees instant platinum status to Magna Carta Holy Grail, Billboard and Nielsen SoundScan have indicated they won't count Samsung's purchases in its sales tallies.
The chart rules say that bulk sales can't count towards the final tally, so even if Jay-Z's biggest fan, say Beyonce, were to purchase a million copies of the album to throw from the rooftops they couldn't be counted as legitimate sales.
This rule doesn't apply to retailers such as Amazon, Bestbuy, or Walmart, the second largest music retailer after iTunes, as long as they intend on selling the music. According to rules, albums must be sold by a label/artist/music company to a retailer at a minimum of one-third of the album's recommended retail price.
According to those close to the Samsung/Jay-Z deal, the mobile phone manufacturer paid $5 a piece for each copy of the album, so unless his record company Universal intends on selling the rest of the albums for $15 they'll probably be ruled ineligible.
Not that Jay-Z cares.
"If 1 million records gets SOLD and Billboard doesn't report it, did it happen? Ha. #newrules #magnacartaholygrail Platinum!!!," he wrote on Monday.
If 1 Million records gets SOLD and billboard doesnt report it, did it happen? Ha. #newrules #magnacartaholygrail Platinum!!! VII IV XIII

— Mr. Carter (@S_C_) June 17, 2013
The partnership is part of Samsung's strategy to compete with rival Apple, who just announced the launch of their highly-anticipated radio streaming service, iTunes Radio. Part of iTunes Radio will include exclusive streams of forthcoming albums and tracks, similar to preview streams iTunes has been experimenting with on iTunes including the recently with Daft Punk and Queens Of The Stone Age.
For Jay-Z, the deal is great free advertising opportunity and despite what Nielsen or Billboard think, he has already notched up $US5 million in sales.
Either way, Jay-Z's $20 million deal with Samsung has definitely turned a few heads and could lead to more artists teaming up with corporate sponsors who are interested in leveraging fans of popular musicians to sell more of their own product.
It also isn't the first time that a musician has leveraged the ongoing battle over music technology to their advantage. Lady Gaga signed a deal with Amazon in 2011 that saw the music retailer sell her record Born This Way for only .99c with the rest of the album sales price covered by the online retail giant.
Last year Smirnoff also announced a massive discount on a modified version of Madonna's latest album, MDNA, selling it for just $3.50.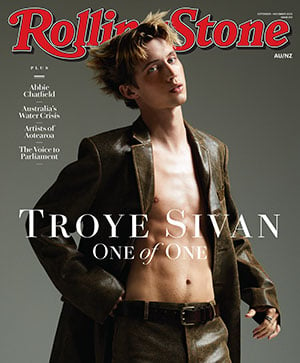 Get unlimited access to the coverage that shapes our culture.
Subscribe
to
Rolling Stone magazine
Subscribe
to
Rolling Stone magazine