To stand out in the pop world in the 2020s, you need to be a true original, a provocateur, and Slayyyter is both of these things.
The LA-based artist released her second album, STARFUCKER, last month, the sort of album that comes with a vinyl version too explicit for streaming platforms and storefronts.
"This album is meant to feel like a pop dream sequence about losing love and chasing fame," Slayyyter said about her album, which The Line of Best Fit described as taking the listener "on one hell of a night out," the electrifying Los Angeles adventure of your dreams (and nightmares).
And in an age of tiresome rumours of artists – often female ones – being industry plants, Slayyyter never had to worry about such accusations: she's an impressively self-made star, making the journey from a nondescript St. Louis suburb to the City of Angels through tireless hard work, SoundCloud bangers, and serious self-belief.
After the release of STARFUCKER, Tone Deaf caught up with Slayyyter to discuss her music, celebrity culture, and what she loves about Australia (stay for he endearing story about a pop superstar on the rise discovering the Down Under delights of chicken salt).
Slayyyter's STARFUCKER is out now.
Love Pop?
Get the latest Pop news, features, updates and giveaways straight to your inbox Learn more
Tone Deaf: How was it touring around Europe? Europeans love their dance and club bangers!

Slayyyter: It was incredible! It was over a year ago but I remember trying to go to clubs and raves after shows with my DJ. I had never really been out of the country before that tour and it was amazing to see and experience everything.

The term "starfucker" has always had slightly negative connotations. Did you want to reclaim the word by using it as your album title?

I think it's not really a reclamation and more of just a clever title that captures the idea of the whole project. 
I think we've all needed to return to the dancefloor and just enjoy ourselves after the difficult past few years. Was that something you were thinking about while making this album? Just give fans and listeners bangers to cut loose?

I think I naturally always gravitate toward dance music just because it's what I enjoy listening to. It wasn't a planned decision, and didn't really have anything to do with things being difficult. I just enjoy listening to dance and electronic.

There's always so much discussion of the "difficult second album" – did you feel anxiety coming into your sophomore record? Or were you just eager and raring to build on the successes of Troubled Paradise?

I don't think Troubled Paradise was successful at all. It did not perform well commercially but it did gain new fans for me. I feel like I still went into my second album being able to do whatever because of that, I didn't have one sound or aesthetic I needed to stick to. 

Does STARFUCKER differ greatly from Troubled Paradise in terms of themes?

There is actually a lot in common between the two, in terms of heartbreak and themes about life and death. 

I loved the music video for "Erotic Electronic"! How much fun was that to make?
It was crazy to make, I had never done anything like that before. We shot it on the fly in Hollywood in a couple of hours.

It must also be fun to play with listeners and fans' perception of Slayyyter the musician and Slayyyter the character presented in your songs?

Slayyyter the musician and character are both the same thing in my eyes. Me day to day is what's different I think. 

Is this album a time capsule of your last few years in LA? It must be fascinating to consider just how different your music might be if you made it in another city, US or elsewhere.
Definitely. This was the first city where I have lived on my own. I came here weeks before the pandemic began. 


I appreciate how much you embrace Hollywood and celebrity culture. There are no guilty pleasures – I even read in Rolling Stone that you're a fan of Heidi Montag's short-lived pop career. Do you think celebrity culture gets a bad rap in society?

I do! I think it's seen as a taboo to like care. But it's addicting. To be honest though, I don't think celebrity culture is really interesting anymore. There's a twitter account called pop culture died in 2009, and that sentiment is very true.
View this post on Instagram


Are there any Australian artists you're enjoying currently? I hear notes of Peach PRC and Cub Sport in your sound, both two excellent artists over here. 

Yes, I love Mallrat and Donatachi! Also Kylie Minogue is forever the queen.

Did you enjoy your Australian tour earlier this year? Any particular highlights

After one of the Groovin the Moo festivals, me and some buddies stopped at a fish and chip shop. My Australian friends let me know the perfect order is fish and a minimum chip with chicken salt – it was so good. Life changing. All the shows were incredible and we got to play to such fun and hype crowds. Also holding a koala in perth definitely made my trip.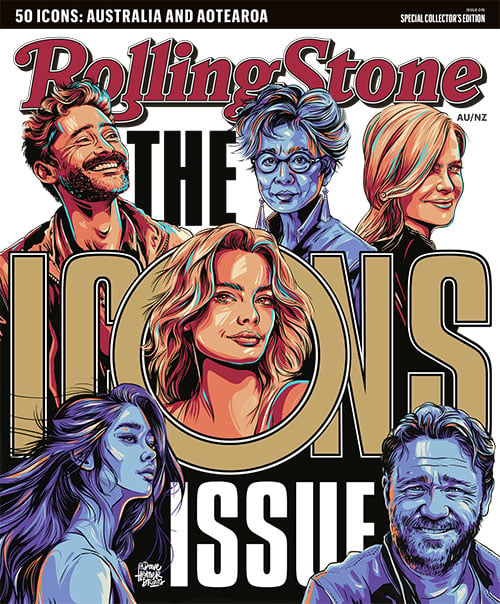 Get unlimited access to the coverage that shapes our culture.
Subscribe
to
Rolling Stone magazine
Subscribe
to
Rolling Stone magazine