Yes, Nollsie shouted "I'm Shannon Noll, let me back in" after he was kicked out of a strip club in Adelaide over the weekend; and yes, he had to be subdued by four policemen and one security guard when they wouldn't listen to him – but there's no denying he's still a national treasure.
In an effort to prove why, here are 10 of his most ripper moments:
Disclaimer: Tone Deaf does not condone violence against bouncers at Adelaide strip clubs.
Nollise, Barnesy and Adam Brand belting out 'Khe Sanh' in a country pub.
If there is anyone who is more Nollsie than even Nollsie, it is Barnesy. Don't forget Nollsie first won our hearts with his blistering rendition of 'Working Class Man', so it makes a lot of sense for the pair of them to team up with country legend Adam Brand to tackle Barnesy's most-loved song, Cold Chisel's Khe Sanh. That they did it in a pub with a population of around 700 is really the icing on the Iced VoVo.
Nollsie's penchant for intertextuality
Nollsie made sure his Big Black Shiny Car with its 'NOLLSIE1' number plate featured as the cover art for his latest single, 'Who I Am'.
He also made sure to feature said car in the accompanying video too, just in case you decided not to buy the CD single of this one. 'Course you did though; what else are you gonna blast in the five-disc changer?
The fact he sells stubbie holders on his website and they look like this:
So much to say about this. The Southern Cross, which uses the bottom star as the dot in the 'I'; the fact he has that very same constellation tattooed on his chest; the 'Havin' a beer with….' and then the reveal on the reverse side of the stubbie holder. All guaranteed conversation starters at the backyard barbie.
When he performed the National Anthem at the 2014 Cox Plate
It was labelled the 'most bogan rendition ever'. We'd love to show you the clip, but it's since been switched to 'Private' on YouTube.
But his response on Twitter lives on.
@lachie66 ha ha, get stuffed mate! #hater

— Shannon Noll (@NOLLSIE) October 25, 2014
Nollsie hanging with Warwick Capper
The most colourful character in the history of Aussie Rules with a mullet game that puts everyone else to shame. Of course he was at a Nollsie gig.
Nollsie's backyard bonfire
It's going off, which brings us to…
Nollsie's appreciation of Mother Nature going off
Nollsie: Masterchef

When you enjoy hors d'œuvres so much you decide to just make them at home so you can skip the fancy record company do, and the penguin suit, and all that nonsense.
This picture of Nollsie doing a wheelie on a motorbike precariously close to his son
Nollsie: Crocodile Hunter
Once upon a time, Steve Irwin had a fairly big claim to being the most Aussie Aussie, but now, with his massive boots to fill, Nollsie was voted (in parliament, we assume) to step up and begin the wildlife crusade.
Drinks at Nollsies!
"Don't bother bringing round anything mate, seriously, got a few cartons delivered so all's sweet; the kids are more than welcome they can go out on the dirtbikes with my little tackers and wear themselves out while we sink some suds in the shed-thatswhatimtalkinbout..." (imagined conversation only).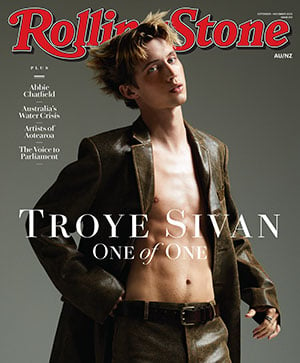 Get unlimited access to the coverage that shapes our culture.
Subscribe
to
Rolling Stone magazine
Subscribe
to
Rolling Stone magazine