Our readers poll for 2013 is done and dusted and it's time to look at what you all voted for. 
It's been an intensely good year for music and the diversity of the tracks you selected as the best international songs of the year are evidence of that. With tunes ranging from dirty hip-hop to sweet acoustic jams, the list spans four continents, and a multitude of genres. 
Have a read of our rundown of the top 15 International Songs Of 2013 as voted by you, the readers in our poll and listen to the mix below. Read the full results of the 4th Annual Readers poll here.
1. Lorde – 'Royals'
Really, what did we expect? 2013 has been a year of seamless success for the New Zealand's pride and joy Ella Yelich-O'Connor, far more recognised under the moniker Lorde. 'Royals' is the track that emphatically championed this Kiwi into international super-stardom, crowning the Queen B atop the throne of the US Charts – a feat yet to be achieved by another New Zealander.
2. Daft Punk – 'Get Lucky' (Feat. Pharrell Williams)
When the pair of robots universally renown as pioneers for electronica disappeared from their pyramid platform, there was a certain fear they'd never return, doomed to walk their Parisian streets unmasked and unknown. But Daft Punk came back, and boy did they leave a mark. Their most accessible and infectiously feel-good track to date laced with the genius of funk legend Nile Rodgers and vocalised by the effortlessly and endlessly adored Pharrell Williams – 'Get Lucky' affirmed that they still are kings of dance.
3.  Arctic Monkeys – 'Do I Wanna Know?'
'How many secrets can you keep?' questioned Alex Turner. A rather fitting question that could be thrown back at Britain's dearly beloved frontman, how many more gems can this quartet churn out? Raising their own monkey bar in 2013 with the release of their fifth record AM, 'Do I Wanna Know?' revealed the band's subtle shift to a simpler straight up and down rock sound that witnessed an even greater exodus of fans into the Artic Monkey corner.
4. Arcade Fire – 'Reflektor'
Three gruelling years were spent waiting for fresh material to spill from the Canadian collective Arcade Fire. Man, was it worth the wait! 'Reflektor' the title track of the group's fourth studio LP shook the music world by storm, backed by an almost dance-beat and oh, that's right, a vocal guest spot to the legendary David Bowie (one of the greatest Arcade Fire advocates), the first single from the illustrious record is seven and a half minutes of sonic glory.
5. James Blake – 'Retrograde'
The first minute of this track could be looped over and over and Mr. Blake would still be proudly standing tall, firming holding the exact same position of not only this poll, but also every other for 2013. Blake's icy brooding vocal hum-run races through a sea of raised hairs to an oh so enchanting key progression and an oh so simple drumbeat as 'Retrograde' coolly floats to Blake's familiar rising falsetto. With a release such as this, it's no wonder Blake took home his native Mercury Prize for 2013.
6. Queens Of The Stone Age – 'My God Is The Sun'
It was so damned refreshing to be slapped in the face by the hard-hitting Josh Homme with his best of bands, Queens of the Stone Age. 'My God Is The Sun' shot-gunned onto the scene after being debuted as a live performance (notably, one of the first new tracks to emit from the Californian compadres in six painstaking years!) as apart of the sublime …Like Clockwork record. Despite the departure of long time drummer, old mate Dave Grohl stopped by to lend his hands for the beat of the skins.
7. Kurt Vile – 'Waking On A Pretty Day'
Kurt Vile clearly felt his absence from releasing new music in 2012 must be rectified, so he just casually provided a single at a staggering nine and a half minutes – that honestly feels like no time has passed at all. 'Wakin On A Pretty Day' sounds as if it were created on a freakish yet effortless whim: rolling out of bed, brushing the flowing locks from his eyes allowing for a simple gaze out the window, Vile's sole inspiration for a folky-kaleidoscope that has now become a Kurt-Klassic.
8. Vampire Weekend – 'Step'
Consistently at the forefront of indie-rock from the world's greatest cesspool of the genre has been Vampire Weekend. The band has typically been synonymous with explosive high tempo jams fronted by the enigmatic Erza Koenig. 'Step' is emphatically separated from this preconceived (and revered) notion, which completely fuels its success. Although still pertaining to that all too familiar Vampire Weekend jingley-pop, Koenig's lyrical prowess is second to none. A n honourable Vampire Weekend classic.
9. King Krule -' Easy Easy'
As King Krule, parted his lips and introduced himself with the lyrics 'same old Bobby/same old beat' not a single pair of ears would have guessed that such an enriched, brooding baritone could emit from an 18-year old. Shit, we still can't believe it! Spitting insults at Tesco for a sandwich that's been off for a week accompanied by Krule's solitary dark bluesy infused sound, 'Easy Easy' is without the slightest of doubts the most enticing of singles released in 2013.
 10. David Bowie – The Stars (Are Out Tonight)'
What was the most exciting and completely unexpected moment in music for 2013? David Bowie dropping The Next Day, surely? 'The Stars (Are Out Tonight)' is the brightest of shiners from the musical chameleon's 24th record. With such a surprise, Bowie proved that no matter how untraceable icons such as himself may be, 'the stars are never sleeping'.
11. Kanye West – 'Black Skinhead'
It comes as no shock that the at times painful, but undeniable Kanye West and his 'Black Skinhead' is the highest ranked hip-hop effort. The dark, viciously bravado-charged track is the epitome of West's Yeezus. Even the late and great Lou Reed sung West's praises: "He's really trying to raise the bar. No one's near doing what he's doing, it's not even on the same planet."
12. Sigur Ros – 'Brennisteinn'
'Brennisteinn' translates from Sigur Ros' native Icelandic tongue to 'Brimstone', and is the first single release of the post-rock groups seventh studio record Kveikur. Clocking at just less than eight minutes, 'Brennisteinn' progresses with a heavily grimy reverberated bass as lead vocalist Jonsi shows-off his unparalleled vocal artistry. Sigur Ros are best known for their mind-melting spirit-rising productions, this album opener is no different.
13.Unknown Mortal Orchestra – 'So Good At Being  In Trouble'
The best example of a 'smash the repeat button' kind of track is Unknown Mortal Orchestra's 'So Good At Being In Trouble'. The beautifully laid down lo-fi lazy-beachy-psychedelic jam is the most infectious beats of the year and is one hell of track to belt out – so long as you've got the vocal ability to match the Orchestra.  New Zealand's 2013 triumphs don't simply start and stop with the aforementioned Lorde.
14. CHVRCHES – 'Recover'
One of the most rightfully so hyped acts of 2013 has been Glasgow's CHVRCHES. The heavily synthesised laden trio stunned critics and fans alike with their debut record The Bones Of What You Believe. Lauren Mayberry's youthful unique vocal delivery is as heartbreaking as it is warning on the synth-pop 'Recover'.
15. Haim – 'The Wire'
When one thinks of music 2013, three fresh feminine faces of the Valley will forever come to mind. The Haim sisters have toured extensively, sweeping through their all-girl rock performances and even garnering comparisons to legends such as Stevie Nicks. The track that has earned the trio such recognition? The insanely infectiously rock-dance track, 'The Wire'. It's almost impossible not to clap to the percussion or submit to the falling 'I know I know I know that you gonna be okay anyway'.
Check out the Top 15 Aussie Songs Of 2013 As Voted By You here.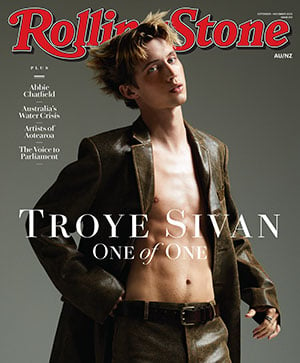 Get unlimited access to the coverage that shapes our culture.
Subscribe
to
Rolling Stone magazine
Subscribe
to
Rolling Stone magazine