Ah, Christmas… That time of the year when we bust out the mistletoe, start ringing those sleigh bells, get in some snowball figh- Wait, sorry, that's how it would be if an Aussie Christmas was at all like the countless carols that we hear each and every year. To celebrate the sweaty spirit of an Australian Christmas, we got to thinking about the brilliant Christmas songs put out by Aussie bands over the years.
Zefereli – 'Oh Christmas'
At the heart of it all, Christmas is about togetherness. Sure, buying each other gifts is great, but it's the closeness we're really after.
Zefereli's 'Oh Christmas' hones in on that sentiment beautifully, with a gorgeous chorus that very simply states "I don't need anything else this Christmas, all of the gifts in the world won't do, I won't be asking for much this Christmas, I'll just be asking for you". It's a simple, sweet, poetic little tune, distilling the entire point of the season into a wonderful four minutes.
Polish Club – 'All I Want For Christmas Is You'
What's one of the most well-known and overplayed Christmas songs of all time? If you said 'White Christmas', you're on the right track, but we're talking about Mariah Carey's 'All I Want For Christmas Is You'. Considering this song has become so loathed by so many since its release, how do you improve it? Simple, call up Polish Club!
Bringing in a huge variety of Aussie stars for their spectacularly low-budget film clip, Polish Club give this old Christmas standard the reimagining it needs, and managed to cement its place on the playlist for every December barbecue from now until music becomes an obsolete concept.
AC/DC – 'Mistress For Christmas'
You can't spell 'Christmas' without 'AC/DC' (trust us), which is why we maintain one of the best hard-rocking yuletide songs has to be 'Mistress For Christmas'.
Located on the band's 1990 album, The Razors Edge (aka, 'The album with 'Thunderstruck' on it'), 'Mistress For Christmas' sees Brian Johnson's Christmas list up close and personal. Supposedly, this song was written about Donald Trump, though we can't really see the connection.
Love Classic Rock?
Get the latest Classic Rock news, features, updates and giveaways straight to your inbox Learn more
Darren Hanlon – 'Spend Christmas Day With Me'
Taken from his suitably named Christmas Songs single in 2005, one of Australia's best lyricists, Darren Hanlon delivers a four minute track that captures the feelings of an Aussie summer Christmas, while hoping that the one he cares for will indeed spend Christmas day with him.
It's a sweet little number that once again reminds us that December 25th is all about togetherness above everything else.
Damien Cowell's Disco Machine – 'I Hope You Get Laid For Christmas'
The voice of Melbourne cult band TISM, Damian Cowell isn't one to often deliver a sentimental slant in his songs, choosing instead to give the world a humorous track that includes his deeply satirical lyrics.
Featuring Liz Stringer on guest vocals, Cowell once described the song as follows: "Ever been given a vacuum cleaner for Christmas? A ceramic wombat from your mother, who bought one for all your brothers and sisters too? A jumper two sizes too small with a picture of a moose on it? This song is for you." It's probably not one to play around gran, but who knows, she might like it!
Hoodoo Gurus – 'Little Drummer Boy (Up The Khyber)'
Back in 1991, Hoodoo Gurus were picked for inclusion on a seasonal American compilation album called A Lump Of Coal. Despite its name, the record featured quite a few choice cuts.
One of said cuts is 'Little Drummer Boy (Up The Khyber)', which shows the band delivering a rather unique take on the classic track. With a video that was clearly shot for the American market, it's certainly a tune you should at listen to once in your lifetime.
Tim Minchin – 'White Wine In The Sun'
Characterised as a "Christmas song for the non-believers", Tim Minchin's 'White Wine In The Sun' is a rare Christmas song that is about how much someone can enjoy the holiday despite the themes of consumerism and religion pushed into our faces each year.
Famously, Minchin was once criticised by the Salvation Army for his anti-religion stance in the song, to which he responded simply responded "Christmas means much to billions of people who don't believe in Jesus, and if you think that Christmas without Jesus is not Christmas, then you're out of touch, and if you think altruism without Jesus is not altruism, then you're a dick." He's right, though.
Paul Kelly – 'How To Make Gravy'
Alright, when you saw the words 'Aussie" and 'Christmas', your first thought was probably 'How To Make Gravy', right? Despite being released 21 years ago, this bittersweet tale of family and the holidays has become one of the most beloved Aussie songs of all time in recent years.
Rightly so, too. Paul Kelly lays his soul so bare with such emotion on this cut that you almost want to give the bloke a hug every Christmas to make sure he's alright. An Aussie classic that will remain forever so.
triple j – 'Christmas Number One'
You've seen all those classic Christmas songs that inexplicably top the charts around December, right?
Well, back in 2013 Frenzal Rhomb's Lindsay McDougall wanted to do exactly that, and teamed up with all his triple j buddies, including a number of musicians and presenters, such as Phil Jamieson from Grinspoon, Linda Marigliano, Elizabeth Rose, Thomas Rawle from Papa vs Pretty, Tom Tilley, Bertie Blackman, Tom & Alex,  Tuka and Jeswon from Thundamentals, Joyride, Abbe May, Andy Bull, Laurence Pike from PVT and Touch Sensitive.
This exhaustive team of talented individuals did indeed manage to top the iTunes singles charts (it would have been awkward seeing it sitting at #2), and they donated every cent they earned to the Red Cross. As we approach the fourth anniversary of the track, we reckon it's about time we got ol' mate Lindsay to record a new charity single with a new generation of triple j faves.
Yidcore – 'Lonely Jew At Christmas'
At Christmas time, it's also pretty easy to forget that there's plenty of folks out there who don't celebrate the annual holiday as many do. No one managed to capture that feeling than the world's foremost Jewish punk band (after Useless ID and Atom & His Package, of course), Yidcore.
Covering the song 'Lonely Jew At Christmas' which made its first appearance on the first season of South Park, the Melbourne musos painted a humorous picture of Christmas from those in the Jewish faith, and managed to give one brilliant song that soundtracks this time of year.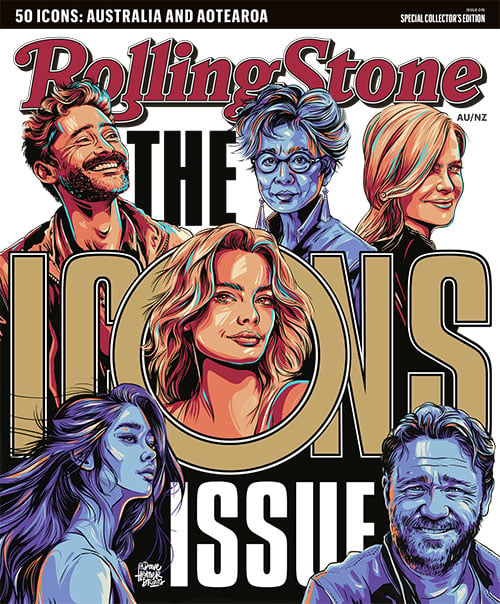 Get unlimited access to the coverage that shapes our culture.
Subscribe
to
Rolling Stone magazine
Subscribe
to
Rolling Stone magazine