Most of the bands and artist we now consider legendary built that reverence with a steady stream of memorable albums, often over a number of decades. We're talking your Rolling Stones, your Bob Dylans, and your John Lennons.
However, there are some bands who managed to forge a legendary reputation with a single release. No long careers or extensive discographies for these musos, they came, they saw, they released one seminal LP, and they bailed.
The reasons we never heard from these bands again vary, sometimes they met with tragedy, other times they collapsed in a fit of laughter. To celebrate these special acts we put together a list of 12 of our favourite bands who released only one seminal album.
The La's
Liverpool has something of a history with producing great rock bands and The La's are arguably the city's most underrated export. Most readers will be familiar with their flagship single, 'There She Goes', but the band's eponymous album is often forgotten.
It's a true shame, because not only is the album packed with songs as good or even exceeding the tunefulness and spirit of 'There She Goes', but its recording is one of rock and roll's great auteur stories. Like Brian Wilson before him, perfectionist frontman Lee Mavers just about lost his mind trying to get the album just right. The least we can do is listen.
Snot
Snot came barreling out of Santa Barbara, California with a sound that made critics weep. Not only was their brand of hardcore punk fused with metal fused with funk fused with the then-burgeoning nu-metal sound supremely unfashionable (like they cared), no one could quite pin down what it was.
It didn't matter to the band, comprised of former members of thrash, speed metal, and punk bands such as Kronix, Lethal Dose, Silence, and M.F. Pit Bulls. They just wanted to play music the way they wanted to hear it – loud, fast, and snotty.
The Sex Pistols
Here's the thing: in retrospect it's easy to write off the Sex Pistols. After all, they were the construction of a morally dubious London clothing impresario who engineered their every move and their bass player is famous for not being able to play bass. Their songs? Pfft, they were just playing Chuck Berry licks like everyone else.
So why the hell are we still talking about the Sex Pistols today? Why is Never Mind the Bollocks, Here's the Sex Pistols still a must-have album in any record collection? Why do we look back on their time ruling the tabloids as one of the most exciting in rock and roll? Because the plan worked, damn it.
The Postal Service
Some say it was the Garden State soundtrack, others say it was the overnight cultural relevance of Pitchfork, still others say it was building for years and the whole thing just exploded all of a sudden for no reason, but whatever the case, in the mid-2000s indie rock was king again.
At the forefront was Benjamin Gibbard, who was fronting one of American indie's most prominent bands, Death Cab For Cutie. Everything he touched seemingly turned to gold and The Postal Service, his collaboration with Jimmy Tamborello, was no different. Bearing all the hallmarks of both artists, fans have been waiting for a follow-up to their one album, Give Up, ever since.
Oysterhead
There's few musicians in the world of alternative rock more prolific than Les Claypool. In addition to fronting the seminal Primus (you might know them as the dudes who do the South Park song), Claypool just can't seem to stop making music.
One of his most popular projects was also one of his most improbable, Oysterhead, featuring guitarist Trey Anastasio of Phish and drummer Stewart Copeland of The Police. These three consummate musicians originally intended to perform just one time, but an album followed, with fans, which include the likes of Francis Ford Coppola and Matt Groening, waiting on a sequel ever since.
Mother Love Bone
History's funny. A failed assassin decides to get a sandwich and ends up causing WW1. Had he not, who knows what would've happened? And had one magnetic, dynamic frontman in Seattle not put a needle in his arm one fateful night, it's likely we would've never heard of a band called Nirvana.
See, before anybody had so much as written the first profile on grunge, it was pretty much decided that the band to steer the scene into the mainstream would be Mother Love Bone, propelled by the charisma and talent of their iconic frontman, Andrew Wood. But it was not to be. After releasing one album, 1990's seminal Apple, Wood died at the age of 24 and MLB disbanded.
Minor Threat
It says a lot about the sheer power and ferocity of Minor Threat that they're one of the most important bands ever rage into the punk or independent rock scenes, but you can digest their entire discography in a matter of minutes. A good chunk of that discography appears on the band's sole album, 1983's Out of Step.
Raw, angry, fast, and primal, Out of Step was Minor Threat announcing that they were here and they're gonna hurt somebody, maybe themselves if you're not careful. It defined hardcore punk for an entire generation of fans and musicians, both musically and spiritually.
Lauryn Hill
In order to understand the impact that Lauryn Hill's debut album, The Miseducation of Lauryn Hill, had when it was released in 1998, you have to go back a year prior, to 1997, when The Fugees, the group that had made Hill a star, was the biggest thing in R&B and hip-hop.
No one doubted the immense talent that Hill commanded, but few expected the game-changer that she unleashed after the group disbanded. Breaking the record for first-week sales by a female artist, Miseducation was an honest, diary-like tome of one woman against the world, contemplating love, life, success, and God.
Jeff Buckley
It's easy to revere Jeff Buckley for what could've been. The son of a highly respected singer-songwriter, who also tragically passed away before his time, the younger Buckley was a supremely gifted and multi-skilled musician with a knack for penning articulate and heartfelt songs.
The future seemed so bright, but he passed away after drowning in Wolf River Harbor in Memphis. The thing is, we don't have to meditate on what could've been, because the one full-length piece of work that Buckley did leave behind, 1994's unforgettable Grace, says more in one album than most artists do with entire careers.
Derek & the Dominoes
In the spring of 1970, Eric Clapton, who had already cemented himself as a bonafide guitar god, had a lot on his mind. In addition to an unrequited love for model Pattie Boyd, who just so happened to be married to his pal George Harrison at the time, he was sick of the hype that dogged him everywhere he went.
Looking to shuck the confines of superstardom, Clapton assembled a group of musicians to form a band, with emphasis on the band aspect. Dubbing themselves Derek and the Dominos, they unleashed Layla and Other Assorted Love Songs, a universally hailed instant classic, marked by some of the most carefully crafted, soaring blues rock ever laid down.
The Avalanches
Speaking of waiting on a follow-up, we debated whether or not we should include Australia's own The Avalanches in this list, because it seems like every six months someone from the band comes out and insists the sequel to their 2000 landmark release, Since I Left You, is just weeks away.
And yet, we go on waiting. It wouldn't be such a big deal, really, if the band's debut wasn't so freaking good. No one waits for a follow-up to a bad album, but Since I Left You was a universally acclaimed, kaleidoscopic masterpiece, signalling Australia's mastery of hip-hop and dance music and inspiring generations of future bedroom dwellers.
American Football
Most probably know emo as that thing everybody was into back in high-school. Red and black hoodies, My Chemical Romance T-shirts, and some truly obnoxious hairdos. But like every good music genre, the mainstream only heard about it after it was watered down, perverted, and homogenised.
American Football and their eponymous album are emo the way it was meant to be, as the next logical step in the evolution of hardcore punk. This dreamlike collection of deftly crafted post-hardcore is a testament to a genre at the height of its potential.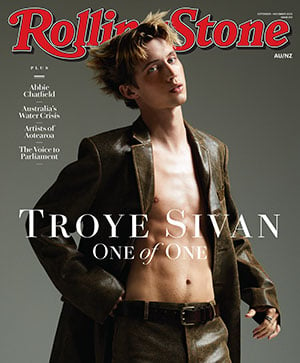 Get unlimited access to the coverage that shapes our culture.
Subscribe
to
Rolling Stone magazine
Subscribe
to
Rolling Stone magazine