Your Town, is the second LP from Sydney post-punk trio Mere Women, released via Poison City Records label, An album that according to our writer is "one of those rare records that demands and deserves a full play through, and will then probably earn endless repeats afterwards."  
A follow up to their attention demanding 2012 debut Old Life, Your Town is a shining example of the incredible post-punk that is coming out of Australia right now. 'Post-punk' seems to be a term often overused, but a genre overlooked, so we asked Mere Women guitarist Flyn Mckinnirey to give us a run down of the best Aussie post-punk bands you need to know.
Flyn's Intro
"The post punk scene doesn't grab the attention of kids these days like it did in the 70s and 80s (Gang of Four, Joy Division, Sunny Boys and a butt-load more), or even as much as it did locally 5-10 years ago (bands like Love of Diagrams and My Disco). That said, the term post-punk spans across a bunch of styles and there are a heap of current ripping bands from Australia playing this kind of music. Here's six."

Terrible Truths (Melb)
"One of the best bands in Australia currently. They're a three piece from Melbourne fronted by a couple of awesome women, Stacey (Electro Wizard), Rani (Silver Smith) with Joey (who runs the Bedroom Suck record label) holding it down at the back. Their Melodies are second to none and Joe is one of the most interesting and capable drummers out there. They have a record coming out soonish I think, so here's a song from it."

Per Purpose (Bris)
"Surly as fuck and play some of the most jagged,nonsensical seeming tunes.They released probably the best Aussie record of last year and they boast one of the best bass players (technically and just to watch) in Harry (who is also a part time plane spotter)."

Buzz Kull (Syd)
"The only Sydney band in here unfortunately, but I listen to their EP Heat on the reg. They seem to have some obvious post-punk influences and are a little more on the kraut side of it all. Kind of in a similar vein to another band, Multiple Man, who are playing our Brissy show. I've been trying to tee up a show with Buzz Kull for ages (hasn't worked out to date) and I think it'd go really well with us on a bill."

Spite House (Melb)
"Haven't caught these guys live yet but their ripping record really is something to get your ears around. Definite Sugarcubes vibes and hope to play with these guys soon."

Drowned Out (Bris)
"It's pretty hilarious that this link is a Myspace link but it's suiting. I was obsessed with this band back when I played in another band called Ohana. This was the most awe inspiring stuff going around in Australia 6-7 years ago. Really smart writing."

Deep Heat (Melb)
"Played with these guys before in Mere Women. Four to the floor style punk, catchy as hell and one of those bands that you can imagine playing to a cult following in the 80s but pull it off so well now."

National Tour Dates
Sun, Aug 15 – The Red Rattler, Sydney, NSW w/Ghastly Spats & Lovely Head
Sun, Aug 24 – Poison City Weekender @ Reverence, Melbourne, VIC [sold out]
Thurs, Aug 28 – Newtown Social Club, Sydney, NSW w/Pity Sex & Postblue
Sat, Sept 6 – Trainspotters, Brisbane, QLD w/Multiple Man, Cured Pink & Stress Waves
Fri, Sept 12 – The Croatian Club, Newcastle, NSW
Fri, Sept 19 – The Old Bar, Melbourne, VIC w/Gold Class
Sat, Sept 27 – Chop Shop, Canberra, ACT w/Wives
Your Town is out now via Poison City Records.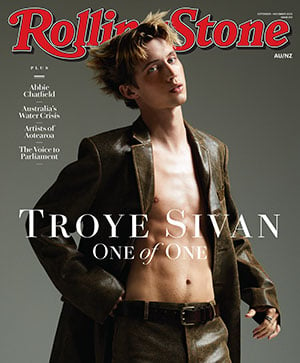 Get unlimited access to the coverage that shapes our culture.
Subscribe
to
Rolling Stone magazine
Subscribe
to
Rolling Stone magazine