Community radio music coordinators often have an encyclopedic knowledge of local music and an insatiable thirst to keep their ears ahead of the curve. So in this Tone Deaf series, the Australian Music Radio Airplay Project (Amrap) invites music coordinators to highlight new Aussie tunes that you might have missed.
In this special edition for NAIDOC Week (2-9th July), Emily Nicol from Koori Radio in Sydney contributes with a selection of tracks currently making their way to community radio through Amrap's music distribution service 'AirIt'.
Check out Emily's selections below and if you're a musician you can apply here to have your music distributed for free to community radio on Amrap's AirIt.
Slip on Stereo – 'Shadows' (ft. TRQS)
I have always been a big fan of Slip On Stereo, and in particular frontman Zeek Power's quirky observational lyrics mixed with soulful delivery. After hearing that they had taken some time off to write and record, I was super excited to sample their latest single 'In Shadows'. You can tell that the group have matured in sound and taken production to another level.
This single which is all about being caught up in the rat race and working 24/7 yet still struggling to pay the bills, is such a relatable topic. Featured vocalist TRQS is a Melbourne based singer that the group discovered on You Tube and she adds a quality contrast that is new territory for Slip On Stereo. Can't wait to hear what else these guys have in store!
Briggs – 'Here' (ft. Caiti Baker)
'Here' ft. Caiti Baker is another hard hitting track from the Bad Apples man himself Briggs, who continues to deliver lyrical and vocal power which is impossible to ignore. Briggs was asked to write an inspiring track for Fox Sports to be used as their NRL 2017 channel theme song. In what could be tricky territory for some, Briggs comes up with a single which stands on its own regardless of where you hear it.
Briggs has said 'Here' is a celebration of the value and excitement that Indigenous players bring to the sport and its community, not just in the specific Indigenous round. Bringing in vocalist and regular collaborator Caiti Baker, adds a warm soul edge to this trumpet-laden thumper.
Kardajala Kirridarra – 'Ngabaju (Grandmother's Song)'
Relatively new to the music scene, this all female group is quickly making a name for themselves after playing several festivals and taking out the NT Song Of The Year Award. The descendants of a mysterious bush woman Kardajala, Kardajala Kirridarra – which translates to 'Sandhill Women' – is fronted by Eleanor Dixon (Rayella, Desert Divas) joined by Melbourne vocalist, multi-instrumentalist and electronic producer Beatrice Lewis (Beatrice, Haiku Hands) Eleanor's aunty Janey Dixon, their key translator, story-teller, poet and also rapper, MC Kayla Jackson.
The inspiration behind their music is empowering women of all ages and stages of their life. This track off their upcoming debut album, 'Ngabaju (Grandmother's Song)', is a beautiful dedication to the knowledge passed down through the generations. Electronic production is layered with sounds from the land including thunder storms, clap sticks and seed pods and sung predominantly in language, the result is lush and earthy.
Ziggy Ramo – 'Same Script'
'Same Script', the latest release from this young MC from WA, is a nice foray into jazzy up tempo production. It's a shift from the straight up hip hop of past singles that works surprisingly well whilst retaining a social awareness aimed at empowering the listener. With the success of his debut releases, there was no doubt about Ziggy's desire to become a force to be reckoned with.
Venturing into new production areas with this new single, is a clear sign of Ziggy's drive to keep growing to deliver a fresh sound. Of 'Same Script' Ziggy has said "Regardless of race, gender or sexuality, through both love and loss we can connect to the plight of our fellow beings and come to an understanding that no one is ever truly alone in what at times can be an uphill battle."
Kuren – 'Mon Amour' (ft. Austen)
This young producer, a Wiradjuri man now based in Sydney, continues to deliver on his first release of the year. 'Mon Amour' is another cleverly layered production featuring Brisbane artist Austen and delivered with a breathy, emotional, searching vocal. Kuren had a massive 2016, winning the triple j unearthed National Indigenous Music Award and releasing sophomore EP Tesseract, followed by his own national headline tour. In 2017, Kuren continues to go from strength to strength and 'Mon Amour' displays a golden touch and talent for the drop – a clear evolution which claims his place as a standout in the Future Bass/Electronica genre.
Dobby – 'The Gun Smoke'
Sydney based jazz drummer/rapper Dobby is taking off, impressing audiences with a masterful delivery that is all his own. He's been developing a live sound with drums and rhymes that showcase the Conservatorium student's knowledge, talent and love for hip hop. 'The Gun Smoke' is an early release that shows huge potential. With an old school, classic sound, an appearance at BIGSOUND later this year and several scheduled releases on the horizon, this is an artist to watch!
Baker Boy – 'Cloud 9' (ft. Kian)
Baker Boy is Danzel Baker, a young MC from Arnhem Land also affectionately called 'The Fresh New Prince'. In this debut track, the artist has already captured the attention of Urthboy, triple j and of course, Koori Radio! Baker delivers a fresh sound including Yolngu Matha language in his rap. Though not the first Indigenous artist to include language, 'Cloud 9' is a solid track that is part of a growing movement of new artists embracing and celebrating their cultural roots with the revival of language at its core.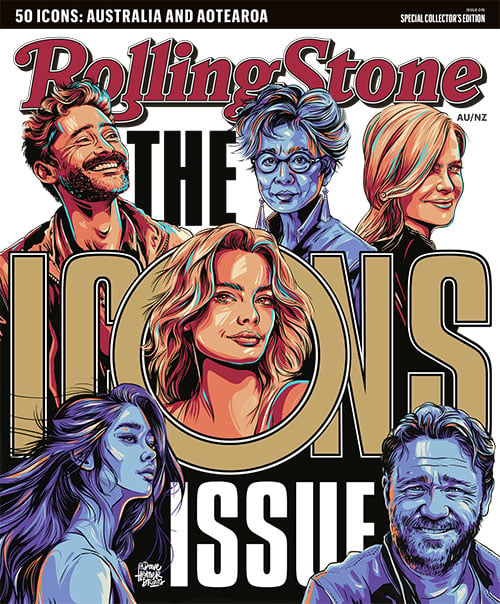 Get unlimited access to the coverage that shapes our culture.
Subscribe
to
Rolling Stone magazine
Subscribe
to
Rolling Stone magazine