Former Dresden Doll turned crowdfunding success story Amanda Palmer has a simple message for music-makers looking for ways to finance their craft. Don't make fans fund it, simply ask them to.
Palmer was one of several notable speakers taking part in the TED 2013 conference, held in Long Beach, California last Friday 1st March, with a lineup that included U2 frontman and self-described 'factivist' Bono, Oscar-winning director, actor, and producer Ben Affleck, and educational founder Sugata Mitra – to name a few.
As Mashable reports, Palmer's keynote address, titled 'The Art of Asking', pitched for music-makers to give away their art for free and to put their trust in fans to step up and pay for content, which is precisely what Palmer has done in her crowdfunding exploits following her clash with major labels.
The Dresden Dolls' 2003 self-titled debut for Roadrunner Records sold 25,000 copies, considered a commercial flop by major label standards, which caused many headaches between Palmer and her label. Through crowdfunding platform Kickstarter however, Palmer was one of the first major success stories of crowd sourcing content, raising approx. $1.2 million dollars from around 25,000 backers for her most recent record, Theatre Is Evil.
Something for which Palmer received criticism for though, by asking musicians and fans to join her on tour, but instead of paying them for their work, she instead offered alternative forms of compensation – such as hugs, drinks, and the privilege of touring with the American musician.
"I got a lot of criticism online after my Kickstarter went big for continuing my crazy crowdsourcing practices," Palmer said on-stage during the TED Conference; "specifically for asking musicians who were fans if they wanted to join us onstage for a few songs in exchange for love and tickets and beer. And this hurt in a really familiar way.""Couchsurfing and crowdsurfing are basically the same thing. You're falling into the audience and you're trusting each other." – Amanda Palmer
The punk cabaret performer recounted her early days as a street artist, couchsurfing from place to place, and linked them directly to her crowdfunding efforts. "Couchsurfing and crowdsurfing are basically the same thing," said Palmer. "You're falling into the audience and you're trusting each other."
Of the criticisms over her million dollar Kickstarter project, she remarked, "people saying you're not allowed to ask anymore for that kind of help reminded me of the people saying get a job. Because they weren't with us on the sidewalk and they couldn't see the exchange that was happening between me and my crowd, an exchange that was very fair to us. But alien to them."
Palmer also told the TED audience that her crowdfunding idea was in part inspired by a guilty fan who repayed her for burning her CD, approaching Dresden and handing her a $10 bill and apologising for ripping her music from a friend.
Following her talk being posted online at TED Talks, Palmer's 'Art of Asking' racked up more than 120,000 views.
While Palmer was spruiking financial support at a minimal grassroots level, U2 frontman and infamous political preacher Bono, provided a TED talk that looked at the maximalist, pitching a case that extreme poverty could be eradicated by 2030 with the aide of technological innovation.
As the LA Times reports, Bono told conference attendees that the singer was asked by TED's Chris Anderson to speak about a decade's worth of anti-poverty measures in his keynote address, but instead the musician-come-activist flipped the focus, talking about how social media can help provide poverty solutions in the next two decades.
Bono instead, 'embraced his inner ned', saying "forget the rock opera, forget the bombast, the only thing I would be singing today is the facts. Exit the rock star. Enter the evidence-based activist. The 'factivist.'"

Bono provided key points in driving home the notion that anti-poverty campaigns, including his own One.org campaign, could help make significant progress to eradicating world debts. Speaking of the mortality rate of children under 5 falling to less than 7,256 daily worldwide, Bono noted: "Have you read anything, anywhere that's as remotely as important as that number. It drives me nuts that people don't seem to know that."
Bono's second statistic on "soul crushing poverty"; the figure of people living on $1.25 (or less) a day has fallen from 43% to 21% between 1990 and 2010, a rate that the U2 frontman says "is still too high… There's still work to do. But it's mind-blowing stuff."Extreme poverty's 'zero zone' target by "2030 is just around the corner," said Bono. "It's about three Rolling Stones farewell concerts away."
Bono hopes that the decline will continue at the same rate, which would mean that by 2030, it would reach "the zero zone," says Bono. "For numbers crunchers like us, that's the erogenous zone. It's fair to say I'm sexually aroused by the collating of data." (There's a visual nobody needed.)
Extreme poverty's 'zero zone' target by "2030 is just around the corner," said the singer. "It's about three Rolling Stones farewell concerts away," he added humorously  Hitting that target however, would be more difficult as that number shrinks, which is where TED attendees come into play, said Bono, noting that three key points would help ensure extreme poverty would continue to degrade globally.
The first is protesting governments that cut budgets and programs that combat poverty. The second is investing in technology and medical research that improves the lives of those living in extreme poverty, and the third – says Bono – is using "open data" tools and social networking to help bring attention to government corruption, to spread and connect information and help wrongs 'go viral'.
"There's a vaccine for that," said the singer of using grassroots social media to combat corruption, "it's called transparency. And technology is really turbo-charging this. It's getting harder to hide if you're really corrupt."
It's the second time Bono has spoken at a TED event, following his 2005 appearance where he claimed $100,000 as one of the inaugural TED prize winners. Using the prize money in launching his One.org project, with its goal to "engage millions around the world to take action in the fight against the absurdity of extreme poverty. Because where you live shouldn't determine whether you live."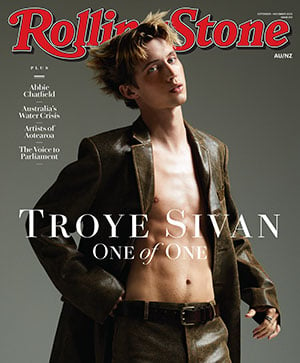 Get unlimited access to the coverage that shapes our culture.
Subscribe
to
Rolling Stone magazine
Subscribe
to
Rolling Stone magazine