A list of Austrlia's highest earning entertainers has revealed that some of the music lucrative jobs in the music business can involve mimicking British music legends and entertaining toddlers as much as it is about more traditional genres like pop and rock.
The Business Review Weekly have revealed their annual list of the country's highest earning entertainers, and while Hugh Jackman is far and above the highest paid Aussie in the country – toping the list with a ridiculous $46.8 million in earnings – there's a number of musical entities among the BRW Top 50 Entertainers 2013 list.
In fact, coming in at second place with the hugely respectable bank figure of $18.2 million is none other than The Wiggles. No big surprise considering that the kids' version of The Beatles are a cash-raking juggernaut pooling from fingers in the money-making pies of TV, merchandise, and live performances.
Even the recent overhaul to the finger-waggling lineup, installing a set of newer, younger faces after three of the founding members abruptly quit last year, did little to harm their popularity, with their prolific touring schedule and global farewell tour seeing their profits rise to the millions by the end of last year.
No shock in the appearance of AC/DC on the BRW Top 50 either, especially considering the publication named the Angus brothers in their Richest Families list in July, the arena rock veterans ranking at #11 on the highest paid entertainers list with $5.8 million in earnings. No doubt boosted by the band finally making their back catalogue available on Apple's iTunes for the first time late last year.
Looking further down BRW's Top 50 however offers some more interesting stats. Landing at #15 is The Australian Pink Floyd Experience, $5 million in earnings, making them one of the most successful tribute bands in the world, and the fourth highest earning musical concern.  Some of the music lucrative jobs in the music business can involve mimicking British music legends and entertaining toddlers as much as it is about more traditional genres like pop and rock
Obviously benefiting a great deal from providing a touring replacement for the British originals (who look more and more unlikely for a reunion given the bad blood between the group's members, never mind the passing of keyboardist Richard Wright), the Adelaide-bred cover band sold more than 3 million tickets in the last 12 months, with a tally of 120 live shows.
Love The Beatles?
Get the latest The Beatles news, features, updates and giveaways straight to your inbox Learn more
The Australian Pink Floyd Experience are especially popular in Europe, where full-scale performances of classics like Dark Side Of The Moon and The Wall with the aid of "3D stereoscopic projection and quadrophonic surround sound" is still in high demand. Plus they have Floyd guitarist David Gilmour's tick of approval.
Wally De Backer is having a ball getting back on the drum kit with The Basics, but his banner year with his main music project Gotye (heard of him?) puts him at #27 on the list. The accolade-guzzling, trophy-snaffling success of 'Somebody That I Used To Know' bringing in around $2 million in earnings for the multi-instrumentalist; the irony being he'd be higher on the list, but half of the song's fortune goes to the dead Brazilian who supplied the super-single's central hook.
The Temper Trap may have lost one of their founding members, with the departure of guitarist Lorenzo Sillitto this month, but not before the ongoing success surrounding their self-titled album, the ARIA winning The Temper Trap (one of 2012's best selling releases) helped rake in around $1 million for the Melbourne group, sneaking them in at #46 on the rich list. A figure obviously ballooned by their coveted The Rolling Stones support slot.
Pop is obviously still a lucrative career, with Aussie boy band Human Nature falling in at #15 – thanks to a recent reunion tour and highly-paid Las Vegas dates bringing $4.3m in earnings; but cross-breeding pop with reality TV clearly has it benefits too.
Former singer Dannii Minogue no longer appears on the charts like her superstar sister Kylie, but she strangely outstrips her sibling's earnings, making $2 million to Kylie's $1.1 million thanks to her role as a judge on The X Factor and Britain & Ireland's Next Top Model, as well as earning dollars from sponsors Etihad Airways and ModelCo Fibre Lash putting her at #28 on the list.
She might have written one of the catchiest songs of all-time, but at #44, Kylie has been outdone by her younger sister on the top earnings list, which should change as she accepts the role of reality TV how star on the UK version of The Voice. 
Australian judge of the same reality 'talent' show, Delta Goodrem, finds herself at #45 with $1 million in earnings, while other Aussie musicians on BRW's highest earning entertainers list, include country star Keith Urban, at #8 with $6.8m (just two ranks behind his wife, Nicole Kidman), and former 'Mysterious Girl' hit-maker Peter Andre (at #43 with $1.1m).
BRW Top 50 Earning Entertainers 2013
Rank/Name/Category/Earnings (in millions)
1 Hugh Jackman Actosrs 46.8
2 The Wiggles Children's Entertainers 18.2
3 Cate Blanchett Actors 17.2
4 Russell Crowe Actors 15.1
5 Simon Baker Actors 10.1
6 Nicole Kidman Actors 8.6
7 Chris Hemsworth Actors 7.5
8 Keith Urban Singers & Musicians 6.8
9 Curtis Stone TV & Radio 6.4
10 Miranda Kerr Models 6
11 AC/DC Singers & Musicians 5.8
12 Naomi Watts Actors 5.3
13 Eric Bana Actors 5.1
14 The Australian Pink Floyd Show Singers & Musicians 5
15 Human Nature Singers & Musicians 4.3
16 Guy Pearce Actors 4.2
17 Alan Jones TV & Radio 4
18 Hamish and Andy TV & Radio 4
19 Eddie McGuire TV & Radio 3.8
20 Alex O'Loughlin Actors 3.5
21 Sam Worthington Actors 3.4
22 Jennifer Hawkins Models 3
23 Ray Hadley TV & Radio 3
24 Hugo Weaving Actors 2.8
25 Hi-5 Children's Entertainers 2.2
26 Portia de Rossi Actors 2
27 Gotye Singers & Musicians 2
28 Dannii Minogue TV & Radio 2
29 Adelaide Clemens Actors 1.9
30 Kyle Sandilands and Jackie O TV & Radio 1.9
31 Elle Macpherson TV & Radio 1.7
32 Jesse Spencer Actors 1.6
33 Kate Morton Authors 1.5
34 Radha Mitchell Actors 1.5
35 George Calombaris TV & Radio 1.5
36 Yvonne Strahovski Actors 1.4
37 Australia's Thunder from Down Under Singers & Musicians 1.4
38 Ryan Kwanten Actors 1.4
39 Abbie Cornish Actors 1.2
40 Josh Lawson Actors 1.1
41 Toni Collette Actors 1.1
42 David Koch TV & Radio 1.1
43 Peter Andre Singers & Musicians 1.1
44 Kylie Minogue Singers & Musicians 1.1
45 Delta Goodrem Singers & Musicians 1
46 The Temper Trap Singers & Musicians 1
47 Jai Courtney Actors 1
48 Ross Stevenson TV & Radio 1
49 Liam Hemsworth Actors 1
50 Rebel Wilson Actors 1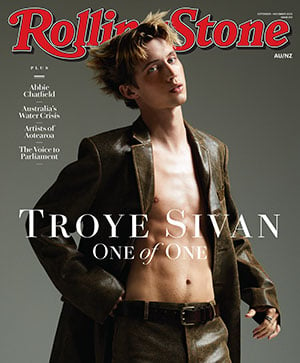 Get unlimited access to the coverage that shapes our culture.
Subscribe
to
Rolling Stone magazine
Subscribe
to
Rolling Stone magazine