"This record seemed right. It was what we wanted to make, and what we wanted to sound like."
Drummer Matt Helders' description of Arctic Monkeys' fifth studio album, AM, is bound to fill fans with anticipation for its imminent release.
Despite the early morning time in London, the enthusiasm is obvious in Helders' voice.
"I'm not saying that you still don't get a bit worried by what people will think of it, but we're just really happy with it and excited for people to hear it," he enthuses.
Arctic Monkeys have made a tradition of carving a distinct and unique sound on each individual release, developing from the youthful and rushed indie rock of 2006's Whatever People Say I Am, That's What I'm Not, to the darker, grungier tones of 2009's Humbug.
This tradition is undoubtedly continued on AM, with Helders describing it as "definitely another step on".
"We've always tried to change something about it," Helders continues. "I think we just learnt to be confident in the fact that we can experiment a bit more and sound a bit different but it'll still be an Arctic Monkeys record, people will still think of it as that."
This confidence is felt across the new album, bringing with it a diverse range of heavy riffs, infectious melodies, and soaring falsetto vocals. Helders describes AM as being lyrically "similar to the first record", but being "probably written a bit better now, and obviously the music's moved on".
"It sounded probably like what we were trying to do back then but we've finally got round to it," Helders states enthusiastically. "I don't think it sounds like any of the other records.
And it doesn't. AM incorporates many elements from each of Arctic Monkeys' previous four releases, but it also branches off on its own, in new and exciting directions. This is exactly what the four-piece wanted to do, with Helders describing it as "the album we've always been waiting to make."
This may be due, in part, to the inclusion of a wide range of influences that the band have finally been able to incorporate into their sound.
"The influences come through more," Helders states, "influences we've always had and music we've always listened to, but they're a bit more obvious on this record."
These include a wide range of hip-hop artists, seen through the drumming and beats provided by Helders that form the strong foundation of the record.
"Me and Alex grew up listening to hip-hop, before we got into guitar music," admits Helders.
It's not just hip-hop that provided the inspiration for the band's fifth release, with Helders also listing "70s rock bands like Sabbath"
"I think we're just happy with the balance we've achieved between all the things that we've listened to".
Perhaps the most obvious example of these influences shining through on AM is seen in Helders' backing vocals across the entire album, providing a RnB-esque tinge to a number of tracks.
"I think we just learnt to be confident in the fact that we can experiment a bit more and sound a bit different but it'll still be an Arctic Monkeys record, people will still think of it as that."
Helders' vocals gained a more prominent position in the mix with the single 'R U Mine', released at the start of 2012. "We recorded that a while ago, and we didn't really treat it as a song that was going to be on a record or anything, it was just a stand-alone single," Helders reveals.
But they liked this new style so much that 'R U Mine' is included on the tracklist of AM, and the song provided the basis for the record's sound as a whole.
"[We were] seeing if we could pull it off without sounding stupid, and we were kinda into it, that's what stuck out from that song for us, and we tried to apply it to the rest of the album," Helders professes.
Arctic Monkeys have experienced one of the most drastic and sustained rises to fame of any band in recent history. The four youths from a small suburb in Sheffield were one of the first bands to be discovered via the internet, and have grown-up and matured in the public eye ever since.
"We came about in a time where obviously the internet was a big deal so everything we've done has pretty much been documented in great detail, so you can't really avoid it," Helders reflects. "Even if it's just an old photo, we've been in the public eye, in an internet way, for the last eight years."
The band were discovered mainly via their MySpace, which wasn't even created by them, but rather a keen fan that uploaded material from a burned CD that was given away for free at a gig.
After quickly signing with Domino Records in 2005, the band's first album became the fastest-selling debut album in British music history.
But this was only the start of the astronomical rise of the Arctic Monkeys, a climb that culminated with two huge shows recently, one at the Opening Ceremony of the London Olympics, which Helders describes as "just one of the biggest things ever", and the second other a triumphant return to Glastonbury Festival to headline the Pyramid Stage, one that Helders says was "a very special gig"
"The fact that we got to do it again for a second time, a bit more confident and a bit more comfortable, we had more experience this time round," Helders enthuses. "I think we were just more excited about it than anything."
As for the quiet times in between these massive shows, the band enjoys some more normal activities to fill in the time. "We have a ping pong table, and we watch Breaking Bad," Helders says.
For a band constantly on huge world tours, Arctic Monkeys have a remarkable tradition of consistently releasing a record every two years, made even more impressive by the fact that, according to Helders, the band rarely writes while on the road.
"We don't even really write that much on tour 'cause I think that environment for us doesn't always work out," Helders says.
"There's so many different ideas about what you want to write about and what kind of tunes you want to make cause you're very much in this different routine of playing live every night. It's in a different frame of mind to what you should be in I think."
It's more when they're not touring that the band get down to songwriting business, putting together the wealth of ideas each possesses into coherent songs.
"Whenever we've got time off, we're still together writing songs or working stuff out," Helders says eagerly. "Especially Alex, if you're a songwriter, if you're one like he is, it's just kinda what you do. It's not your job, where you allow time to sit down and write a few songs, he's always writing things and coming up with ideas.
"We don't put them together as a band until we're in one place for a while."
AM was recorded in a small East Hollywood studio with longtime collaborator James Ford – sometimes named 'The Fifth Monkey' – a relationship that is crucial to the band.
"As a producer, he's also got that relationship that we have with each other, like an unwritten thing where we know what each other's trying to get at without having to discuss things for ages," Helders reveals.
The recording of AM marked a significant step away from the recording process of its predecessor, 2011's Suck It And See. While recording the latter, they primarily focused on the live sound, with a lot of the album recorded as a band playing together in the one place. But the band deviated from this on AM.
"When we first started, we went into the studio and we all sat together and played a bit, but we kinda just wanted to do something different," Helders details. "We'd still come up with something, but we were just interested in exploring a different thing."
This "different thing" involved very early demos recorded on an old four-track, with these recordings often becoming samples, and the basis for many of the tracks on the new album.
"[Josh Homme] came down more as a friend. We were just hanging out and he just ended up making this part that became like the best 30 seconds of the album in a way."
"Alex had this little four-track tape machine that someone had bought for his birthday, and we decided to make our own demos just on this little machine."
Helders' enthusiasm for this new process is obvious. "It's probably the first time we made a decision to treat the recording process as a separate thing rather than just going out and playing it live. Which I think has worked for us this time."
After co-producing the band's third studio album, Humbug, Queens Of The Stone Age frontman Josh Homme returns on AM, but in a much more casual manner.
"He just came down and sung on one of the songs," Helders describes. "He came down more as a friend, with an opinion, for one night. We were just hanging out and playing him some of the songs … he just ended up making this part on 'Knee Socks' that became like the best 30 seconds of the album in a way."
After the release of their fifth album, the still very young foursome will embark on an expansive world tour. With a more layered and electronic-infused sound, the process of translating this new material to the live setting has proved to be somewhat challenging.
"We were a bit apprehensive with it at first, wondering how we were going to pull it off," Helders describes. "Like we did on the third record, we've got an extra pair of hands in to help us…just to thicken it up a bit.
"It's been going well so far, we're learning to do decent live versions of them."
Now with a wealth of diverse and adored material, the process of creating a setlist for their huge stadium shows has become drastically more difficult.
"It's hard because we don't want to play any longer I think, because our set time's a good one, not just for us, but for the crowd," Helders gushes. "We don't want to just play for two hours and have people leaving half way through."
As for a return to Australian shores, it's only a matter of time according to Helders.
"We'll probably be [touring] till about this time next year," he says. "But we definitely are [coming to Australia], I just don't know exactly when yet.
"It's one of our favourite places to play, so we'll be down there for sure."
Their current extensive tour schedule includes a treasured homecoming show in Sheffield, one that, according to Helders, may well overshadow the Olympics and Glastonbury for the band, serving as a summation of Arctic Monkey's extraordinary rise.
"It's a big deal to go back and play the arena you drove past a lot as a kid."
AM is out September 6th through Domino. Read our review here.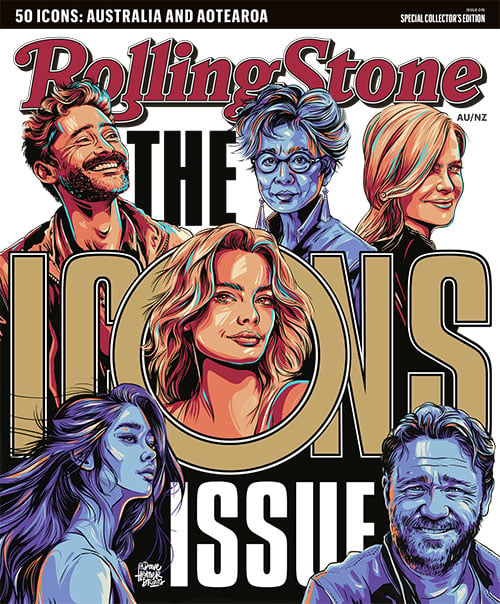 Get unlimited access to the coverage that shapes our culture.
Subscribe
to
Rolling Stone magazine
Subscribe
to
Rolling Stone magazine