Rancid haven't toured Australia in a long time. Like, a really long time. We're talking 20 years, just for a ball park. The beloved punk outfit's last Australian tour happened all the way back in 1998.
Since then, nothing. Not even a hint at a tour. The story goes that frontman Tim Armstrong has some bad blood with Australia ever since his Melbourne-born ex, Brody Dalle, ran off to be with Josh Homme.
Why the whole of Australia should be punished for that is anyone's guess, but promoters have repeatedly tried and failed to coax the band to tour Down Under. AJ Maddah famously said he could retire if he managed to tour the group.
However, despite the band's total lack of interest in actually seeing their Australian fans, it hasn't stopped them from trying to make a buck or two at their expense. They routinely flog their merch to Aussie followers.
As FasterLouder reports, the band (or at least, their social media manager) recently took to their official Facebook page to try and push their "Australian exclusive Timebomb bundle", which includes a hat, tee, and stubbie holder.
You can pretty much imagine what the reaction was like from a bunch of pissed-off punk rock fans. "Trying to flog 'exclusive merch' to a country you've deliberately avoided touring for the last 20 years… you obviously don't give a fuck about your fans down here," one commenter wrote.
In fact, the general tone from fans was basically, "Yeah, we'll buy your merch at the gig when you guys finally come to Australia for a tour. Until then, don't try and make a buck off fans you clearly care little about."
[include_post id="448471″]
It's not the first time the band have earned scorn for trying to exploit their Aussie fans. Back in July last year, the band tried to unload 40 limited edition skate decks and zip-up hoodies they apparently found in their warehouse.
"How about the extremely rare Rancid Australian tour? I'll have a ticket to each show if you can get one of those," one commenter wrote, whilst another followed: "Until they come back to Oz I ain't buying any Merch."
By now it should be clear, Rancid, if you want to get a few dollars out of Aussie fans, it's going to have to come from ticket sales from your long-long-long-awaited Australian tour. Get on that, stat.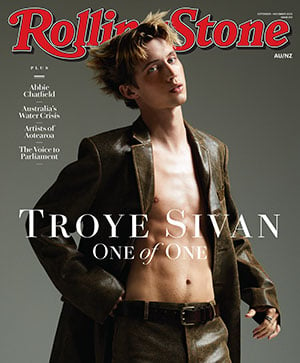 Get unlimited access to the coverage that shapes our culture.
Subscribe
to
Rolling Stone magazine
Subscribe
to
Rolling Stone magazine