With this year's ARIA Awards fast approaching, the music industry is once again readying to celebrate some of the best home grown talent of the year.
However the celebrations aren't beginning too soon, with a number of past winners and highly respected industry figures speaking out against the Federal Government's decision to cease funding of AMRAP, the Australian Music Radio Airplay Project.
AMRAP is an initiative managed by the Community Broadcasting Association of Australia, which gathers new Australian music, distributes it to community radio for airplay, and empowers broadcasters to promote Australian musicians through station websites and social media.
According to AMRAP, since its launch in 2008 over 4.4 million Australians have tuned into community radio every week, and AMRAP has helped facilitate a 5% lift in Australian music airplay on community radio nationally, bringing the average up to 37%.
Yet, although a 2011 review of AMRAP by the Department of Broadband, Communications and Digital Economy netted positive results, the Federal Government failed to include funding for the program in its 2012 Federal Budget when it pulled the plug on funding last June.
AMRAP urgently requires funding from the government to allow hundreds of community radio broadcasters to continue to access new Australian music for airplay without charge, and with the government also preparing to withdraw its support and possibly switch off digital community radio, the well-being of the local music industry remains teetering on the edge.
Once more, musicians and industry professionals are rallying in support of AMRAP.
Six-time ARIA Award winner John Butler is among those speaking out, throwing his support behind the program, and citing his own career as an example of its success; "It is essential that AMRAP remains funded by the government so that they can continue to help musicians be heard on community radio."
"The community radio network in Australia is a vital part of an independent artist's career build," said Butler. "Without community radio 99% of Australia's artists will not receive any airplay and will lose any ability to connect with their audience. And because of this they will not be able to sustain a career financially.""It will be a serious loss to the Australian music industry if AMRAP is unable to continue." – Michael Gudinski, Head of Mushroom Group
"AMRAP provides an essential tool for these musicians to access radio play, as it has done for myself in the past years and will hopefully continue to do into the future, with the government's support," said Butler.
Fellow musician Mia Dyson, a past winner and nominee at this year's ARIAs, echoed Butler's sentiments, saying "AMRAP has helped me get airplay on community radio stations across Australia, which helps sustain my career. We, as Australian songwriters and musicians, need the government to restore funding so AMRAP can keep new Australian music on the air."
Matt O'Connor, director of A&R Department cites AMRAP as a crucial part of the new "indie model", and with over 20 years of experience including his artists grabbing 17 Top 10 records, he reflects on the project's vital role in the evolving musical landscape saying, "AMRAP is so valuable for getting airplay for developing Australian artists, and is now a crucial part of the new indie music models evolving in Australia."
Along with the overwhelming support from industry heavyweights, including ARIA CEO Dan Rose, Brett Cottle CEO of APRA|AMCOS, and representatives from Birds Robe Records, artist agency Tiny Monster, and indie label Rice Is Nice; hundreds of volunteer community radio broadcasters have written to their local MPs pushing the government to renew funding to AMRAP.
Industry heavyweight Michael Gudinski, chairman of The Mushroom Group and Frontier Touring, has also weighed in saying, "It will be a serious loss to the Australian music industry if AMRAP is unable to continue.""Community radio is the lifeblood of the Australian local music scene. It's the steady rock beneath the fragile whimsy of commercial radio." – Shane Nicholson, musician"
Gudinski also championed the company's mail-out service and music catalogue, AirIt, which now features over 100 record labels and unsigned artists. Distributing Australian music to over 1,500 broadcasters from more than 300 radio stations around the country, with over 3,000 Australian musicians now relying on the initiative.
"ARMAP's AirIt initiative has helped a myriad of Australian artists forge closer ties with radio stations all over the country," said Gudinski. "To lose this service would undermine the chances of these local musicians and songwriters developing a vital audience locally and possibly internationally."
While the Government have failed to renew the initiative's four year $600,000 contract, Senator Stephen Conroy has stated that "the government is investigating a range of options for the project's continuation," but as AMRAP has warned, current reserves run out at the end of the year.
Catherine Haridy is the chair of AMRAP's advisory committee, and also manages past ARIA Award winners Eskimo Joe and Bob Evans, and commented on the lack of funding for AMRAP as a great loss: "I volunteer my time to chair AMRAP's committee because community radio is a vital building block for the careers of Australian artists."
"Without AMRAP, it will be extremely difficult for the next batch of Australian musicians to reach community radio in a meaningful way, and for great established musicians who do not fit other radio formats to find their rightful place on the airwaves."
With community radio receiving a rise in audience share from local music, and Australian musicians relying on the distribution offered by AMRAP, the project is playing an important part in making the local independent music scene thrive. However, without government support, these artists will struggle to find an affordable way to promote their work and build sustainable recognition within the transitioning musical landscape.
"In many ways, community radio is the lifeblood of the Australian local music scene." singer Shane Nicholson says. "It's the steady rock beneath the fragile whimsy of commercial radio."
AMRAP are calling for fans of local music to write to their local and Federal MPs, urging them to rethink their position on funding the distribution of Independent Australian music, with a list of local representatives provided on their website.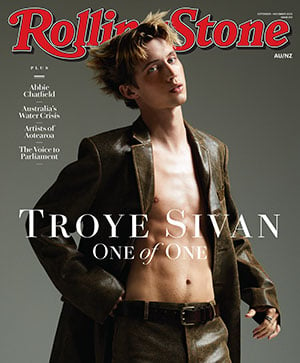 Get unlimited access to the coverage that shapes our culture.
Subscribe
to
Rolling Stone magazine
Subscribe
to
Rolling Stone magazine