It's been two-and-a-half years since Bad//Dreems released their second album, Gutful. With Doomsday Ballet out today, the group have opened up about what went into creating a record that showcases the band they want to be.
It was 2012 that the Australian music scene was first really introduced to Bad//Dreems. Having formed as mates at their local footy club, the group soon hit the studio, releasing music that soon found itself lumbered with anachronistic labels like "outsider rock" or "pub rock".
In the time since, the band have – to borrow a cliché – gone from strength to strength, releasing a solid debut EP, and two full-length releases produced by Aussie icon Mark Opitz.
While their live shows have been wild, and their records sounding like unreleased albums from the likes of the Celibate Rifles or Radio Birdman, the band's new release showcases the result of expanded horizons, and sees a band making the music that they wish to make, no longer being burdened by the expectations of outdated labels.
With Doomsday Ballet being released today through Farmer & The Owl, we had a chat with drummer Miles Wilson and guitarist Alex Cameron to discuss what went into the creation of album number three, and how things were a little bit different this time around.
Check out 'Double Dreaming' by Bad//Dreems:
As any artist would tell you, there's always a bit of nervousness when it comes to creating a new record. However, with frontman Ben Marwe noting that it had become a "bit tiresome being pigeonholed as a pub rock act," Bad//Dreems decided to do things a little bit differently this time around.
Rather than continuing with their tried and tested sound, the group teamed up with producers Burke Reid and Jack Ladder to craft an album full of tracks that truly captures the band in their element. While something of a natural evolution for the band, the band notes it was still something of a conscious decision to be true to their influences.
Love Classic Rock?
Get the latest Classic Rock news, features, updates and giveaways straight to your inbox Learn more
"I think the attitude in the studio was 'less pub, more art', which I think was culled by Tim [Rogers, real name of co-producer Jack Ladder] and Burke," explains drummer Miles Wilson. "So, I guess that's a conscious decision there to sort of transition into a more methodical approach."
"It was a mixture, I guess," adds guitarist Alex Cameron. "Musically it was natural because the influences on this album are the ones we've always had, but it was a conscious decision to put processes in place to bring those out more explicitly."
Although some artists would be somewhat wary about taking any sort of different approach to their music, Bad//Dreems remain rightly nonplussed, satisfied that the only thing that has changed is how well their sound is conveyed this time around.
"We never considered ourselves pub-rock anyway," Cameron notes. "We're still playing the essential core of Bad//Dreems. It's probably just expressed a bit better or expressed in a different way.
"The songs are the same, the players are they same. We don't feel like it's a very drastic change."
Check out 'Northern':
The record itself is a monumental listen, filled with the fury and emotion that Bad//Dreems fans have come to know and love, while being bolstered by the presence of the mesmerising chaos of tracks like 'Salad', and the slow-burning nature of 'Sally's Place'.
In a way though, the record also harkens back to the early days of the band, sounding reminiscent to their double A-side debut of 'Chills' and 'Close2God', or their head-turning Badlands EP.
"I mean, those sounds and influences have always been there," Cameron reasons, "and, I guess probably due to the nature of the first two albums, they weren't as clearly expressed.
"You know, recording with Mark Opitz who – bless him – doesn't even know who some of the influences are, like The Go-Betweens or Rowland S. Howard. He's aware of them, but he doesn't know the music, so some of the sounds and the songs selected for those albums gravitate away from that. But they were always there.
"In planning this album, we wanted to bring them to the floor again, and Burke and Jack Ladder were certainly well-versed in that canon of, I guess, post-punk or more underground music and were able to bring that out for us."
Of course, to a casual listener of Bad//Dreems, the most obvious difference between Doomsday Ballet and 2017's Gutful lies in the production alone.
Removing the pub-rock sheen that iconic producer Mark Opitz delivered on the first two albums, album number three sounds cleaner and more deliberate, with each and every song offering up its own auditory profile rather than blending in with the others.
"Even Opitz himself said he'd never do more than two two albums with a band," Cameron explains. "That's the beauty of the recording process. You work as a team, and the result is never entirely predictable.
"That process even happens in the band. You come up with a solo idea, and often — for me, anyway— it's often rooted in the idea that I want this to sound like x. For 'Morning Rain', for example, it was like, "I want this to sound like as if James Murphy produced Wire doing an Eddy Current Suppression Ring song."
"By the time they get to the band, a thousand other things that have come in from other people's minds. And it's the same process that happens in the production. We took these songs we'd slaved over and made demos, and said, 'that's what they're going to be.'
"But, then as part of getting a producer, you give them the license to deconstruct those songs," Cameron adds.
"For example, when Jack Ladder heard 'Morning Rain', which is the first song he listened to, and what got him interested in doing the album, he said, "this songs like a Magazine or Public Image Ltd song." And then, Burke has another idea and then by that time, we've created something unique.
"That's one of the great beauties of working in a team. By the time one idea has gone from your bedroom to the band and then to these other creatives, the producers, you've hopefully made something that's unique."
Check out 'Low Life':
When it came time to hit the studio for album number three, Bad//Dreems were already planning to do things differently. Noting that the first album had been intended as "a recorded representation of the live band", Alex Cameron notes that this rolled into the second album, complete with self-imposed limits on overdubbing and instrumentation.
Doomsday Ballet, however, is self-described by the band as their first "studio" record, one which has seen them create a more considered sound, and one which sees them compose a greater variety of songs by utilising the recording studio more than they had previously.
"I wouldn't say it's a new era, but I think we're just getting better," Cameron states, "and I've said many times that those slower songs are much harder, not only to play, but to record.
"By nature, we are a rehearsal room garage band and then your default sound is loud and crude, and then that doesn't lend itself to a sensitive balance like those. But as we've gotten better… we've always had those songs. 'Cannonball' was a song that was an initial idea that came before the band even existed and we've tried it numerous times.
"We did it the first few years as a band, and couldn't get it right. And we revisited it six years later, or whatever, that we'd developed as musicians, and then had the right recording setup, and were finally able to make it work. Even then, the version that we took to the studio changed absolutely drastically. Burke contributed this amazing rhythm part.
"We kind of changed it to a half-time ballad, and that really off-kilter bass part is something that Burke came up with that I don't think we would've even thought of ourselves. Then, that put it into the space where it finally fit in on this album.
"I don't think it's a new era, it's more like we're getting better at being able to express and being able to finish off ideas that we had, and being able to achieve the position that we want."
Check out 'Cannonball':
"With 'Cannonball', for example, we had that in the wings for a long time but really wanted it to be recorded," explains Miles Wilson. "I guess as we envisioned it but also with an element of uniqueness.
"So, when we broke down all the parts, and took that song into the studio, because Burke had said he really wanted to work on it, he began bringing in those elements of uniqueness.
"Like playing the bass notes only on the second beat of the bar just added an element of uniqueness to it that made it really special which was really what we wanted. We didn't want to release it without it being special because it had been in the wings for a long time, and we were all really fond of the song.
"They were really conscious of that and figuring out ways to make sure that that song is special and that it was given the attention that we wanted it to have. It's nice to see those songs come to life."
"Bob Dylan has a really good quote that "an artist must always keep moving", and he's a great example of that, and it's true," Cameron adds.
"A great source of anxiety for us was that had this term of "pub-rock" foisted upon us. And so we thought, 'well, what if we did kind of do pub-rock but make it with good songs and embrace the elements of what's called 'pub-rock'? But just make it the cool elements?'
"But, then, by five years later, that's no longer what's particularly great and exciting and so you have to follow your muse. I think all really good artists think you have to progress, and I think that it doesn't necessarily mean that we're going to pull out a set of decks and synthesisers…. You're not going to create good stuff unless it's new and it's stimulating.
"So, part of changing producers and doing songs that perhaps aren't the archetype of the first two albums is to get that challenge to yourself. And even with the songs that aren't the typical Bad//Dreems songs, like 'Double Dreaming'.
"If we had recorded that on a previous album it would have come out entirely different in terms of the voices and the tempo. So I think that's important to be able to do that stuff and do it in a way that it's a progression rather than a very aggressive change."
Check out 'Piss Christ':
Of course, the work began well before they entered the studio. Recording close to 50 demos beforehand, the group hit up guitarist Ali Wells' Grinchdoor Studios to start laying the groundwork for what would eventually become Doomsday Ballet.
However, with no preconceived notion of what they wanted the album to sound like, the culling process could easily have taken quite a while. As Alex Cameron notes, when it came to composing the new record, there was no vision at the outset.
"I guess our mantra has always just been to start of extremely broadly," he explains. "Like, if you want to write a folk song, chuck it in the mix. I think those overarching things all come together as you start to grow the body of the songs.
"I mean some songs just stand out as more interesting, or often more complete. Like, for example, some of the ideas like 'Cannonball' is six years old, but then we visit it again, we found far more and putting some bits and pieces into it until it was complete.
"Then, I guess the final fact that we narrowed it down to twenty, or so songs, with the help of some external reviews and then, those songs were then taken to the producers, and they had their input in terms of what they felt they could work with or felt inspired by. And then by the time you got to that stage, in terms of the lyrical themes of the album, I think that only really comes together almost last.
"Even though the lyrics may be fairly formed, it doesn't become clear in our own minds what the album is about until we're kind of in that recording process, or even afterwards, and then you can kind of see what brings it together, which leads off on to the title of the album.
"So, yeah, there was no real plan, and in fact, we had assigned an uncertain timeline for various reasons, so we just used that to keep recording songs. And I like to think at the first stage of the process that no idea is a bad idea and then you gradually refine the ideas until you're left with the finished."
With so many ideas having been brought to the table, the group explain that they've already got a few ideas in store for album number four, which they hope would come around a lot quicker next time.
"I'd really like to see maybe five of the songs that didn't make the cut spring to mind on the next album," Miles Wilson notes.
"Like, it's nice that we have so many contenders, and people have contributed really strongly to all different facets of songwriting, and you really got a lot of the content in to the Dropbox, so we were lucky enough to be inundated choices.
"I was certainly pretty sick of having to stick to the list the anachronistic cycle of like an album every two years," Cameron adds. "We've got all these songs, and just start getting them out. Hopefully we can do rather than this protracted cycle which was very frustrating.
"We're hoping to just dive right back in, so that's exciting, too," echoes Wilson. "It keeps the fire lit and burning real strong and bright."
Check out 'Harry's Station':
Although there's no set theme on the record, Alex Cameron notes that the songs themselves present "memories of a world that's passed us by". "As we're dancing through the pre-apocalyptic fires," he notes, "they're the flashbacks to simpler times."
With lyrics rooted in nostalgia, chaos, and even featuring a Bruce Springsteen-esque tale of crime, Cameron notes that the album's lyrics were something of a group effort from all of the band's members.
"Well, the songs on the whole album are rather evenly split, and the philosophy is that everyone can contribute," he explains.
"At the start of the creative process, every idea is welcome, and the songs that I've written almost entirely, and then there's songs that are more like a group creation of the music and then going away and me and Ben will work on the lyrics together.
So, I guess we're certainly trying to be… it has to be as inclusive as possible. And, everyone has different strengths in their creative output, and we just try to cater to that."
As for the lyrical content itself, Cameron notes that the record is something of a response to the modern world we're living in, with its title referencing the almost imminent doomsday the world seems to be tending towards.
"If you listen to some of the political philosophers… I think this theory originally comes from [Carl] Jung, is that humans like to have storylines in their life," he explains. Either in your personal narrative or on a broader sense in the more political narratives.
"For the 20th century, the political narratives were communism, fascism, democracy, and then fascism, obviously, went out the window first, and then communism more recently, and then now in this final last 10 years, we're beginning to see the end of democracy, perhaps.
"And then all of this crazy stuff is happening, like Donald Trump is president of the United States, we're almost at the stage where computers are sentient beings, and we live so much in the digital world.
"There's a lot of things that, to me, anyway, that are absurd. The traditional narratives that we grew up thinking are breaking down and, so, to me one way of dealing with that is to kind of embrace the chaos and not try to make real sense of it, to use full creative expression in this sense, and describe in the best way possible, what is going on around us."
Check out 'Salad':
As Alex Cameron notes, the most obvious example of embracing the chaos without making sense comes in the song 'Salad, which features the highly memorable lyric, "I had a bender for 7 days, Richard Wilkins was there and his face melted off."
"I honestly had no idea where that… I'm not a particular fan or someone with any particular knowledge of Richard Wilkins," he explains with a laugh. "And, I'm not exactly sure where that lyric really came from, but having said that, it meant something to me in the current context of the world.
"I felt that with this album, it feels a bit like the end of the days, and one way to cope with it is to embrace the chaos."
With Doomsday Ballet finally out into the world, the band are soon set to take the new songs to their fans, kicking off a headline tour next week that sees them visiting Queensland, Sydney, Melbourne, and Fremantle, before it all wraps up with a hometown show in Adelaide.
While the group's shows are stereotypically wild affairs that offer some of the sweatiest mosh pits in town, Cameron notes that the days of "borderline dickhead behaviour and buffoonery" appear to have come to an end, with a Bad//Dreems crowd becoming one of the more inviting places in the Aussie music scene.
"Our crowd has always been really good," he explains, "even though on the surface it may seem as though they are a bit rough.
"I don't think we've never had fights at our gig and I've taken the opportunity, as much as I can, to talk to females who come to the gig and asking if they feel unsafe because of the behaviour in the mosh pit. People have said, 'yeah, it gets a bit rough, but that's why we move to the side, or whatever,' but I don't think we've ever had any problems with that.
"We actually have a couple of wheelchair bound fans that I've spoken to," adds Miles Wilson.
"I've asked if there's any problem with people, and are they respectful when they go to the front, and they're always like, 'everyone is so good about it…there's always people protecting us and making sure that we're safe,' and to me that's so nice to hear. Sometimes it gets pretty chaotic."
Let's hope Bad//Dreems and their fans continue to embrace that chaos for years to come.
Bad//Dreems' Doomsday Ballet is out now.
Check out 'Morning Rain' by Bad//Dreems:
Bad//Dreems' Doomsday Ballet Album Tour
With special guests Cash Savage & The Last Drinks*
Friday, October 25th
(With Full Flower Moon Band)
The Triffid, Brisbane, QLD
Saturday, October 26th
(With Organs)
Manning Bar, Sydney, NSW
Friday, November 1st
(With The Pretty Littles & Hannah Kate)
The Croxton, Melbourne, VIC
Friday, November 8th
(With Dumbleachers)
Rock Rover, Fremantle, WA
Saturday, November 9th
(With Ethanol Blend)
The Govenor Hindmarsh, Adelaide, SA
*Cash Savage & The Last Drinks not appearing in Melbourne
Tickets on sale now through the Bad//Dreems website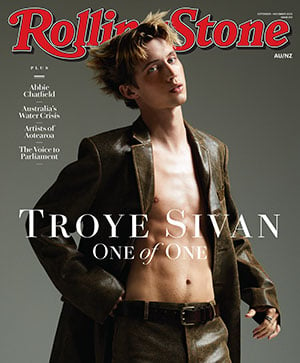 Get unlimited access to the coverage that shapes our culture.
Subscribe
to
Rolling Stone magazine
Subscribe
to
Rolling Stone magazine