This time last week, we unveiled the news that Big Day Out would be returning to 2013 with a fresh, bold reinvention as Australia's most iconic music festival celebrates 21 years and with it's coming of age, some exciting new changes.
"But for now," to put it in the words of Ken West, BDO's festival promoter, "it's about the nuts and bolts of the process and it all starts with the tickets;" and how do you sell tickets?
With a killer line-up.
They may have let the cat out of the bag only an hour ago with an exclusive video message, but yes, Big Day Out 2013 will be headlined by THE RED HOT CHILI PEPPERS. The funky monks will be playing exclusively to the Big Day Out in their first Australian shows in five years (since touring Stadium Arcadium in 2007) and returning to headline the festival for a second time, after 2000's leg (along with Foo Fighters and Blink 182).
Joining them will be THE KILLERS , who have a new album under their belt in Battle Born, one of the most highly anticipated releases of the year, and the first chance for Australian fans to catch new tunes (like "Runaways") in the live setting.
Big Day Out also welcomes more than 30 first-timers to the tour in 2013, including plenty for fans of indie music to get excited about. Featuring YEAH YEAH YEAHS, VAMPIRE WEEKEND, BAND OF HORSES, ANIMAL COLLECTIVE, AGAINST ME!, 360, FOALS, B.o.B, SLEIGH BELLS, JEFF THE BROTHERHOOD, OFF!, JAGWAR MA, DELTA SPIRIT, EVERY TIME I DIE and HOUSE VS HURRICANE.
BDO 2013 has also ensnared, as previously teased, a number of groups who appearing down under for the first time including ALABAMA SHAKES, CHILDISH GAMBINO, LOGO, DEATH GRIPS, ADVENTURE CLUB and GARY CLARK JR.
Australia's original dance music festival within a festival, The Boiler Room will return to its ground breaking roots, bringing you performances from the future so you can dance in the now. Dance-punk headliners THE BLOODY BEETROOTS will perform the world premier of their new live show along with full production sets from KASKADE,
CRYSTAL CASTLES, PRETTY LIGHTS, NICKY ROMERO, MORGAN PAGE and SAMPOLOGY with his AV / DJ show.
Joining them will be a total of 37 acts, which in the words of Ken West "truly represents the depth and scale of what BDO is all about. And with over 20 new releases on the way, by some of the best artists on the planet, it's shaping up to be an epic summer for music."
Adding that, "while the line-up is paramount, it is only part of what it takes to present a great event. Stay tuned for details over the coming months for the new announcements about food, fun and non-music entertainment we have in store to deliver you the best and biggest day possible."
Not only that, but they've managed to do it in a budget that doesn't affect the ticket-buyer, with the new all-inclusive ticket price of $165. Speaking of the drastic new economic price, West pointed out, "we think it's time to make ticket pricing more fair and simple, so we've held the price and absorbed all the frustrating extras… No booking fees, no charges for credit cards, no carbon offsets, no mailing costs. And for all of you in Perth, no transport levy! $165 flat. No surprises, no kidding!"
Along with the standardised ticket, the festival is also introducing – for the first time – a 'premium ticket', "designed for the kind of person that wants something more – an experience that money CAN buy. Its called the 'Like A Boss' ticket and as the title suggests its about fun not status… or is that status not fun?" quizzes West. The 'Like A Boss' ticket will give access to the exclusive backstage area known as the OASIS as well as all of its – yet to be revealed benefits.
But as West urges "if the OASIS feels like the place you need to be, get your people to contact our people via the website. Its $265 flat and numbers are very limited."
As for the New Zealand fans? Standby for further announcements and touring plans.
Finally, without further ado, we introduce you to the full Big Day Out 2013 line-up…
BIG DAY OUT 2013 // FULL LINEUP
Big Day Out 2013 tickets go on sale Thursday July 19 from 7pm through www.bigdayout.com at the all-inclusive price of $165, or $265 for the Like A Boss ticket.
RED HOT CHILI PEPPERS (Exclusive Australian Shows)
THE KILLERS
YEAH YEAH YEAHS
VAMPIRE WEEKEND
BAND OF HORSES
THE BLOODY BEETROOTS (LIVE)
KASKADE
ANIMAL COLLECTIVE
B.o.B
SLEIGH BELLS
FOALS
ALABAMA SHAKES
360
CRYSTAL CASTLES
PRETTY LIGHTS
OFF!
GRINSPOON
AGAINST ME!
GARY CLARK JR
NICKY ROMERO
MORGAN PAGE
LOGO EVERY TIME I DIE
DELTA SPIRIT
CHILDISH GAMBINO
ME
HUNTING GROUNDS
JEFF THE BROTHERHOOD
DEATH GRIPS
ADVENTURE CLUB
JAGWAR MA
HOUSE VS HURRICANE
AVALANCHE CITY TOUCAN
HELENA
NINA LAS VEGAS
SAMPOLOGY (AV / DJ SHOW)
Friday 18 January – SYDNEY – Showground
Sunday 20 January – GOLD COAST – Parklands
Friday 25 January – ADELAIDE – Showground
Saturday 26 January – MELBOURNE – Flemington Racecourse
Monday 28 January – PERTH – Claremont Showgrounds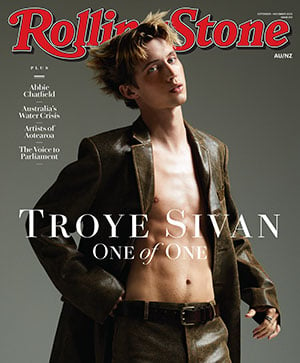 Get unlimited access to the coverage that shapes our culture.
Subscribe
to
Rolling Stone magazine
Subscribe
to
Rolling Stone magazine