It's a tough gig running a festival taking years of experience to learn how to pull it off without a hitch – and even then you can't predict the weather or how wasted the crowd will be. Join us as we count down the biggest disasters to strike the Australian festival market.
Blueprint
The biggest festival fuck up of all time in Australia without a doubt. Two guys under the age of 25, now owing debts of over $500,000 due to what they hoped would be the festival of their lifetimes. They promised the ultimate – no lines, a beer tent, cheap food etc. Unfortunately, their dream proved too big and too expensive.
Not only did the day not run accordingly, many bands didn't show up on stages due to a lack of communication and the beer supplies ran out on the first day, but the expenses for such a big event were clearly underestimated. The Gray Brothers, 20 and 23 years of age have since had their cars repossessed, both have claimed bankruptcy and immediately following the epic festival failure, they had no home to live in.
The boys have bailed to Queensland (who can blame them) where they are still hunted like rabbits, but honestly, who would allow two young lads to pull off such an stint when they claimed numerous times that "Don't worry, Mum's backing us." If Tristan and Aaron are out there, we hope you're slowly regaining your dignity!
Laneway Festival 2009
It seems like a genius idea doesn't it – a huge music festival with multiple stages in the iconic laneways and streets in the heart of Melbourne city? Well if Laneway Festival 2009 is anything to go by perhaps it isn't such a good idea afterall.
For starters far too many tickets were sold to the festival. This resulted in the mainly indie festival-goers being shoved into small, unforgiving laneways like sardines. After the situation became dangerous, particularly in Little Lonsdale Street, people were no longer able to approach the Little Lonsdale stage. Angry patrons climbed buildings, trees and any stable monuments to get a glimpse of acts such as Girl Talk and Augie March. And inevitably, the cops came.
Signs and bins were destroyed, traffic light poles were dragged to the ground, cans of expensive festival alcohol were tossed. One could say havoc broke out. Long story short, it's a good thing the festival has since been moved to Footscray Community Centre, with the Laneway Festival now bigger and better than ever. In fact, it's become one of the most successful touring festivals in Australia.
Pyramid Rock Festival 2009-2010
Weather and it's unpredictable nature can be an issue for any festival, but it's the way that organisers deal with the problem that shows true organization and understanding of risk management. Pyramid Rock Festival in 2009-2010 was hit with some extreme weather conditions including lightening storms and gale force winds, leaving festival-attendees stranded in ripped up garbage bags and seeking refuge under any stable shelters.
In addition to this, the four headlining acts; Empire of the Sun, Grinspoon, The Butterfly Effect and Van She were delayed, moved, then abruptly cancelled. Patrons weren't told the reason for the non-appearances, and as a result, onlookers were even left without a countdown into the New Year.
BluesFest 2010
In 2010 three unlucky patrons paid the exorbitant fee to take a ride on a ferris wheel only to free fall to the ground half way through their ride. After three kids, aged between 15 and 16, boarded the rickety ferris wheel cabin only to find their carriage shaking slightly. Before they knew it, it had detached itself from the rest of the structure. All three were injured and taken to hospital immediately. Understandably, onlookers were shocked by the incident.
Big Day Out Sydney 2001
A real tragedy for the festival scene and story well known in Australia. Sydney girl Jessica Michalik was crushed in a Limp Bizkit moshpit at the Big Day Out and as a result suffered from a heart attack. She was rushed to Concord Hospital, however she died shortly after of asphyxiation. The rest of the Big Day Out tour for Limp Bizkit was cancelled after the accident with lead singer Fred Durst harshly critising the security at the event.
Now stricter barrier regulations have been enforced to avoid a similar tragedy occurring again. Since the accident, Durst has openly spoken at the coronial inquiry, stating that 'he was going to make sure what happened to Jessica would never happen again'.
Falls Festival 2010-2011
How is it that at the one time of the year that you want your audio to work flawlessly, it just doesn't work? Well this is what happened at Falls Festival in 2010-2011. Joan Jett had been psyching up the crowd for some time, but when it came time for the countdown the audio was cut accidentally. Joan Jett and the Blackhearts fell silent, scratching their heads and looking into the wings side of stage.
Next thing you know it's midnight and they've missed the countdown. A countdown of sorts is played and the crowd lingers confused and dazed. Meanwhile, Joan Jett tries to get the attention of the crowd again, exclaiming, "we have to do another countdown!" 3 strikes Falls. Get it together.
Alternative Nation 1995
What was supposed to be the brainchild of top promoters Michael Coppell, Michael Chugg and Michael Gudinksi ended up to be the wettest, most tragic disaster in Australian festival history. Red Hot Chili Peppers and Stone Temple Pilots were announced to headline but eventually both withdrew.
The event was supposed to travel to Brisbane, Sydney and Melbourne, however it rained in all three venues and bands only performing during some of the afternoon at the Melbourne event. As you've probably noticed the festival has never been heard from again.
Big Day Out 2000
It's a common story: Festival visitors having to search their way throughout festival grounds to find toilets, then having to wait 10+ minutes to enter a free Port-A-Loo, only to find poo stains, toilet paper and other scattered matter crawling around their feet.
Big Day Out's answer to easing the pain of going to the toilet at festivals, especially for women was to create the She Pee! Put simply, it's a paper funnel-like object held between the legs of female toilet users, in order for them to use a urinal instead of hogging cubicles.
Although the concept went down a treat in festivals in the Netherlands, Aussie women didn't warm up to the idea of standing and peeing.
Bam Festival 2010
Normally Brisbane is one of the toughest festival markets in Australia, so when a few music lovers decided to put on a music festival in 2010 they massively underestimated their capabilities. Booking a whole bunch of bands most people had never heard of, then asking the bands to sell tickets to their friends meant that it descended in to organisational chaos. Unsurprisingly they pulled the pin before it became a second Blueprint.
[include file="slideitem.php"]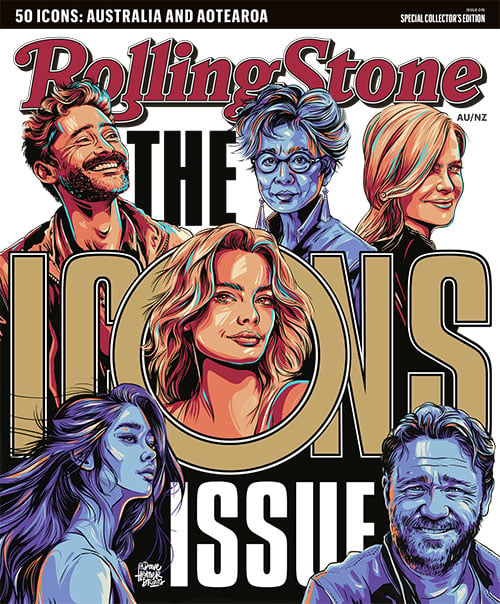 Get unlimited access to the coverage that shapes our culture.
Subscribe
to
Rolling Stone magazine
Subscribe
to
Rolling Stone magazine