It's the rock and roll reunion that no one asked for, but there's an online campaign currently doing the rounds which asks for Nickelback's Chad Kroeger to take over for Kurt Cobain in a Nirvana reunion.
Back in 2014, a bunch of industry insiders were lucky enough to see a brief Nirvana reunion at the Rock and Roll Hall of Fame inductions, then later that night, attendees at a small Brooklyn club were lucky enough to see a full-length version of that same gig.
While the band were sadly unable to be fronted by their legendary singer and guitarist Kurt Cobain, the reunion saw a bunch of brilliant musicians take up that role, including Joan Jett, Kim Gordon, St. Vincent, Dinosaur Jr.'s J Mascis, and Deer Tick's John McAuley. However, according to a group of fans online, there was one notable name missing from that FOMO-inducing lineup: Nickelback's Chad Kroeger.
Appearing on Facebook recently, a supposedly satirical event was published with the name 'Nirvana Reunion With Chad Kroeger From Nickelback On Vocals'. Ostensibly set to take place on January 1st, 2019 at the Nirvana Hair and Beauty Bar in Manchester, England, one-and-a-half thousand fans have listed themselves as 'going', while almost four thousand have expressed their interest.
The event's co-ordinator, 'Be Reet', has also furthered the joke by revealing that the "'Nickelvana' Tour announcement" is imminent, while noting that "support comes from Puddle Of Mudd, Bush and Silverchair."
While plenty of fans have laughed at what appears to be a rather divisive musical joke, others have shared their resounding disapproval of the notion. Others however, seemed to just try and rock the boat completely, with one user asking "Why would Chad lower himself to this? Nickelback rock harder that Nirvana ever did."
Another user happened to point out just why Kroger would make the perfect replacement for Kurt Cobain, noting that he posseses "the same power, energy, and no-fucks-given attitude that made Kurt such a poster-boy."
"He's spent nearly his whole Nickelback career batting back at the bastards, the perennial whipping boy who's still standing tall," continued Tom Connick. "On-stage, he knowingly takes digs at his own reputation. He doesn't give a fuck what you think – and neither did Kurt. They're peas in a pod, in that regard."
Of course, the chances of this actually happening are pretty slim, but if such a reunion ever did take place, it seems like The Smashing Pumpkins' Billy Corgan might be onboard, with the rocker professing his love of Chad Kroeger last year and referring to him as "an incredible songwriter".
If you're keen on expressing your interest in the Nickelvana reunion, check out the Facebook event page here.
Check out Nirvana's 'Smells Like Teen Spirit':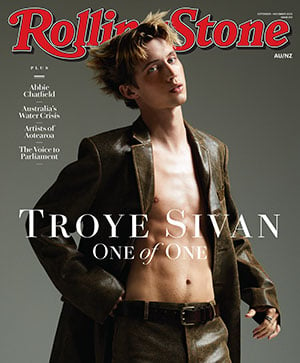 Get unlimited access to the coverage that shapes our culture.
Subscribe
to
Rolling Stone magazine
Subscribe
to
Rolling Stone magazine