Controversial artist Chris Brown has hit back at CHVRCHES, labelling them "the type of people I wish walked in front of a speeding bus" following their comments about producer Marshmello.
On Friday, Scottish musicians CHVRCHES took to social media to decry the decision of US producer Marshmello to work with controversial artist Chris Brown.
CHVRCHES, who recently appeared on Marshmello's 'Here With Me', criticised the artist's choice to collaborate with Chris Brown and Tyga on the song 'Light It Up', given Brown's history of domestic abuse, most notably against former partner Rihanna.
"We are really upset, confused and disappointed by Marshmello's choice to work with Tyga and Chris Brown," CHVRCHES wrote in a statement posted to Twitter.
"We like and respect Mello as a person but working with people who are predators and abusers enables, excuses and ultimately tacitly endorses that behavior. That is not something we can or will stand behind."
— CHVRCHΞS (@CHVRCHES) April 25, 2019
However, while Tyga wrote a rather diplomatic response noting that "Where [sic] all God's children. Everyone makes mistakes no ones perfect. Let's Keep the energy positive," Pitchfork notes that Chris Brown took to Instagram to hit back at the band in a much more inflammatory way.
Writing a comment on CHVRCHES' recent Instagram post, Brown called the group a "BUNCH OF LOSERS," before making his true thoughts clear.
"These are the type of people I wish walked in front of a speeding bus full of mental patients," he wrote. "Keep groveling over you [sic] own insecurities and hatred."
"IM BLACK AND PROUD. AND I KNOW ITS HURTS THAT U GUYS ARE STRUGGLING WIT LIFE OR PEACE SO U ARE FORCED TO SEE MY SUCCESS."
"You aren't even #2 (REMEMBER 2nd place only means YOU LOST FIRST! TA-TA," he concluded. "GOODDAY [sic] PEASANTS."
While CHVRCHES haven't responded to Chris Brown's comment, singer Lauren Mayberry shared a post on Instagram after the band's initial statement, pointing out examples of the hate she has received as a result of speaking out.
"The last 'bitch' really helped get the point across," she wrote on a post showing an angry message from an anonymous Instagram user.
"Angry men on the internet can call me all the names they want. I still think domestic abuse is wrong. Peace out, internet. Tomorrow is a brand new day."
Marshmello is also yet to respond to either CHVRCHES' original statement, or Chris Brown's response.
Check out Marshmello's 'Here With Me (feat. CHVRCHES)':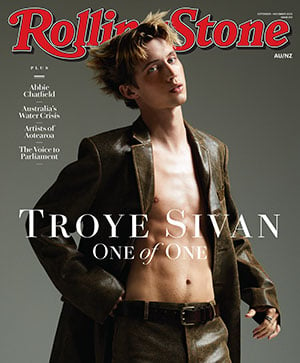 Get unlimited access to the coverage that shapes our culture.
Subscribe
to
Rolling Stone magazine
Subscribe
to
Rolling Stone magazine