Courtney Barnett has just released her debut EP I've got a friend called Emily Ferris. It was recorded one day in a lounge room in Thornbury, with Alex Hamilton, Pete Convery (Merri Creek Pickers) and Brent DeBoer (The Dandy Warhols). Everyone is digging it.
Your EP I've got a friend called Emily Ferris was released in April this year. Has it been received the way you were hoping it would be?
I feel like the luckiest person in the world. Some musicians who I really admire have told me they dig it. I'm talking about people I really like; I own all their records and I'm borderline obsessed with them. That's pretty cool. I don't know how it even got into their hands. That means more to me than any magazine dude liking it. The fact that people are even listening to it, then buying it, then telling me they like it, then telling other people about it, then all of those people comin to our gigs….that's pretty incredible. We just did a residency in the Tote front bar and we had that place packed to the rafters every week, I didn't even know who all those people were. I'm just used to my buddies being my audience. So yeah, it's gone way better than I hoped it could have.
You've intrigued listeners with your honest and upfront lyrics. Were you aiming to draw in your audience this way or was that just a bonus of your unique music?


Aren't all lyrics honest? I definitely hold no conscious intention of 'drawing people in'. That's a pretty contrived and commercial thought that I try not to ever have. It's just the way I write. I write what I want to hear. I'm a pretty socially retarded person, so I write about stuff that I can't talk about. It's like passive emotionalism. And that masturbating line…it's not supposed to be shocking or avant garde. It's just funny and matter of fact. If your lyrics aren't upfront then they're just another boring old song, you might as well be photocopying old TV guides and filing them alphabetically.
How would you describe your style?
Like a tie-dyed tee shirt dyed with the urine of Phil Collins and the blood of Jerry Garcia.
You took part in the Reclink Community Cup recently. How was that experience?
Man that was fun. I don't really like football, it's full of jocks, but I like the Community Cup. It's full of cool people who dig cool music. Learning everyones name was harder than learning the rules. It's for charity, I essentially went onto the field channeling Bono; "one ball and the truth"
What have been your greatest influences when making music?
WWJD? What would Jimi do?
Fess up… What/where was the first gig you went to?
Homebake in Sydney. Maybe 2001? I remember Bodyjar and Superjesus played. I was about 13 and my parents didn't know where I was, they got real angry when I got home after sun down. We got a guy to buy us one of those pre-mixed bourbon and coke cans and we shared it between six of us. It was pretty hardcore. I just googled the line-up from that year and I missed The Hoodoo Gurus, Augie March, Machine Gun Fellatio…..if only I'd known better. I think I listened to a lot of Triple M at that stage.
Do you prefer to play at intimate venues or at festivals?
I dig intimate venues, but I've never really played at a festy so I can't make any fair comparisons. I've been to a lot of festys and you spend the majority of your time thinking about not falling over.
What has been the stand out gig you've played so far?
Fraser Island. This little pop-up venue at a bookstore on Lygon Street that Darren Hanlon and Laura Jean curated. Donno did sound. It was magical.
How do you like your music? On digital, CD, or vinyl or maybe even cassette?
Vinyl every time. It looks beautiful. It sounds beautiful. It feels sexy. It normally comes with a digital download anyway so you can put it on your computer if you want. I don't have an iPod yet so I kinda only listen to music in my bedroom. I like getting people into my room onto my bed and showing them a cool record. I wish I made my EP on vinyl. CDs are like digital photos.
Any plans for new music coming our way?
We're gonna record some new stuff in August. Another EP. I've got the coolest band in the world.
Any more gigs coming up in 2012?
Just a few around Melbourne (Saturday 14th July, Toff in Town – Fraser A. Gorman EP Launch), a Hobart number (EP Launch – Republic Bar, Thurs 12th July) and a Brisbane number (BigSound). I'm doin some stuff in Nashville/Portland in September (CB and also my other band Immigrant Union). And there's a little CB tour around November in the pipeys.
Check out Courtney's tunes here: www.facebook.com/courtneybarnettmusic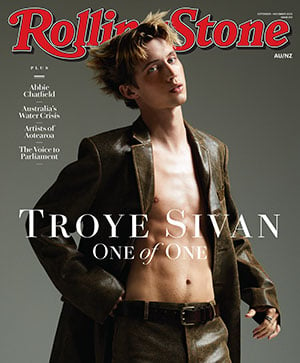 Get unlimited access to the coverage that shapes our culture.
Subscribe
to
Rolling Stone magazine
Subscribe
to
Rolling Stone magazine