Australian fans could be amongst the first in the world to hear the hugely anticipated new album from music's two wiliest androids, Daft Punk.
The Parisian house music pair have been drip-feeding information on their fourth studio album (discounting the Tron: Legacy soundtrack), Random Access Memories for the last few months, including a new video making of series that interviews the collaborators featured on1 the forthcoming album, and in a story that's custom-made for 'so crazy it just might work', yesterday the Narrabi Courier reported that the duo are planning to launch the album in regional NSW. Wait, what?
Yes, that's right, the small NSW town of Wee Waa will be hosting a "global album launch party" for Daft Punk's new record on May 17th, with music media and fans expected to descend on Australia's cotton capital and its sleepy population of 2,000 people.
Narrabri Shire Mayor Conrad Bolton tells the local paper he thought a "mate was pulling my leg" when he received a call from Sony Music, the owner of Daft Punk's new label home Columbia. Mayor Bolton was asked about the prospect of the French two-some hosting the worldwide launch of Random Access Memories in Wee Waa.
After agreeing, Sony executives took a secret trip to the NSW regional town to "inspect facilities" and determine if it was appropriate for the global launch, working closely with the Narrabri Shire Council and Wee Waa Show Society for the May 17 launch.
As for the bizarre decision to host one of the world's biggest acts in a rather obscure location? " Narrabri Shire Mayor Conrad Bolton tells the local paper he thought a "mate was pulling my leg" when he received a call from Sony Music
We think Wee Waa is so uniquely Australian, so the folks at Sony Music along with Daft Punk thought it fitted the bill perfectly," said Mayor Bolton, adding that Sony Music wanted to undertake a launch that hadn't been done before.
"Daft Punk is known for breaking down barriers and coming up with new creative, innovative ideas to launch their albums." Never mind that many of the Shire's residents may never have even heard of the Grammy Award-winning duo.
Details are still being kept secret, but the Wee Waa Showground will host a playback of Random Access Memories as it is streamed simultaneously online around the world as part of the Wee Waa Show, a local festival whose date coincides with the album's global release date.
"It's great for Wee Waa and fantastic for the shire," said Wee Waa Show Society president Brett Dickinson; "the flow on effect from this will be fantastic, especially for all businesses in the area… We thought getting senator Fiona Nash to open the show was a bit of a coup, but now our show program has been bolstered 10-fold."
"We're still pinching ourselves. We don't know why, but why not?" Mr Dickinson told Triple J, echoing the thoughts of many disbelievers still thinking the entire launch could be a hoax. "They just wanted somewhere that was different to what Daft Punk does," Dickinson defends. "They're known for breaking down barriers and being creative and Wee Waa is uniquely Australian so they just said lets go to Wee Waa." "We're still pinching ourselves. We don't know why, but why not?" – Brett Dickinson, Wee Waa Show Society
Tickets to the Wee Waa Show are limited to just 4,000, but its expected that the news will see thousands more flocking to the country town to catch a glimpse of the Daft Punk festivities. "This is just one fantastic part of our normally huge and entertaining show, we've got a lot of entries for the campdraft, and our horse section attracts a lot of out-of-towners," said Mr Dickinson.
Random Access Memories is Daft Punk's first studio album (besides the 2010 Tron: Legacy soundtrack) since 2005′s Human After All, and their first under their new deal with Columbia Records – a Sony imprint – after splitting from EMI after 17 years, following the label's $1.9 million merger with Universal Records last year.
A new video series entitled The Collaborators has also begun sating fan's appetites for information on the new blockbuster album. The first episode featuring disco über-producer Giorgio Moroder calling the pair of Thomas Bangalter and Guy-Manuel de Homem-Christo "perfectionists", while the second instalment – released yesterday – interviewed collaborator Todd Edwards, who revealed the pair were channeling a 'West Coast vibe'; inspired by Fleetwood Mac, the Doobie Brothers, and the Eagles.
All that's been heard of the album is the 15-second teaser first aired during Saturday Night Live, then the album artwork reveal caused a website meltdown; the track lengths, but not the song titles, also turned up online. The months of teasing finally come to a close this May 17th, when Random Access Memories is released and launched at the NSW town of Wee Waa.
You can pre-order the album on CD & vinyl here , and view the official album artwork and tracklist (times) below:

Random Access Memories tracklist
01 4:34
02 5:21
03 9:04
04 3:48
05 5:37
06 5:53
07 8:18
08 6:07
09 4:50
10 5:41
11 4:39
12 4:11
13 6:21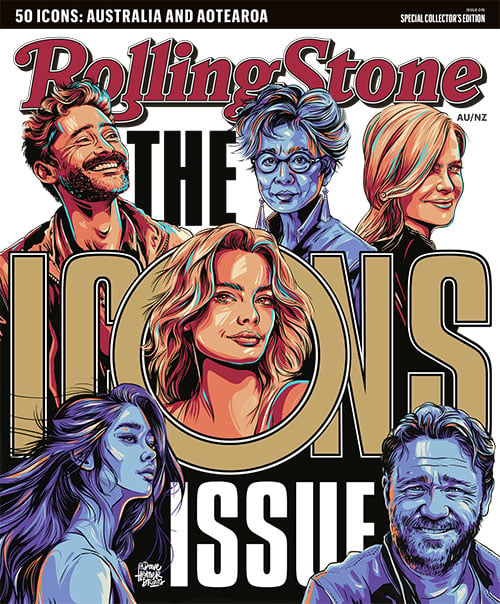 Get unlimited access to the coverage that shapes our culture.
Subscribe
to
Rolling Stone magazine
Subscribe
to
Rolling Stone magazine