"I first heard David's music when I was 3 years old," says Annie Clark ahead of the evening's first of two encores. "In a movie – Revenge of the Nerds. David's music was in a scene that contains the most apt use of a sync in the history of all music and film."
It is of course the Talking Heads staple 'Burning Down The House' she is referring to, but little could the infant girl who would go on to become St. Vincent know that one day she would be collaborating and sharing a stage with the Scottish-born, American-bred icon as equal creative partners.
But then neither could Byrne, who was Clark's age now when he first wrote the new wave hit, and now precisely 30 years her senior, could have predicted that he'd inspire and in turn be inspired by the heiress of indie royalty.
Clark's touching monologue says much of the serendipitous partnership that led to Love This Giant, the album the pair wrote and recorded together.
A chemistry that worked so well, that the two extended their collaboration to the road. Given the original catalyst for their pairing was a failed concert commission, they now reach full circle for the opening night of their Australian tour.
Augmented by a 10 piece, brass and wind heavy ensemble, the pair begin as their album does, with the irresistible, off-kilter patter of 'Who'.
The silvery haired Byrne, donning a wireless mic and white dinner suit, swivels with nervy candour as Clark – trusty, lipstick red Gibson SG in hand – lets her mutant guitar licks splay across the rich Afro-funk tones.
It's the first of many highlights, not just from the duo's album, but a healthy smattering of Byrne's extensive catalogue ('Lazy', 'Like Humans Do'), as well as Clark's St. Vincent material ('Cheerleader', 'Cruel').
There's a theatrical element to proceedings too, with engaging choreography, designed by Annie-B Parson, throughout the two-hour performance.
Bodies weaving across stage in simple, but bold geometric movements – all the while playing and bustling, which along with effective lighting, makes a distinct visual impression as much as the music's oddly charming arrangements do.
But it's the mutual admiration between Byrne and Clark that's most warming.
"You got it DB," Clark chirps as Byrne finishes another woolly monologue, or as she smiles at his shuffle.
Dancing like a lovably eccentric uncle, or more specifically, Jacques Tati's Monsier Hulot, box stepping through the Clark-led numbers.
When he does take the reins, as on a buoyantly funky 'This Must Be The Place' he still possesses the likeable, fidgety presence and fizzing grooves he long ago perfected.
'I Should Watch TV' is another triumph, dedicated to "Adelaide's gift to the world – the Murdoch Family," it finds Byrne channelling his lyrical preoccupation with cotemporary living with the anthemic yet unconventional tilt that lit up 'Once In A Lifetime'.
His character perfectly complementing and contrasting Clark, who plays the robotic doll on the mechanical march of 'The Forest Awakes' with its paddling, trilling horn textures and climactic surge.
When she's not skittering across the floor, plucking with surgical ferocity at her instrument, she coos voluptuously on the lush 'Optimist' and bittersweet 'The Party'; providing her own idiosyncrasies that coalesce neatly with Byrne's.
It's not just the native city of New York that these two music mavericks share; though three decades, two musical generations, and many experiences set them apart, placed side-by-side on stage they seem entirely inseparable.
Like a living Venn diagram, wholly inhabiting the rich dimension where their two musical spheres overlap.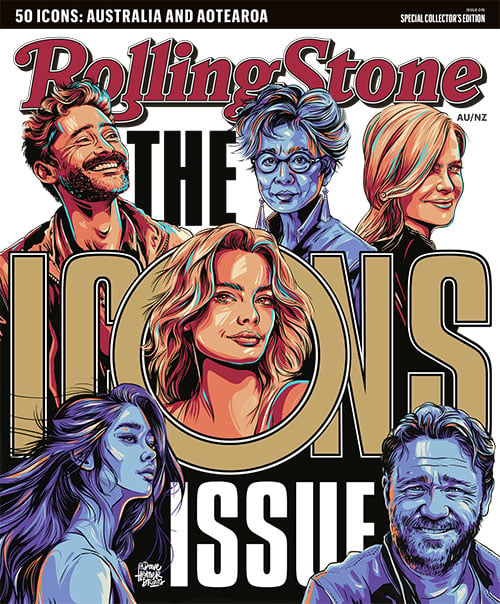 Get unlimited access to the coverage that shapes our culture.
Subscribe
to
Rolling Stone magazine
Subscribe
to
Rolling Stone magazine