As DMA'S release new music and look ahead to the release of their forthcoming third album, the band recently revealed to Rolling Stone Australia that an intriguing new project might be on the horizon.
This Friday was set to see DMA'S release The Glow, their third studio album, and first record since For Now back in 2018. However, due to the global COVID-19 pandemic, the band have been forced to postpone things somewhat, with The Glow now set to drop on Friday, July 10th.
However, the band haven't exactly been resting on their laurels during this time. Though touring plans have been nixed, guitarist Johnny Took recently released 'It's You', the debut single from new project BIG TIME, which he founded with his brother, PLANET frontman Matty Took.
Likewise, last week saw the release of the new record's title track, with 'The Glow' hitting streaming services and being well-received by fans.
One that was fine-tuned over years, following many personal and professional changes for the band, Tommy O'Dell has labelled it one of his favourites on the album. "For me it's a snapshot of where we were and where we're at now," he explained.
Check out 'The Glow' by DMA'S:
With its slick production, catchy chorus, and soaring vocals, 'The Glow' is undoubtedly an exceptional example of what they made during sessions with famed producer Stuart Price. However, in a recent chat for the upcoming debut issue of Rolling Stone Australia, guitarist Johnny Took revealed that there might be a much different DMA'S release on the cards for the near future.
Discussing the group's decision to make their new record somewhat more pop-influenced than previous, Took noted that some of the songs that wouldn't have been suited to Price's production style have been held back and could appear down the line.
Love Classic Rock?
Get the latest Classic Rock news, features, updates and giveaways straight to your inbox Learn more
"A lot of the songs we picked [for the album] were songs that we thought, 'Hey, we're using a producer like Stuart'. So using someone of his calibre, we wanted to play to his strengths," Took explained.
"We knew that he could do that dancier, poppier kind of thing particularly well, and I guess we picked songs thinking of that."
"There's so many songs that didn't make the album," he continued. "We have talked about doing an EP or an album, or a mini-album, or something of just a harder, punkier style, heavier – for us – style.
"I guess we'll see where we're at, but that's one thing I would like DMA'S to be. The kind of band where we say, 'Yes, we have made an album like The Glow, which is a big pop record, but I don't see why we can't kind of shift as we go along.'"
DMA'S are set to release The Glow on July 10th, while the debut issue of Rolling Stone Australia (featuring a long-form chat with guitarist Johnny Took) is set to release in May. To check out the full interview, be sure to subscribe now to ensure you never miss a story.
Check out 'Life Is A Game Of Changing':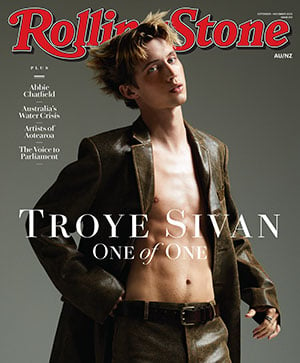 Get unlimited access to the coverage that shapes our culture.
Subscribe
to
Rolling Stone magazine
Subscribe
to
Rolling Stone magazine