Following on from last night's announcement that Movement Festival had suffered some setbacks, including losing headliner 2 Chainz and Angel Haze from the lineup, adding two Aussies as replacements, and downsizing to indoor venues due "a worse than anticipated long rang weather forecast," it looks like there's going to be another new urban music festival to add to the Australian music calendar.
Movement and the all-ages Supafest are squaring off on three dates in capital cities over next week's Anzac Day long weekend and following shortly after, we can expect the lineup announcement for the brand new Hype Music Festival, as FasterLouder reports.
The news of Hype Music Festival, slated to take place this November, comes courtesy of Supafest's former boss John Denison, who has let slip on twitter the news of a brand new "urban music festival" with the hashtag #Hype.
Responding to inquiries about possible lineup details, Denison let on that the inaugural bill would feature a first-time Australian visit, one 'legendary' act, and a few "very very cool" artists:
Denison was the former honcho for Supafest, but no longer has any connections to the music festival and is now an Artist Manager at UAE Presents, the promoters that presented Mariah Carey's Australian Tour in January and The Jacksons' recent MJ-tributing Unity Tour in Australia.
Even with Denison's track record, Australia's patchy history with rap and hip hop tours and festivals shows that it's a risky business, as demonstrated by the debacles involving Flo Rida, Pitbull, and Mos Def's Australian tours, Movement's recent troubles and the spectacular financial crash of Heatwave. But Denison knows firsthand the struggles involved, given the excellent case study of last year's Supafest.
Despite the controversy surrounding Supafest's 2012 edition, involving a string of no-shows and headliners P, Diddy, Missy Elliot and Rick Ross, pulled off the lineup at the last minute, Paperchase Touring promoter Dwayne Cross is promising that next week's run of April shows – featuring 50 Cent, TI, Ne-Yo, Akon and more – will be 'drama free'.
Paperchase Touring was also embroiled in a number of court cases, getting dragged into a lawsuit brought forward by the PPCA over failing to pay $13,200 owing in collective royalties before US-based booking agents, the American Talent Agency, slapped Paperchase Touring with a lawsuit in the the New York Supreme Court. [Hype Festival promoter] Denison let on that the inaugural bill would feature a first-time Australian visit, one 'legendary' act, and a few "very very cool" artists…
A SmartCompany report revealed that creditors were owed in excess of $2 million from Paperchase Touring from the Supafest 2012 fallout, with promoters rolling ahead with this year's Supafest 4, announcing venue and ticketing details while still owing thousands of ticket holders refunds from last year's troubled event after the string of no-shows and cancellations, and in some instances, because acts were never even booked for the event.
Promoter Dwayne Cross says there'll be no such trouble for next week's "really safe" Supafest 4 lineup. "What I've done this year in particular, is use a number of artists that I've worked with over a period of time," said the promoter, who has helped with the debut Australian tours for Jay-Z, Kanye West, and Rihanna in the past.
"Due diligence has been employed by myself and the team we are working with to figure out how the line-up is going to be powerful and sell tickets but also be promoter friendly," he added.
The addition of Hype Music Festival to November's musical proceedings isn't the only new blood that's emerged for the festival calendar this year.
Yesterday, Tasmania's MONA announced DARK MOFO, pegged as the "darker sister" to the summer MONA MOFO music festival series. The event will take in art installations and exhibits in around Hobart's city and harbour precinct, while the musical lineup will be handled by Violent Femme/current member of supergroup The Break/MONA curator Brian Ritchie.
DARK MOFO takes place on the 13th – 23rd of June, with the full lineup to be revealed on April 19th, but organisers have already confirmed Canadian singer-songwriter Martha Wainwright as the first act for the festival's inaugural bill, as part of the Brooklyn-based singer-songwriter's forthcoming Australian Tour this June.
Then there's the boutique music and arts festival, Sounds On Sunset, which will take place at the Sundowner Tiona Tourist Park and Conference Centre on the state's North Coast on the weekend of May 18th & 19th, with a lineup featuring The Snowdroppers, Galleri, Mar Haze, Jimmy Bazil Project, Royal Chant, The Whores For Pinot, and Jame Bennett.
Let's not forget strange saga of the inaugural Stone Music Festival, first appearing out of nowhere boasting Van Halen for an exclusive headline slot, and most recently absorbing Aerosmith into their lineup for an arena rock superstar double-act for its kick-off next Saturday 20th April, while Mr Piano Man Billy Joel headlines the Sunday evening.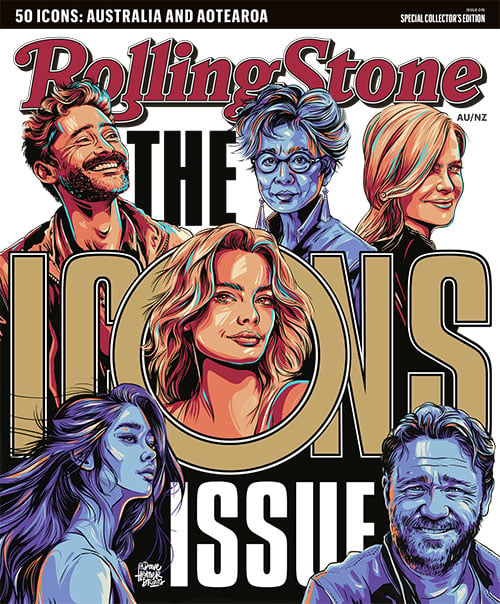 Get unlimited access to the coverage that shapes our culture.
Subscribe
to
Rolling Stone magazine
Subscribe
to
Rolling Stone magazine