With a fresh new cover of Slipknot's 'Psychosocial' and the heaviest album of their career on the way, it's safe to say that Melbourne's nihilistic metalcore quartet Void of Vision is ready to raise hell, and so we sat down with them to get to know them better, before the whole world catches fire.
Melbourne's godless guardians of the gates of hell, Void of Vision, are the metal four-piece that don't play around. Comprised of frontman Jack Bergin, guitarists James McKendrick and Mitch Fairlie and drummer George Murphy, the band has returned to tease their brand new album in the wait, Hyperdaze.
Building on the momentum of Children Of Chrome, and their more recent outputs, 2017's Disturbia EP and the riotous 2018 single 'Kill All My Friends', Void of Vision has been consistently stretching their touring muscles.
They've played slots at Good Things, UNIFY and Halloween Hysteria, have performed extensive headlining gigs across Australia, popped over to Europe for a string of visits, and have recently announced a supporting slot alongside heavy hitters Northlane. The band has been busy showcasing their live assault, and with new single 'Hole in Me', they want to let you know that new music is coming, and it's coming straight for your head.
Listen to 'Hole In Me' below
Geared up to impart their refined new material on the masses, the Hyperdaze era is set to see Void Of Vision at their most tenacious and hell-bent yet, with an album that has been described by frontman Jack Bergin as "pure hatred, self-loathing and nihilism."
Before the album's release (which you can pre-save here) on September 13 though, the band have just dropped an absolutely haunting cover of Slipknot's 'Psychosocial', featuring members from Northlane, Make Them Suffer and Polaris, and we can't get enough of it.
We sat down with the band to get to know them just a bit more, and reminisce on the good old days when God was truly alive.
Listen to Void of Vision's Slipknot cover below:
Get To Know: Void Of Vision
How did your band name come about?
We literally sat down together and tried to figure out what would catch attention as you go through an iTunes library haha. We wanted a name with alliteration and got stuck with something that sounds cooler with the initials than the actual name, I feel like more people call us 'VOV' than Void Of Vision these days.
How would you describe your music to your grandma?
I think I'd just avoid telling her that I'm in a band, would much rather that than having to deal with that conversation. Now that I think about it, I don't think my grandma actually knows I'm in a band…
Tell us about a few of your tracks; their titles and what they're about?
'Hole In Me' – is a self-deprecating reflection, outlining my struggle to pull myself out of my rut, delving deeper into my own darkness whilst I flirt with suicidal fantasies.
'If Only' – basically a look into how overwhelmed my brain becomes when I run out of time to look after myself after devoting it all to other factors.
'Kill All My Friends' – outlines a period of time in which I allowed blind ambition and intrusive thoughts get the best of me which seriously interfered with my creativity and motivation.
What do you love about your hometown?
We're from the far eastern suburbs of Melbourne, I just love how secluded it is from the hustle and bustle from the city, and how it is just a lot more easy-going and wholesome. As for its music scene, I feel like it has a rich history of heavy music. It's where I first fell in love with the genre and it's an honour to be one of the remaining, pioneering bands from our hometown.
Career highlight so far?
A career highlight would have to be performing the inaugural Good Things Festival last year. Getting to play the same stage, let alone meet The Offspring, the band who got me into alternative music is definitely a life/career highlight that'll be hard to top.
Fave non-music hobby?
Not really a hobby but I've developed a huge taste for film of late. I'm absolutely obsessed with just watching and learning more about film techniques and every little inch of detail that goes into making a movie.
What's on your dream rider?
Everything that I WISH I asked for on the rider that isn't there when I actually get to the venue.
Dream music collaboration?
Not even a stretch of the imagination but I'd love to collab with Ecca Vandal and have her on some new VOV.
Where do you see yourself in 10 years?
As much as I'd LOVE to say still touring, the future is so unpredictable so I'm not 100% there, although personally, I'd love to have begun starting a family before I get too old haha.
What's your go-to karaoke song?
'The Kill' by 30STM, otherwise anything My Chem… like literally anything.
Check out 'Hole In Me' by Void Of Vision below:
Void Of Vision 2019 Live Dates
(Supporting Northlane)
Friday, October 11th
UNSW Roundhouse, Sydney, NSW
Saturday, October 12th
The Triffid, Brisbane, QLD (SOLD OUT)
Thursday, October 17th
170 Russell, Melbourne, VIC
Friday, October 18th 
170 Russell, Melbourne, VIC (SOLD OUT)
Saturday, October 19th
Lion Arts Factory, Adelaide, SA (SOLD OUT)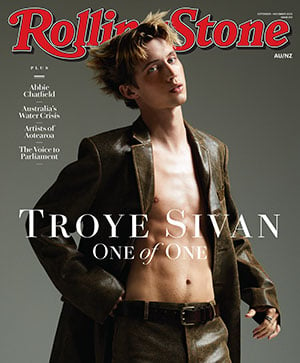 Get unlimited access to the coverage that shapes our culture.
Subscribe
to
Rolling Stone magazine
Subscribe
to
Rolling Stone magazine