The world is expecting big things from Wollongong teen Stevan. While most school leavers celebrated graduation with a well-earned break, Stevan was inking deals with Honeymoon Records/300 Entertainment in the US (Rejjie Snow, Anna of the North), Kobalt Music, Niche Productions and Astral People.
When Stevan released his debut single 'Timee', triple j's Richard Kingsmill had this to say:
"I haven't gone for the 5 star rating for a while. But I'm dishing it out here. This captures that Frank Ocean/Tyler/Steve Lacy laid back vibe that I love so much."
Naturally the track got added to full rotation on triple j and received playlist support from Apple Music and Spotify.
Since then, it's been a wild ride on his way to the top, complete with a lauded debut at this year's BIGSOUND, and the release of new single 'LNT', which saw Stevan tap director Jordan Kirk (xingerxanger) for the video.
Sydney music lovers are in for a treat this weekend at Stevan is set to play free music festival Jameson House of Rounds this Saturday with Alex Lahey, Carmouflage Rose, Ziggy Ramo, Body Type and more.
Before that though, get to know Stevan a little better as reveals how his name came about, what's on his dream rider, and his surprising karaoke track pick.
Get To Know: Stevan
How did your artist name come about?
Well my middle name is Steven and everyone I know including my parents have always called me that. So I thought why not I add an A as in Stevan in hopes of a future Vans endorsement haha.
How would you describe your music to your grandma?
Umm not sure, my grandma is no longer with us but if she was, I'd tell her my music sounds like a sunset or a nice day at the beach.
Tell us about a few of your tracks; their titles and what they're about?
I'll start with 'Timee' the title embodies the themes of the track. Wondering if a loved one thinks about me sometimes wondering when my music will take off stuff like that.
'LNT' stands for Love and Tenderness I wrote the song because I miss classic love songs not a dig at grind music haha, just wanted to explore themes of romance from a simpler time.
Watch Stevan's video for 'LNT' below:
What do you love about your hometown?
How familiar everything is and in Wollongong we have a strong local culture – haha that sometimes I'm at odds with – but it's for sure one of the best things about living here. And the beach!
Career highlight so far?
Playing Sound On festival, that was an experience I'll never forget!
Fave non-music hobby?
I like film a lot I've written draft scripts, made Mini short films, I don't do it as much but it'd be nice to.
What's on your dream rider?
Cardboard cutout of Dr Phil.
Dream music collaboration?
Pharrell Williams or Andre 3k or Frank Ocean or Stevie Wonder haha I don't know.
Where do you see yourself in 10 years?
Chilling haha. By then I wanna have at least two albums out, living somewhere quietly plotting on a third release and world domination.
What's your go-to karaoke song?
I can't remember the song but the chorus goes "I'm a barbie girl", that song slaps.
Watch Stevan perform an acoustic version of 'Timee':
You can catch Stevan at Jameson House of Rounds, a free one-day festival at Marrickville's Vic on the Park on Saturday, October 19.
JAMESON HOUSE OF ROUNDS 
SATURDAY, OCTOBER 19 – 2PM TILL 3AM
VIC ON THE PARK, MARRICKVILLE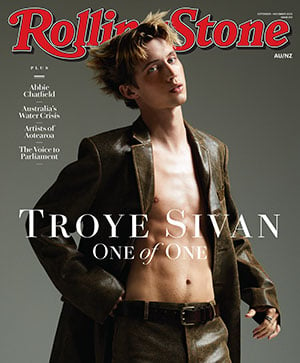 Get unlimited access to the coverage that shapes our culture.
Subscribe
to
Rolling Stone magazine
Subscribe
to
Rolling Stone magazine