Review: Good Things festival at Flemington Racecourse, Melbourne, December 7th 2018
Earlier this year, Australia was blessed with the news of a brand new festival. Dubbed Good Things, it was set to bring some of the finest acts in punk, rock, metal, and emo to fans in Melbourne, Sydney, and Brisbane.
Now, after months of waiting, the inaugural edition of Good Things kicked off in Melbourne on Friday, truly living up to its name.
Check out The Offspring's 'Self Esteem':
Despite the sweltering 39 degree weather, eager music fans found their way to Melbourne's Flemington Racecourse on Friday morning, not wanting to miss a single minute of the day's action. As these fans found their way to some of the heavily-utilised shade tents to stake out a good spot, local rockers Stuck Out took to the stage.
Instantly bouncing around with pure energy, delivering feisty, pop-punk gems, Stuck Out undoubtedly set the scene for what was to come for the rest of the day. Playing to a reasonable-sized crowd, it was clear that the festival was playing host a number of people who wanted to get in early to witness the brilliance of the local openers.
Over on stage 4, Ecca Vandal was kicking off the smaller stages in a huge way. Mixing in a wide variety of genres to her far-too short set, Ecca Vandal treated fans to some hard grooves, melodic vocal lines, and infectiously catchy singalongs.
As the crowd began to jump up and down despite the intense heat, Ecca Vandal was relentless, hardly letting up for a single second as she switched between subdued vocals and an powerful roar, making her one of the must-see acts of the morning lineup.
Check out Ecca Vandal's 'Future Heroine':
Over on the main stage, Melbourne's Void Of Vision played a suitably crushing set to their hometown crowd, with their hardcore sounds and immense vocals being welcomed by everyone in attendance.
Boasting a huge crowd and instigating the first circle pit of the day, it was clear that the heat was not going to get in the way of anyone's good time.
While Void Of Vision delivered the hardcore tracks, Brisbane five-piece WAAX were busy delivering their beloved punk tunes to an eager audience.
Featuring a special guest by way of Violent Soho's Michael Richards (filling in for drummer Tom Bloomfield, whose partner was having a baby), the band's unstoppable sound was paired with the stunning vocals of Marie DeVita, who lead huge singalongs thanks to tracks such as the infectious 'Wild & Weak'.
On the main stage, the Good Things crowd welcomed the first international act of the day to the stage, with Texas' Waterparks loosening everyone up. Jokingly introducing themselves as The Offspring, the band's laidback style was complemented by their tight musicianship, with catchy tunes at every turn.
As frontman Awsten Knight's charismatic nature shone through in his performance, the group ran through plenty of songs from their discography, leading fans in a huge singalong during 2016's brilliant 'Dizzy'.
Check out Waterparks' 'Dizzy':
Back on the smaller stages, England's Boston Manor made their Australian debut with a raucous set, full of crowd surfing and brilliant cuts from their latest album, Welcome To The Neighbourhood.
With catchy hooks and a melodic vocal delivery, Boston Manor's first time on Aussie soil was undoubtedly a rousing success, with fans unable to stop chanting back the band's brilliant tracks.
As Sydney's Northlane darkened the main stage, they easily brought out one of the biggest spectacles for the day, with pyrotechnics and a cannon of purple confetti accompanying their set.
With a strong vocal delivery and a dedicated crowd leading vocal chants during the breakdown of their tunes, Northlane set themselves apart as one of the most ferocious bands of the day, and one of the most impressive local acts as well.
Meanwhile, Pennsylvania's The Wonder Years were busy kicking off a set full of classic pop-punk gems that had the crowd moshing ferociously.
Performing tunes from their latest album, Sister Cities, the group's soaring vocals and melodic guitarwork made them an easy favourite for many, with their incredibly catchy tunes being chanted back by the eager crowd with fervour.
Check out The Wonder Years' 'Sister Cities':
As Michigan's La Dispute took to the stage for their first Aussie shows in more than four years, it felt as though the majority of the main stage's audience was leaving, with the band going on to perform for a crowd far smaller than they deserved.
Despite this, the band's literate, passionate delivery soon saw them setting themselves apart as one of the most wild bands of the day (vocalist Jordan Dreyer actually broke his microphone at one point), with their intricate musicianship providing an exceptional experience for those who stuck around.
While La Dispute powered through their set, Perth's Make Them Suffer were busy whipping their crowd into a frenzy, with a double kick drum signifying the beginning of a brutal side-stage appearance.
With the band absolutely crushing their 45-minute slot, it felt as though the vast majority of the festival's crowd had gathered for this spot, as they watched this amazing band play one of the best shows of their life.
Back on the main stage though, it was time for one of the most popular acts of the day, with Japan's BABYMETAL playing their first ever show on Australian soil.
While the band has been met with criticism from metal purists in the past due to their divisive image and sound, this all seemed forgotten as he group's three vocalists danced in synchronisation and sang their hearts out while their band members delivered some crushing metal riffs.
Tracks like 'Gimme Chocolate!!', 'Distortion' and 'KARATE' were all met with riotous applause, and it was apparent that almost everyone in the audience was going home a fan after having worshipped at the alter of BABYMETAL.
Check out BABYMETAL's 'KARATE':
While BABYMETAL were finishing off an outstanding set, Canada's Palaye Royale were busy showing their audiences why they were one of the more underrated acts of the day. While the wild, shirtless antics of Remington Leith kept the crowd moving, their fusion of glam and indie rock saw them serve as a refreshing palate cleanser from some of the more brutal bands of the day.
Dishing up tracks like the unreleased 'Fuck With My Head', it was clear that the band's debut in Australia was just the first of many more amazing shows on Aussie soil from this intense group.
Back on the main stage, Utah's The Used were delivering a mesmerising set to their eager fans, as they took to Aussie stages for the first time in two years.
While the frenzied stage antics of frontman Bert McCracken got the crowd moving in no time, the band served up some of their new hits and old favourites, including 'The Bird And The Worm', and 'I Caught Fire'. While the latter's chorus of "I'm melting" was rather fitting for the day, the track finished up by segueing into a cover of Sixpence None The Richer's 'Kiss Me'.
However, the fun didn't end there, as McCracken soon drew applause from a chant of "rest in peace Donald Trump", recited a number of Shakespearean soliloquies, and even instigated a circle pit to a rendition of "an Australian classic"; the Play School theme. Needless to say, it was an eclectic set that was just what the day was in need of.
Check out The Used's 'I Caught Fire':
On the side stage, Youtube sensation Scarlxrd served up his signature mixture of trap metal and hip-hop. With an intense, energetic live show, it was clear that some audience members had come to see if Scarlxrd indeed lived up the hype that preceded him.
Sadly, despite his rather intriguing performance, the large number of folks leaving the area seemed to indicate that his divisive style wasn't quite for them. Regardless, his diehard fans made it clear that he's got plenty of Aussie supporters who'll keep on moshing at his shows.
Meanwhile, Welsh metal icons Bullet For My Valentine took up the main stage to chants of "bullet", unleashing an unrelenting barrage of riffs and beats to the sheer joy of the gathered masses. Almost immediately, the band were met with a wild mosh as they tore through some of their biggest hits and fan favourites.
Serving up tracks such as 'Tears Don't Fall', 'Waking The Demon', and '4 Words (To Choke Upon)', it was clear that two years between drinks was much too long of a wait for their Aussie supporters. However, their set also appeared to be one of the roughest, with numerous punters observed leaving the pit with their faces covered in blood.
Check out Bullet For My Valentine's 'Tears Don't Fall':
By the time that Tonight Alive had taken to the stage, Melbourne had proven its reputation as the city of four seasons in one day, with dark clouds chasing accompanying a cold front, and a spattering of rain soon soothed a sunburnt crowd.
Thankfully, Tonight Alive's set was just as refreshing, as singer Jenna McDougall got the crowd moving with her stunning vocals in front of some of the finest pop-punk tunes we heard anywhere for the day.
Backed by colourful lights, the group's tunes were well-received by the crowd, who took the opportunity to chant back lyrics from tunes such as 'Crack My Heart', 'How Does It Feel', and 'In My Dreams', the latter of which was given its Australian debut with their performance.
Back on the main stage, Boston icons the Dropkick Murphys were in a league of their own, delivering their Celtic-punk tunes with such ferocity you could be forgiven for thinking they were the headliners.
Between switching vocalists and instrumentation between their almost seamless songs, the band were undoubtedly one of the only groups that featured the likes of accordion, banjo, and the bagpipes during their set.
With such eclectic styles and a mesmerising live show, you can be sure that anyone who missed out on their phenomenal performance was undoubtedly regretting it.
Meanwhile, Florida's Mayday Parade were celebrating their ninth time on Aussie shores with a typically stunning set. Borrowing heavily from their latest album, Sunnyland, the band delivered a number of new tunes and old favourites to an eager crowd.
Giving their fans a bit of an Aussie treat with a cover of Gotye's 'Somebody That I Used To Know', drummer Jake Bundrick joined vocalist Derek Sanders for a rendition of 'Miserable At Best', which saw fans climbing on shoulders to find the best vantage point for singing.
Following a huge performance of 'Oh Well, Oh Well', the band took their leave, promising their fans that they'd be back before long for another long-overdue Australian tour.
Check out Mayday Parade's 'Jamie All Over'
As soon as Mayday Parade made their way off stage, US metalcore icons Emmure made their presence felt, instantly delivering a crushing sound that sent their masses of fans into a pulsing, moshing frenzy.
With rapid-fire vocals and some of the most intense vocal delivery we heard throughout the day, Emmure quickly made it clear why they're one of the tightest, most ferocious bands on the bill.
Back in the main arena, All Time Low found themselves with one of the larger crowds of the day, with their legions of fans gathering to sing out some of the catchiest pop-rock anthems going around.
With the endearing vocals of Alex Gaskarth up the front, and the frenetic, fun-loving stage antics of guitarist Jack Barakat (who was armed with his bra-laden microphone stand), the band quickly made a name for themselves as one of the most enjoyable bands of the day.
Delivering classic tracks like 'Dear Maria, Count Me In', 'Lost In Stereo', and 'Something's Gotta Give', All Time Low also asserted themselves as one of the most interactive bands on the bill, with Jack Barakat also finding his way into the crowd with his guitar so he could bring his catchy tunes to the people.
Meanwhile, The Smith Street Band kicked off a raucous set to a hometown crowd, with the audience joining in massive singalongs to Wil Wagner's songs of suburban poetry and positivity.
With crowd-surfing galore and an amazing response to every track, it was clear that the Smithies were well-placed as the festival's Aussie headliners.
Dishing out tracks like 'Birthdays', 'Surrender', and 'Passiona', Wagner also welcomed Bomb The Music Industry's Jeff Rosenstock to the stage, calling on the DIY punk icon to join in for a rendition of the classic 'Death To The Lads'.
Check out The Smith Street Band's 'Death To The Lads':
On the main stage, an immense crowd had gathered to check out the alt-metal stylings of Iowa's Stone Sour. With the open atmosphere of Flemington Racecourse serving as a perfect location for the band's expansive rock songs, it felt as though every single member of the audience was being affected by Corey Taylor's impassioned vocals on each song.
Noting a lack of rock festivals in Australia in recent times, Taylor's observation that "it's good to have rock and roll back in fucking Melbourne" was met with some of the biggest applause of the day, making it clear that Aussie music fans have been hanging out for a festival like Good Things for some time.
With a set that featured the upbeat rock numbers of 'Song #3' and 'Fabuless', Stone Sour even took it down a notch with tracks like 'Bother' and 'Through Glass'. Despite this, their intensity never wavered for a second, and their set was undoubtedly one of the day's most anticipated.
While fans were rocking out to Stone Sour, Chris Carrabba's Dashboard Confessional closed out the side stage with a set that saw them playing their 2001 album, The Places You Have Come to Fear the Most, in full.
With acoustic instrumentation, a vast sound, and the introspective, emotional lyrics that they've come to be known for on full display, the band found themselves playing to a crowd far smaller than their reputation would have warranted.
Regardless, the smaller crowd just made the affair all the more intimate, with fans singing along to almost every song, and even ignoring the fact that their favourite band's name had been mistakenly misspelt on the official festival t-shirts.
Check out Dashboard Confessional's 'Screaming Infidelities':
Back on the main stage, it felt as though every single person had congregated to witness punk icons The Offspring play their seminal 1994 album Smash in full. With the album cover adorning t-shirts at almost every turn, it was clear that this was going to be the day's biggest set, and rightly so, with the band's classic punk attitude on full display from the start.
Taking to the stage to massive applause, the group quickly kicked into 'Nitro (Youth Energy)', and suddenly brought everyone in attendance back to the first time that they heard this iconic album.
While the band's intensity never once let up, it was clear that some of the album's biggest singles were the most anticipated, with tracks like 'Gotta Get Away' and 'Come Out And Play' receiving the most love from the eager audience.
Eschewing a performance of their breakthrough hit 'Smash' in favour of saving it for the end of their initial set, The Offspring quickly proved why they're one of the most influential punk bands of the '90s, with their classic tracks being just as well-received today as they were back upon their release.
After taking their leave from the stage for a few moments, the band returned for an encore performance of some of their finest hits. Dropping in tracks such as 'Why Don't You Get a Job?', 'All I Want', and 'You're Gonna Go Far, Kid', they shared the last cover for the night, dropping in a brilliant AC/DC tribute by way of 'Whole Lotta Rosie'.
After wrapping things up with a play through of huge late '90s hits 'Pretty Fly (For a White Guy)' and
'The Kids Aren't Alright', the band farewelled their fans, leaving everyone in the audience feeling as though they had just been lucky enough to witness a bit of punk history.
While the inaugural edition of Good Things might have been marred by some of the hottest weather of the year, it was clear that this festival is a much-needed addition to the Australian punk and rock scene.
With legions of fans relishing the chance to see some of the finest bands from these genres strut their stuff on Aussie soil once again, it's immensely apparent that we're now kicking off the countdown to next year's event.
Here's to many more years of Good Things!
Check out The Offspring's 'Come Out And Play':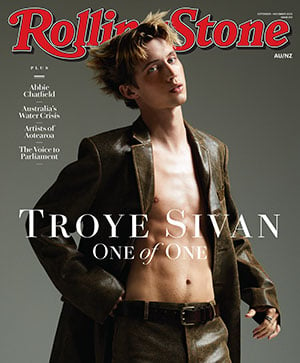 Get unlimited access to the coverage that shapes our culture.
Subscribe
to
Rolling Stone magazine
Subscribe
to
Rolling Stone magazine