Given that they launched their music download service to rival iTunes last year (courting controversy from the British music industry last November), it was only a matter of time before Google would enter the booming streaming service market.
As Smarthouse reports, a Financial Times report reveals that the search engine titan has been in negotiations with music companies about developing a on-demand streaming music service, with a subscription based model as well as a free model with in-built advertising, that will compete with the likes of Spotify, Deezer, JB HiFi NOW, and the ream of digital music services already available.
The big focus for Google is rolling out their service to Android and Chrome devices in their ongoing competition against Apple's iTunes and its iOS platform, and the new Google streaming music service is designed as a complement to the already launched Google Music, which allows users to purchase and store music downloads online.
Google Music launched in November 2011 and is currently available in America and five European countries after signing deals with record label majors such as EMI, Universal, and Sony Music Entertainment, as well as a handful of indie labels, to bring nearly 13 million tracks to the Android/Chrome marketplace, and it's been reported that the same negotiations are now being made and extended to the as-yet untitled Google streaming music service.
As The Next Web previously reported, the new streaming service could also run in conjunction with Google's other major streaming player, YouTube, which is looking to launch subscription based models to the online video website as early as April; allowing users access to watch specific content – such as their favourite TV show or clips and performances from artists – for a small monthly fee.
The infrastructure from both YouTube and its current Google Music service would give the internet giant a huge step forward into an already crowded market, with access to millions of songs in its library, as well as a number of overlapping services with which to promote and integrate its on-demand subscriptions.
The infrastructure from both YouTube and its current Google Music service would give the internet giant a huge step forward into an already crowded market…
Despite the move to compete with Spotify, Deezer, Rdio and the rest of the streaming music players, Google continues to run up against opposition with record company representatives in Britain and America, which could seriously affect its plans to negotiate with the same record label majors those industry bodies represent.
As Washington Associated Press reports, the Recording Industry Association of America (RIAA) is unhappy with Google's efforts to combat music piracy, saying that its revamping of its search formula and algorithms last year has thus far failed to live up to its promise of discouraging users from visiting illegal music websites.
A report from the RIAA says that Google's initiative announced last August to 'demote' sites linked with music piracy and downloading has had little to no effect. "We have found no evidence that Google's policy has had a demonstrable impact on demoting sites with large amounts of piracy," said the RIAA report.
"These sites consistently appear at the top of Google's search results for popular songs or artists." The RIAA report used analysis of "serial infrigers" and notorious piracy websites used in Google's Copyright Transparency Report to determine that they "were not demoted in any significant way in the search results and still managed to appear on page one of the search results over 98 percent of the time in the searches conducted."
Steven Marks, of RIAA general counsel said that "we recognise and appreciate that Google has undertaken some positive steps to address links to illegal music on its network… Unfortunately, our initial analysis concludes that so far Google's pledge six months ago to demote pirate sites remains unfulfilled," he said. Adding that, "Google's auto-complete function continues to lead users to many of those same illicit sites."
In response to the RIAA's attacks, a Google spokesperson noted that the company had "invested heavily in copyright tools for content owners and process takedown notices faster than ever," adding that in the month of January "[Google] received more than 14 million copyright removal requests for Google Search, quickly removing more than 97 percent from search results.""Unfortunately, our initial analysis concludes that so far Google's pledge six months ago to demote pirate sites remains unfulfilled." Steven Marks, RIAA
It echoes complaints that the the UK's record industry trade association – the British Phonographic Industry (BPI)-  has had with Google last year.
Following its November launch, Google Play came under fire from the BPI, emphasising that the service was 'hypocritical'. BPI's chief executive Geoff Taylor said at the time, "We don't think it makes any sense for them to be doing something which does support artists and then, on the other hand, undermine artists by referring consumers to illegal sites." Criticising that providing a legal service to fans to purchased digital downloads, yet refused to delete search engine results that led to illegal links, despite please from the association.
Additionally, in July 2012 The BPI and a number of high-profile musicians had previously composed an open letter to British PM David Cameron urging them to intervene on the search engine giant's policies, which led to Google's announcement that they would be putting together their Copyright Transparency Report.
In related news, Megaupload mogul Kim Dotcom has been boasting that his newly launched online storage service Mega, has already drawn 3 million users, which puts the batty entrepreneur in good stead to roll out the accompanying music streaming service, MegaBox; looking to do away with licensing and complex contracts altogether, cutting out labels entirely and dealing direct with musicians.
MegaBox plans to offer musicians the chance to upload their music and get, according to Dotcom, the "lion's share" – 90% of the revenue from their music played on the forthcoming service.
Kim Dotcom isn't the only one claiming that their tech will be a game-changer. Beats Electronics, the makers of the trendy Beats By Dre headphones, were working on a secret project with Trent Reznor codenamed 'Daisy', which has now been officially named and revealed to be a new on-demand subscription based music service.
Called simply Beats Music, Reznor and CEO Ian Rogers have talked up how the new music service will revolutionise the streaming service market, by providing a service that essentially wraps up Spotify, Amazon, iTunes, and Ticketek all in one-stop music service.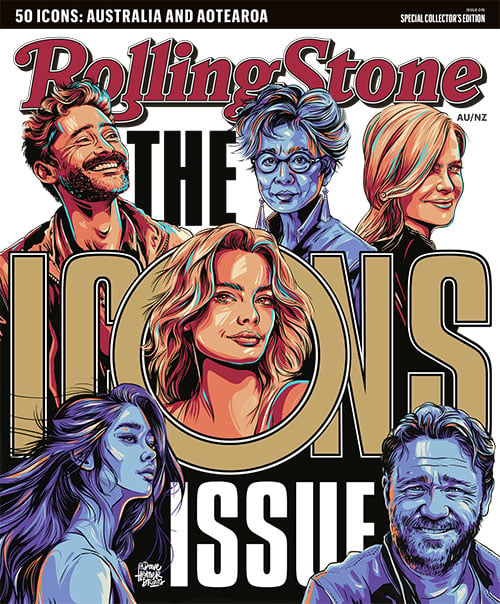 Get unlimited access to the coverage that shapes our culture.
Subscribe
to
Rolling Stone magazine
Subscribe
to
Rolling Stone magazine