On Monday, total heartthrob Harry Styles appeared on The Howard Stern Show where he performed a cover of the Peter Gabriel classic 'Sledgehammer'. Backed by a full-band, Styles proved that he is a karaoke force to be reckoned with, executing a frighteningly faithful version of the original. It's pretty terrific, you can check out a recording of the performance below.
Listen: Harry Styles covers Peter Gabriel's 'Sledgehammer'
During the interview, Styles tipped his hat to the track, declaring it one of the "best-mixed songs" ever, and revealing that he recorded part of his second album Fine Line at Gabriel's Real World Studio. Styles shared his admiration for musicians Paul McCartney, David Bowie and Stevie Knicks — influences he wears on his perfect, tulled, Gucci sleeves.
The interview also saw Styles address an incident that happened in London last month, that saw the musician robbed at knifepoint on Valentine's Day.
"It was on Valentine's Day. That's what you get for being single these days, I guess," he joked. "I should have had other plans. I was home, I'm about five minutes from home. I'm walking up and I see this group of guys and they've all got like hoods up and their faces covered…I turn my music off… I'm walking up the street, and I keep kind of turning around and the guys crossed the road. And I'm like, 'That's weird.' I hear shuffling of feet trying to catch up to me, so I crossed the street and then they crossed the street, and I'm like, 'Oh fuck sake.' Then I crossed the street again and they crossed the street again and then they crossed the street again. And I'm like, 'Oh for fuck sake, I think I'm about to get robbed.'
So they guy's like, 'Hey, can we talk to you for a minute?' And there's nobody around, so I'm like, 'Sure.' And he's like, 'Do you smoke weed?' And I said, 'No.' And he goes, 'Do you want some weed?' And I thought, 'No.' And then he was like, 'What have you got on you?'
Styles explained that he gave the muggers the cash he had on him, but they noticed his headphone jack and demanded his phone. He continued to explain:
"I pull out my phone and I'm thinking, 'OK, this is really annoying, but I'll wipe it and get a new phone.' And then the guy's like, 'Unlock your phone,' and the other one pulls his shirt up and he's got a knife sticking in his pants… I just said, 'I'm sorry mate, I can't. I can't unlock my phone.' And the guy's like, 'You got 10 seconds,' and he starts counting them down and I'm like, 'Fuck, am I going to unlock my phone?'…
Love Pop?
Get the latest Pop news, features, updates and giveaways straight to your inbox Learn more
"Two cars were coming and I felt an opportunity to sprint and run. I ran into the road and I tried to stop a car. They don't let me in. Tried another, they don't let me in. I just turned and ran back toward the village area where I live. I guess because they had some cash and stuff they ended up just turning around."
You can watch the interview segment below.
Watch: Harry Styles recalls getting robbed at knifepoint on Howard Stern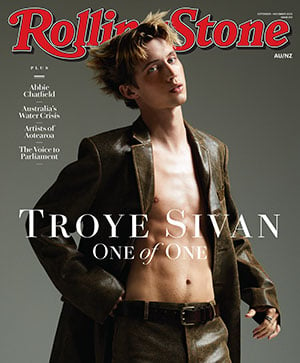 Get unlimited access to the coverage that shapes our culture.
Subscribe
to
Rolling Stone magazine
Subscribe
to
Rolling Stone magazine