Aussie Music Festival Gets Green Light From Council Following Safety Concerns
The River Rock Music Festival, the regional music event that was originally thought to be shut down by local council over safety concerns, has now instead been given the green light to go ahead. Somerset Regional Council have confirmed that it is "no longer taking legal action to stop the River Rock Music Festival from going ahead at Toogoolawah after event organisers moved to comply with local laws regarding public safety and other issues." Mario Tedeschi of Rockden Promotions confirms that the festival will go ahead on Saturday 9th November at the 32-hectare site at Dead Horse Lane in rural Queensland, with an anticipated crowd of 5,000 turning out for the 24-strong lineup featuring an AC/DC tribute band, Black Label Australia (with Rose Tattoo frontman Angry Anderson), Shinobi, and more.
Somerset Mayor Graeme Lehmann said local council and emergency services had given permission for River Rock to proceed after Tedeschi "addressed the outstanding issues to our satisfaction," said Cr Lehmann. "Other concerns of Council, like public liability insurance, waste management, dust control and extra traffic impacts along Dead Horse Lane, signage, evacuation procedures, drinking water provision and noise emissions have been addressed by the promoters. The event will also end at 10pm instead of midnight as originally planned to minimise the noise for surrounding residents."
APRA's Licensing Terms Are Conditionally Approved By ACCC
The Australian Competition and Consumer Commision (ACCC) have 'conditionally sanctioned' the licensing arrangements of royalties collection agency, APRA. A draft decision by the competition watchdog published Tuesday has proposed it will clear APRA for a further three years' authorisation, but provided some of its conditions are met. In the draft decision the ACCC describes APRA as a "virtual monopoly", calling for a "plain English guide" to their licensing systems, including the roll-out of an education campaign for its "licence back" and "opt-out" services, which offer APRA members to enter into direct arrangements over licensing. ACCC's examination of APRA was first announced in May, with public submissions from venue operators, licensees and music companies – including by the likes of the Australian Hotels Association, Totem Onelove Group, and Live Performance Australia – offering some less than favourable views of APRA's licensing terms. Following the examination, the ACCC says the "public benefit test has been met." (via Billboard)
The 9th Australian Music Prize Judges Revealed As Cut-Off Date Approaches
Following on from announcing more Aussie artists in the long list for the coveted Australian Music Prize, the panel of judges who will determine The 9th Coopers Amp winner of the $30,000 cash prize has ben unveiled with less than three weeks until the submission cut-off date. Hoodoo Gurus' Dave Faulkner will chair the judging panel, which features fellow musicians Renee Geyer and Tim Levinson (aka Urthboy), journalists Mikey Cahill (Herald Sun), Bernard Zuel (Sydney Morning Herald), Chris Johnston (The Age), and music retailers Mike Glynn (JB Hi Fi), Christopher Powell (Blackwood Sounds), Shannon Logan (Jet Black Cat Music), Chris Berkley (Red Eye Records), and Nate Nott (Polyester Records). "The overriding principle has been to make the Coopers Australian Music Prize responsive to the changing nature of Australian music and to celebrate genuine musical excellence without fear or favour," said Faulkner of the AMP, which seeks to give all Aussie artists an equal chance of winning. The judges begin their extensive listening process, including the 13 already nominated albums considered for The 9th Coopers AMP, while the cut-off for submissions has been set for 5pm, 1st November – any albums scheduled for release in November or December 2013 are still eligible but advance copies on CD must be sent by the cut-off date/time. (via The Coopers Amp)
Cooking Vinyl Partner With PledgeMusic, Sign Gossip Girl Actress
Cooking Vinyl's Australian arm has inked a new partnership deal with direct-to-fan music company PledgeMusic. The deal gives Cooking Vinyl artists access to the PledgeMusic platform and its "elevated fan experience" of offering music lovers innovative ways to fund and support the record-making experience. PledgeMusic General Manager Scot Crawford said of the deal: "There is a goldmine of music marketing knowledge and a history of innovation that comes with Leigh Gruppetta and Stu Harvey (of Cooking Vinyl Australia)." Meanwhile, the deal arrives as Cooking Vinyl sign New York rock band, The Pretty Reckless (fronted by Gossip Girl star Taylor Momsen), for the release of the Soundwave 2012 alumni's forthcoming sophomore album, due 2014.
Moshcam Launches New Website, New Features
Australian live music video website Moshcam has been given a fresh new look, feel and functionality, launching a new website that will be fully optimised for mobile as the brand expands its service in delivering broadcast-quality concert recordings and footage. "Our main focus is giving fans complete control over how they watch and listen to the music they love," said Paul Hannigan, Chief of Product, Moshcam. "We now have a massive catalogue of more than 1300 full-length live music concert videos, artist interviews and more, and with playlists and personalisation, we've not only made Moshcam incredibly easy to use, but enormously addictive." Features of the new Moshcam website include the user-created video playlists, live music news and commentary, artist video playlists, opinion editorials, and concert photo galleries. Moshcam is currently ranked in the Top 5 Australian Music Sites according to Nielsen Market Intelligence figures, and its partner YouTube channel gains 3 million views per month, putting it inside the top-perfroming 3% of YouTube music channels.
Melbourne's Bellusira Sign Worldwide Deal
Melbourne based rock band Bellusira have signed a worldwide co-management deal with US managers Stephanie Christie and Will Hunt, the drummer of Evanescence and Device. The film clip for Bellusira's latest track 'Cachango' triggered the deal. "The minute I saw that video, I recognized that there was something very special about the band," says Christie "more specifically their vocalist Crystal Ignite. Her energy and intensity are just mesmerizing." Meanwhile Hunt, who has drummed, toured and recorded with the likes of Black Label Society, Motley Crue, and Staind, says: "This band has got the goods and I'm thrilled to be involved with them. Exciting stuff indeed!" Management and bookings for Australia and New Zealand will remain with Crystal and Mark of Gunn Music.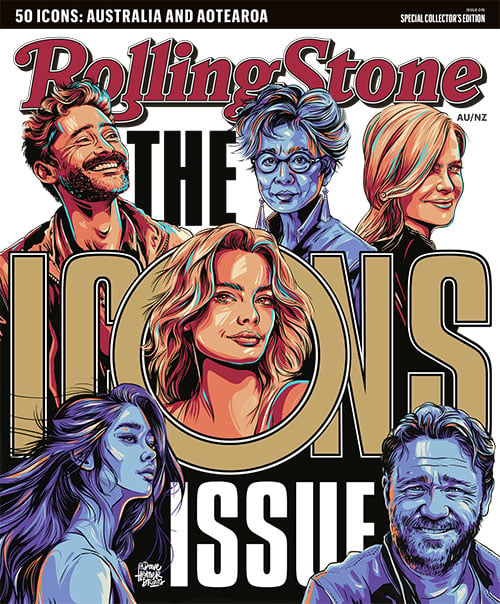 Get unlimited access to the coverage that shapes our culture.
Subscribe
to
Rolling Stone magazine
Subscribe
to
Rolling Stone magazine