Musicians moving to Berlin, especially Australian musicians moving to Berlin to create music is not necessarily anything super new or noteworthy. Since Bowie's 'Berlin era', moving to one of the world's most inspiring cities has become a rite of passage for many artists wanting to discover themselves, their sound, and find new inspiration.
Sydney singer songwriter Jonathan Boulet had a crack at recreating his own 'Berlin era' when he relocated from Sydney to Germany last year, sans band and sans plan, after a UK/EU tour and performances at SXSW. The result was the birth of his third full-length LP Gubba; a record "conceived, delivered, and mixed to punch like a charging bull" and a "daring escape from and abandonment of what's come before."
Ahead of Boulet and co. heading off on a national tour in support of the album's release, we chatted to the musician about his Gubba, its influences, and why everyone is having their own "Bowie Berlin" eras. 
When 'Berlin' and 'musicians' are mentioned in the same sentence it's hard not to think of Bowie's "Berlin era". How did you find that living in Berlin influenced the creation of Gubba?
"It feels like a lot of people are going to Berlin to have their own 'Bowie Berlin' eras. It is quite a unique place and is chock full of creative people. I'm not sure if being in Berlin really influenced Gubba as much as you'd like it to."
When Bowie was living in Berlin he used his time there to pursue his other artistic interests, in particular, painting. Did you find yourself drawn to any other creative pursuits other than music, while you were living there? 
"Other creative pursuits are the best thing to get away from music but still remain creatively stimulated. When I feel like I'm getting over what I'm making in the studio, it's time to draw, paint, take photos, make dumb videos etc. Whether what I make is good or absolute steaming dog shit is another matter."
Are you a Bowie fan? Which is your favourite song or record from his Berlin period?
"No I never really got into Bowie's stuff. Maybe it was one of those things you had to grow up with. I respect the guy for his creativity and longevity but really I could only quote a couple songs from his gigantic catalogue. Was 'Changes' his Berlin era? [No, unfortunately – Ed.]"
What was the catalyst for you to up and leave Sydney and make the move to Berlin?
"I think it was just time we tried the whole 'music' thing somewhere else. It's a big bad world and I felt like we needed to rummage around a new neighbourhood pissing on every corner, and leaving our scent to mark our territory."
Which area were you living in Berlin? Which were your favourite bars/clubs/etc?
"We were in Kreuzberg. Naturally there were too many bars and clubs to count. We had a pizza place around the corner that made GIANT pizzas. Like hula hoop sized pizzas! "
When you weren't working on recording the album, what was your favorite thing to do in Berlin?
"Parks. Sitting on Mother Nature's lap looking deep into her brown eyes and twisting her luscious green hair. There was a new park to visit every day. And if you get over parks, you go out of town a little to a lake, and get naked."
What are the most obvious ways in which that the Berlin music scene differs from the Sydney music scene?
"The most obvious way is that they're all speaking German. I think the main thing is that there's a constant stream of bands from Europe and the UK. So there's such a great mix of ideas and styles. Everyone is listening to so many different bands so new ideas are spawned and exposed to all kinds of people."
Did you discover any new favourite bands while you were there?
"This band from Denmark called 'Selvhenter'. Two drummers and two horn players, playing through huge guitar rigs. Really beat heavy, improvised and loud. Very cool."
How did you know that your 'time was up' in Berlin? You live in London now – were you not tempted to stay in Berlin longer?
"I had met and jammed with our drummer Jacob Hicks, who was living in London. He was a beast on the kit and our lease was coming to an end, so we thought basing ourselves out of London wouldn't be too bad of a choice.

Very tempted. Especially with summer coming up. But because it's so nice, Berlin can become a place where you're perpetually 'almost' finished making something."
What's the best way to survive a Berlin winter?
"Build a fire, hunt squirrels, find someone to hold at night. Better if you can get in-between two other people, that way your back and front get evenly distributed body heat. Carry food dye with you and the snow will become an endless supply of free snow cones and fun!"
What made you decide to self-produce the new album?
"No decision. It just always has been and will be. Now that I've done it a few times it gets easier to finish a project. It's satisfying and stimulating. There are less filters to water down the direct ideas. It's still thick a gooey when it gets injected into your ears."
Gubba is described as "faster, heavier and more direct than it's predecessors". Were you consciously trying to achieve this kind of sound or did it just kind of happen organically?

"It was already happening organically and consciously. But then I guess the decision was made at some point to really optimise those ideas. It became apparent that sometimes simple equals more impact."
Where does the album name Gubba come from?
"Gubba is an Australian Indigenous slang term for white man. Used mainly by the tribes around the south east coast of Australia and it was derived from the term "Government Man"." 
Gubba may have been conceived in Berlin but the film clip for 'Hold It Down' feels about as Aussie as you can get. What's the story behind the clip?
"Yeah it was just an idea to shoot a 'Lame motorbike crew' who thought they were king shits. Because deep down, that's how all motorcyclists feel. I asked my friend Jack Saltmiras to shoot it in Sydney as he had the resources and know how. The main protagonist is actually my dad. He used to ride a bike growing up in France. He was stoked to be involved and I think he taught us all a lesson about motorbikes. Doesn't matter how cool you look or think you are, everyone gets that same great feeling riding a motorbike."
National Tour Dates
August 15th | Northcote Social Club, Melbourne
August 16th | Pirie & Co. Social Club, Adelaide
August 21st |Goodgod Small Club, Sydney
August 28th | Black Bear Lodge, Brisbane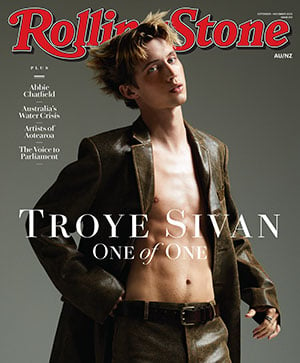 Get unlimited access to the coverage that shapes our culture.
Subscribe
to
Rolling Stone magazine
Subscribe
to
Rolling Stone magazine