During a delectable little set from solitary Drone and Balladeer Hunter, Mike Noga, the venue buzzed with a gathering of the diehards, musicians, industry types and fans lucky enough to score a ticket to, as frontman Paul Dempsey – the tallest man in Aussie rock – later points out, the band's first hometown show in four years.
Touted as both a preview for their forthcoming album, Leave Your Soul To Science, and as a warm up for the newly reunited trio to road-test said material; Dempsey, the ever-elegant Stephanie Ashworth and ever-fierce Clint Hyndman smattered their set with previously unheard numbers as well as a some of the band's most beloved songs.
After opening with a rousing version of 2001 single 'Three Dimensions', they dive headfirst into the new material.
Namely, a new tune called 'Eureka', featuring Dempsey singing in that yearning upper register that renders his emotion so well, as a rattling snare dapples across a four-to-the-floor pulse in a militant groove.
It sets a standard for the evening, in that the new material has an instant familiarity to it – mesmerising and concise, featuring Dempsey's incisive wordplay in circular stanzas. Looping the line "keep a running list of every list I've ever kept" like a warmly neurotic mantra.
Later, a new song with a loping groove and an off kilter time signature (is that 7/4?) finds swamping bass rubbing against cooing organ and Hyndman's muscular breakbeat rhythm; with more circular lullabies of "sleeping like a baby… right before your eyes."
There's plenty to enjoy from the back catalogue too. 'Jerry Stand Up' receives a whoop of recognition, ably augmented by the keys, guitar and harmonies of John Hedigan, making the migration from Dempsey's solo band.
Later, 'Monsters', always spikier in the live setting but no less emotive, sounds as good as ever. The delicacy of 'Anchorman' as the stage is bathed in sunbaked yellow light is a particular highlight, while the proggy shift in the backend of 'Down The Garden Path' shows that Something For Kate have lost none of their fervour, again proven by a powerful rendition of definite crowd favourite 'Pinstripe' at set's close.
More treasures abounded in Dempsey's mini-solo set, with a scintillating acoustic take on 'Whatever You Want'. The evocative shifts of the Beautiful Sharks opener preceded by a cover that once again proves that the SFK frontman is a powerful musical interpreter.
Delivering a rousing, soulful version of Sam Brown's 'Stop', Dempsey remarking of the bluesy 1988 hit, "I fell madly in love with when I was 5 years old." A pitch-perfect performance as he leans into every lung-bursting phrase.
Equally potent is his comfortable stage presence. While, as a unit, SFK have been shelved for nearly half-a-decade, Dempsey's light banter and impassioned performance is an obvious reminder that his solo career has kept him on the place where he belongs – the stage.
The jovial crowd provide plenty of witty banter to bounce off of too, including a running joke that the band's homecoming show is 'very good'. Prompting an anecdote from the dapper frontman about seeing metal's 'Big Four' at Yankee Stadium, before cheekily introducing the needling guitars of blossoming new single 'Survival Expert' as being "largely inspired by Slayer." Cue laughter.
More new material ensues, including a delicate piece that pivots on a doubled pattern of guitar and piano, and a love letter to Springsteen entitled 'Miracle Cure'.
With big slashing chords and a driving rhythm , it ably reflects The Boss' wistful, full-hearted heroism. Complete with a female protagonist called Anna caught "lookin' up at horses in the clouds" before a defiant chorus of "I'm going back to the city."
If tonight's evidence is anything to go by – from the restrained, plaintive 'The Fireball At The End Of Everything', to the motorific 'Star Crossed Citizens' – Leave Your Soul To Science is going to be an accomplished return to form; focussing the concise alchemy of the band's strengths.
As a set however, the overriding feeling is how comfortable it all feels.
From Dempsey's warm presence, to Ashworth's physical swaying and Hyndman's chugging grooves, 'the hits' peppered through the new material' and just how snugly those same new tunes sound alongside their rich canon.
So after a concerted break, was this the homecoming show many longed for? Well, here comes a cliché – the kind that Dempsey would dismantle so effectively with his deft lyricism and mercurial guitar rock – it's like Something For Kate never left.
– Al Newstead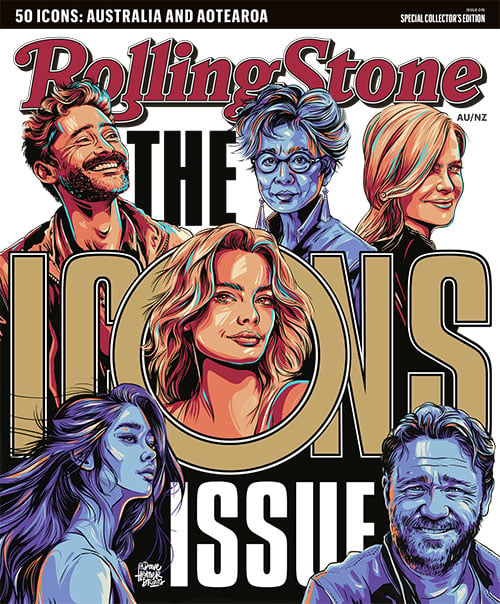 Get unlimited access to the coverage that shapes our culture.
Subscribe
to
Rolling Stone magazine
Subscribe
to
Rolling Stone magazine