Following the controversy of the Gold Coast leg of the Big Day Out, where a rogue worker was fired after displaying messages for female fans to "Get Em Out" during Vampire Weekend's set, while Cub Scouts frontman Tim Nelson was involved in an unprovoked attack that left the pianist/vocalist beaten and bruised; the Big Day Out takes over the Adelaide Showgrounds today.
Tomorrow, for its Australia Day edition, the one-day festival is headed to Melbourne, which has police urging revellers that sniffer dogs will be out in force, and Big Day Out promoter Ken West has spoken to The Age ahead of tomorrow's event about his hopes for the festival in re-establishing a loyal returning audience.
West notes that while not a sell-out, he's happy that the event only had 5,000 tickets left on sale a week ago, and wants to bring back an audience once loyal to the Big Day Out in its earlier heyday.
He calls Big Day Out's 2013 edition a "a ground-up rebuild," with "the slant this year [being] high-quality musicianship," using acts like headliners Red Hot Chili Peppers, Gary Clark Jr, Animal Collective, and Alabama Shakes to lure back an older demographic who have dismissed the festival as a young peoples' event."You have to adapt to a point of view that believes that after 20 years of festivals a whole generation of people think they are too old to go." – Ken West
"You have to adapt to a point of view that believes that after 20 years of festivals a whole generation of people think they are too old to go. They'd love to but they don't know what the rules are," West says. "If we try to do everything in one day it doesn't quite work."
"If we make a really good show, they should come. If it's a bad experience, they won't come back," West says. "There's no point trying to trick anyone at a festival – you have to know who your audience is, know how much they'll experiment, and not push them too far while challenging them to open their eyes."
West believes that the addition of many of the extra-curricular additions to the 2013 Big Day Out do just that. Initiatives such as the scrumptious Chow Town Menu, a Mexican Wrestling bar, the return of the Lilypad, and even a fully automated robotic band, all attempting to return to the core of the Big Day Out experience without blowing it out to the costly proportions of recent years.
"What happens is that all these areas are really high maintenance and hard work to pull together," explains West, "and, unfortunately, over a period of time, it gets chipped away at financially. In the case of the last four and five years, there's been a financial burden of competing festivals pushing talent prices up so something else had to give," he adds.
West has expressed his concerns before about the spiralling costs of booking international acts, and the festival bloodbath that ensues, poignantly saying of the risks at the BIGSOUND conference last year, "I don't want to risk my house every year.""We've talked up what we're going to do differently… we just have to deliver it now." – Ken West
The Big Day Out promoter tells The Age that he believes an act like South Korean pop star and 'Gangnam Style' sensation PSY, who is booked for March's Future Music Festival, is a good example of buying the big dollars in capitalising on the moment, rather than the long-term. Adding that he thinks PSY's Future  appearance will go down as "the overpriced act" of the year.
West knows the dangers of chasing the high-paid bookings all too well. After licking his wounds from the disastrous Big Day Out 2012, that saw the cancellation of stages and acts as it limped across the country on low ticket sales and expensive acts (such as Soundgarden and Kanye West).
After which West's co-promoter and business partner Vivian Lees walked out, leaving the promoter to forge the brand's pulling power with a new creative partnership with C3 – responsible for Lollapalooza and Austin City Limits.
"We felt the result of last year was that the brand was damaged, but not unrepairable. Otherwise I wouldn't be sitting here doing it and C3 wouldn't have foolishly gotten involved," West said last October.
Now, West says that having survived, it's looking to re-establish itself as the dominant force it once was before the festival market became saturated with specialist festivals. "We've come through 2012, a year of diversity… and now we've talked up what we're going to do differently," says the Big Day Out promoter. "We just have to deliver it now."
Big Day Out 2013 Lineup
RED HOT CHILI PEPPERS (Exclusive Australian Shows) / THE KILLERS / YEAH YEAH YEAHS / VAMPIRE WEEKEND / BAND OF HORSES / THE BLOODY BEETROOTS (LIVE) / KASKADE / ANIMAL COLLECTIVE / B.o.B / SLEIGH BELLS / FOALS / ALABAMA SHAKES / 360 / CRYSTAL CASTLES / PRETTY LIGHTS / OFF! / GRINSPOON / AGAINST ME! / GARY CLARK JR / NICKY ROMERO / MORGAN PAGE / LOGO / EVERY TIME I DIE / DELTA SPIRIT / CHILDISH GAMBINO / ME / HUNTING GROUNDS / JEFF THE BROTHERHOOD / DEATH GRIPS / ADVENTURE CLUB / JAGWAR MA / HOUSE VS HURRICANE / AVALANCHE CITY / TOUCAN / HELENA / NINA LAS VEGAS / SAMPOLOGY (AV / DJ SHOW)
Big Day Out 2013 Melbourne Lineup Announcement
The Medics * Bodyjar * Seth Sentry * Chicks On Speed DJ Show * Bob Log III * The Smith Street Band * Kingswood * Yung Warriors * Money For Rope * Jackson Firebird * Split Seconds * For Our Hero * Generik * Zanzibar Chanel * The Stiffys * triple j unearthed winners: Apes
Big Day Out 2013 Perth Lineup Announcement
The Medics * Sugar Army * Chicks On Speed DJ Show * Emperors * The Chemist * Sons of Rico * Further Earth * Arts Martial * Rainy Day Women * Boys Boys Boys! * The Love Junkies * Skank MC * Dead Owls * Tomàs Ford * triple j unearthed winners: Foam
Big Day Out 2013 Event Dates
Friday 18th January – Sydney Showgrounds – SOLD OUT!
Sunday 20th January – Gold Coast Parklands
Friday 25th January – Adelaide Showgrounds
Saturday 26th January – Melbourne Flemington Racecourse
Monday 28 January – Perth Claremont Showground
Big Day Out 2013 tickets are on sale through www.bigdayout.com at the all-inclusive price of $165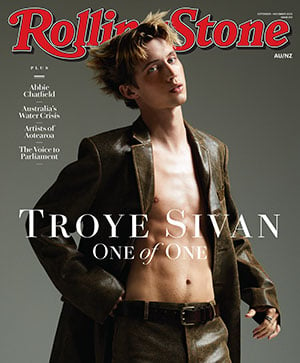 Get unlimited access to the coverage that shapes our culture.
Subscribe
to
Rolling Stone magazine
Subscribe
to
Rolling Stone magazine