There was a bit of a ruckus following this year's ARIA Awards, with some of the nominees in the Best Hard Rock/Heavy Metal Album category incensed at the fact that psychedelic Melbourne rockers King Gizzard & The Lizard Wizard took home the gong for their eighth album, Nonagon Infinity.
As far as they were concerned, it wasn't a hard rock or heavy metal album. "Hey [ARIA] you can just go ahead and exclude us from any further nominations from your circle jerk awards plz and thank u," Amity Affliction bassist Ahren Stringer tweeted yesterday. "Ps not salty about not winning, just sad to see the fat cats of the Australian music industry so unappreciative of our 15 years of screamo."
Stringer insisted he was not upset that his band did not win the category, arguing that Hellions should have received the ARIA for their latest album, Opera Oblivia. "Not to throw shade at any bands who won awards but Hellions made one of the best records of all time," Stringer wrote.
"It's not about us losing, trust me we know after this many years we're always going to lose. We hate the ARIAs as much as they hate us," Stringer later added. "It's about how ridiculous is it is for a band that isn't even a heavy band to win a category. It would be like Donald trump winning…"
We recently spoke about the confounding way the ARIA Awards nominations are conducted. The fact that bands and labels are allowed to submit their releases to whichever category they feel they have the best chance of winning in is a point of contention for many members of the local music industry and has sparked controversy in the past.
Almost immediately after this year's first round of ARIA Award winners were announced, members of Australia's classical music community came out slamming the ARIAs for awarding the gong for Best Classical to Sydney electronic dance duo Flight Facilities, who were nominated for their collaboration with the Melbourne Symphony Orchestra.
But now a prominent member of Australia's heavy music community has come out to defend King Gizzard & The Lizard Wizard. Melbourne grind masters King Parrot are themselves ARIA nominees, having lost out to Northlane in the Best Hard Rock/Heavy Metal Album category last year.
Speaking to Music Feeds, King Parrot vocalist Matt Young said, "I've seen King Gizzard & the Lizard Wizard play and I think that they're a really really talented band – they work hard, and they certainly fit into that category, because they are a hard rock/heavy metal band."
"And I mean, the ARIA Awards aren't a popularity or record sales [contest], it's voted for by music industry people, so they obviously thought the King Gizzard & The Lizard Wizard album was the best record," he continued. "I mean, some people could argue that the bands who were sort of complaining and stuff don't fit into the category either, you know?"
In fact, Young suggested King Gizzard may even be more at home in the Hard Rock/Heavy Metal category than their co-nominees. "You know, I've heard The Amity Affliction and some Parkway Drive stuff and it's not really my cup of tea," he said. "Some of the stuff on those is really poppy! And you know, it is what it is. There's so many different genres and styles under [the hard rock/heavy metal] umbrella now, and maybe [the ARIAs] should make two different categories? I dunno."
"But at the end of the day, the ARIA Awards is mostly for music industry people and for the big major label companies, all that sort of stuff. And you know, if you get one, that's great. And if not – well – who gives a shit, really? I mean the fact that [King Parrot] even got nominated for one? I just couldn't even believe it, really. We're a grindcore, thrashy kind of band and the fact that we even got nominated? We thought, 'Fuck, this is hilarious! To get nominated for something like this!'"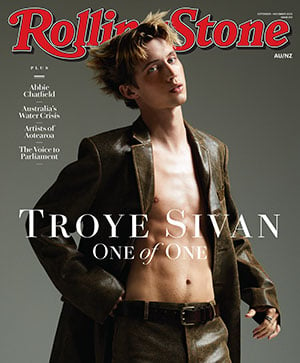 Get unlimited access to the coverage that shapes our culture.
Subscribe
to
Rolling Stone magazine
Subscribe
to
Rolling Stone magazine