The issue of ticket scalping and online reselling was once again thrown into the spotlight recently following tickets for Bruce Springsteen's forthcoming Australian Tour 2014 turning up online at exorbitant prices, causing enough of a stir for promoters, Frontier Touring, to issue a statement on their stance on "unscrupulous" scalpers.
While legislation on ticket scalping and re-selling is still fuzzy, Melbourne's Palais Theatre is taking the matter into its own hands, looking to cut out the ticket touts by offering an online service that allows legitimate fans and buyers to sell tickets directly to one another.
The St Kilda live music venue has launched a new online resale platform that enables buyers of tickets to sold out shows to be able to offload their unwanted tickets to others, while still maintaining a fair, face value price for the exchange through the in-house service.
A statement issued by the venue notes "through our ticket re-sale service, the Palais Theatre hopes to reduce the number of illegitimate scalper tickets being sold at inflated prices online," while the online platform notes that users will only be able to sell and buy tickets to sold out shows only; "patrons now have the option to safely purchase tickets to a sold out event with the guarantee of purchasing a genuine ticket at face value." "Patrons now have the option to safely purchase tickets to a sold out event with the guarantee of purchasing a genuine ticket at face value."
"We understand that at times people have spare tickets due to unforeseen circumstances," said Palais Theatre Management CEO Neil Croker. "Rather than see tickets for sold out shows sit in someone's pocket, we have set up a service that sees the Palais Theatre as the conduit through which people can exchange tickets at face value and totally risk free."
Croker adds: "Purchasing tickets from a legitimate seller the only real way to guarantee that you get what you're paying for. At a recent Palais Theatre event one pair of tickets was sold on Gumtree 17 times resulting in 32/34 people arriving at the theatre only to discover that they didn't have tickets to this sold out show. This situation is extremely stressful for the patrons and venue alike."
Following "many requests" on the waiting list for upcoming dates from singer-songwriter Passenger, the Palais Theatre management have already seen the popularity in the new online resale platform and will be implementing it across its future sold out shows.
One need only look at the intense demand for tickets in the Springsteen pre-sale to see scalping practice in action, where tickets for the return of The Boss and the E Street Band saw enterprising sellers posting offers through auction websites and controversial re-sale sites, ranging from $400 from sellers on Gumtree, up to $600 on eBay, and nearly $800 on the Swiss-based scalping site viagogo.
"We believe that you shouldn't be taken advantage of by unscrupulous individuals," Frontier Touring wrote in response to fans fuming over missing out on tickets while scalpers had scooped up in the presale and began profiteering on those who'd missed out. "Like you, we are strongly against ticket scalping. We monitor prominent auction sites and wherever possible, we identify the seller and cancel any tickets that are in breach of our Terms Of Sale," noted Frontier.
While many ticket scalpers use bot software to 'jump the queue', as Live Nation's report earlier this year demonstrated, many are simply booted to the back of the line rather than barred from presale, the most effective method to their outdated system until Live Nation completes its $100 million upgrade of the ticketing company.
The NSW Government however, is looking at a crackdown on scalping sites through aggressive law reforms to be implemented by Premier Barry O'Farrell, based on legislative measures first proposed by State Sports Minister Graham Annesley and the Fair Trading Minister in February. The changes would give concert promoters the power to refuse entry to ticket-holders who had purchased their ticket in breach of terms and conditions – guidelines that would be controlled and enforced by the promoters themselves in an effort to prevent opportunistic scalpers from profiteering off of ridiculously inflated prices.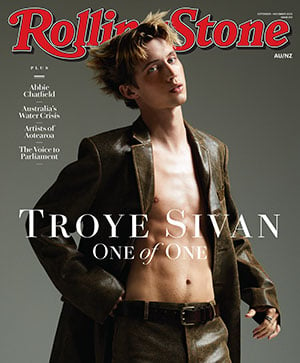 Get unlimited access to the coverage that shapes our culture.
Subscribe
to
Rolling Stone magazine
Subscribe
to
Rolling Stone magazine