Saturday breaks with sunshine-filled skies. For those who can recall last year's scorching temperatures, or the muddy apocalypse that was Meredith 2008, it's pleasing to see that this year's conditions are just right.
Courtney Barnett holds the coveted Saturday morning slot and she puts it to cracking use. Her backing band, including an unassuming Dan Luscombe on guitar, lay a sturdy foundation for Barnett's honest, deadpan vocal delivery that has her coming over all female Paul Kelly-esque.
There's plenty of material here to delight the receptive crowd, including the wry ode to gardening and panic attacks, 'Avant Gardener'. Believe the hype that surrounds this talented young lady.
Next is everyone's favourite Canadian joker, Mac DeMarco, and he's straight into it and 'Cooking Up Something Good' with his jovial, slacker indie pop.
The quick rush of people towards the stage for DeMarco's set is clear evidence of his growing popularity. The band cavort their way through the gritty glam rock notes of 'Rock And Roll Nightclub', the bristling, screaming 'I'm A Man', the warm, jangling 'Ode To Viceroy', and the melodic 'Takin' Care Of Business'.
DeMarco and co are a laid-back bunch. It's a performance that could be described as nonchalantly contained, with the odd soaring vocal or killer guitar riff modestly hinting at the great musicianship and vocal talent that lies within.
During 'Still Together', a saccharine pop rock number about "sweeeet, sweet love", DeMarco drawls and closes with a scorching guitar solo and a lengthy spot of crowd-surfing. And that, ladies and gentlemen, is how you earn yourself the illustrious shoe salute.
An Aussie punk rock explosion is next to hit the stage in the form of The Smith Street Band. Yes, their music may be of the variety beloved by teenage boys, but their energy is palpable. And the audience? They like.
The correct answer to the question "What did you think of Dick Diver?" was, "They were awesome/epic/amazing/insert other superlative here".
Prolonged off-key singing and a crappy mix are apparently negated by the band's eccentric, infectious guitar pop.
They've got charm, they've got laconic, layered vocals, they've got winsome backup dancers, and this cheery, upbeat act just goes to show that you don't need to play in tune to wind up as a clear crowd favourite.
If you are not allowed to dislike Dick Diver, then neither are you permitted to speak ill of New York wunderkind Joey Bada$$.
General consensus confirmed that the 18-year-old's authentic take on old-school rap ruled supreme, regardless of whether hip hop is, or ain't, your bag.
While The Bamboos and Helmet were doing their thing in the amphitheatre, many festival-goers were frolicking in Bush Camp at the impromptu Fruit Party. Kudos to the generous kids who, in the true spirit of Meredith, decked their marquee out in tropical fruit and grape garlands, passed around free cocktails, and threw an all-round awesome fiesta that had even Mac DeMarco stopping by for a stickybeak.
All this frivolity and the cooling temperature of the hazy evening sun seems to have prompted many revellers to carry out their housekeeping a little earlier than Aunty had scheduled, and as a result Beasts Of Bourbon's audience is much more modest in size than a band of their Aussie rock pedigree deserves.
Despite the thin turnout, the group fronted by everyone's favourite Aussie rock patriarch take the smallish crowd of loyal fans on a glorious swamp rock odyssey.
Tex Perkins' voice sounds like it has been hand-reared on a champion's diet of whiskey and gravel, Spencer P. Jones' playing is side-windingly spectacular, and tracks like 'I Don't Care About Nothing Anymore' and 'I Am Gone' make Beasts Of Bourbon this year's scene stealers.
The Aussie rock domination continues with a performance from indie rock stalwarts Spiderbait, with Kram leading the charge through 'Buy Me A Pony', 'Black Betty' et al.
Though they're slightly daggy in an endearing sort of way, you can't help be warmed by the collective nostalgia and good-natured bonhomie filling The Sup', especially when Kram sends out a heartfelt dedication to Meredith founder Chris Nolan before launching into 'Fucken Awesome'.
It's a fact universally acknowledged that Nile Rogers is a legend, Chic are the masters of funk  – including one lovely lady vocalist who has male pulses quickening across the amphitheatre – and their set is one long, solid gold groove-fest.
Since the late 70s Rodgers has been turning his producing and songwriting talents to a string of hits, and the festival's headline act has the amphitheatre boogieing their way through 'We Are Family' (Sister Sledge), 'I'm Coming Up' (Diana Ross), and 'Like A Virgin' (Madonna).
The cherry on top of the delectable funk extravaganza comes in the form of Bowie's 'Let's Dance' and the collective joy of the audience is tangibly channelled through that iconic, icy-cool riff. Feel the rhythm, check the ride, come on along, and have a real good time.
It's an impossible act to top, but Tranter does a great job of keeping the good times rolling with a well-curated selection of tracks in his bouncy DJ set (who doesn't love a 1am hip shake to Toto's 'Africa'?).
It's been an incredible day, it's morphing into an inimitable night, and there's nothing for it but to get jacked up on Pink Flamingo juice. Dance, drink, debauch, repeat.
And then, all too quickly, the party has peaked, the hangover of all hangovers has arrived, and it's Sunday, bloody (mary) Sunday.
Luckily salvation is on hand in the form of sonic sustenance from Beaches. These ladies of few words let their hazy, pared down alt-rock do the talking, and their psych-kraut notes nurse the weary, grimy festival-goers back to life.
The disorganised Meredith Gift means that there is an inordinate amount of waiting around before the yearly nude sprint gets underway.
Still, watching the nude 'athletes' stampede around the makeshift course is nothing if not a cheap thrill and does much to buoy a legion of hungover, strung-out punters.
The winner's prize seems paltry compared to previous years though – didn't the victor used to score a ticket to the following year's festival? A slab of beer and a pair of golden jocks seems like a poor man's reward in return for jiggling your naked bits around a running track for the amusement of rubbernecked onlookers. But hey, there's nakedness! Cheap thrills! It's all good.
It's hot, we're dirty, dusty, dishevelled, and it's with some relief that the MC who takes the stage to wrap up the proceedings encourages all still present to "Please, fuck off. Fuck. Off. Now."
Oh, we'll fuck off for now, Aunty, but you can count on one thing – we have had an absolute ball, and we'll be back, as eager as ever, to do it all again next year.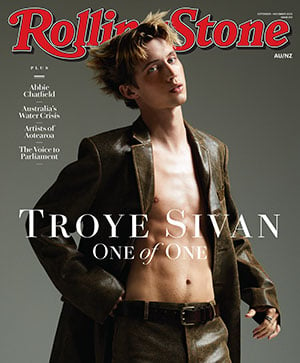 Get unlimited access to the coverage that shapes our culture.
Subscribe
to
Rolling Stone magazine
Subscribe
to
Rolling Stone magazine