It's 2023 and it's time to celebrate 40 Years of Morrissey. The man has hit the road like he hasn't done in ages, with new dates and countries being added with each passing week.  
Morrissey will be joined by his longtime guitarist/co-writer Jesse Tobias (who was a Red Hot Chili Pepper for one hot minute in 1993 before being replaced by Dave Navarro), Juan Galeano (bass, from Columbian outfit Diamante Eléctrico), Carmen Vandenberg (guitar, BONES UK), Camila Grey (keyboards, Rogues/Adam Lambert), and Brendan Buckley (drums, Perry Farrell/Shakira/Tegan & Sara/Miley Cyrus). 
The shows have so far proven to be a crowd-pleasing ride through the best of his four decades, from The Smiths to his solo work. In the past there's not necessarily been guarantees of Smiths classics, solo hits or fan favourites at Morrissey's shows, but the Manchester singer has been including all of those. 
"The brilliance of his wholly singular singing style and magnetic stage presence was never without a lingering caveat," noted the Yorkshire Evening Post of Morrissey's July 12th show at Millennium Square in Leeds. 
"Playing Leeds after the cancellation of a show in Nottingham "due to unforeseen circumstances," Morrissey displayed no indication of issues as he tore through an 18-song set replete with trademark chest baring, flower throwing and off-the-cuff remark making … it's hard to not be drawn in by his performance."  
To get you ready for his Australian tour, Tone Deaf looks at five certified Moz bangers that have highlighted his setlists thus far in the US and Europe.
Love Indie?
Get the latest Indie news, features, updates and giveaways straight to your inbox Learn more
"How Soon Is Now?"
Originally a 1984 B-side, "How Soon Is Now?" was featured on both the band's Hatful of Hollow compilation LP and the Australian pressing of their second album, Meat Is Murder, and was itself released as a single in 1985. The song was rarely played at Smiths concerts as the tremolo effect on Johnny Marr's guitar on the recording was difficult to replicate onstage during that era.
Marr has featured it in his sets in more recent years, but on this tour, Morrissey is well and truly owning it, singing "I am the son and still the heir."
"Please, Please, Please Let Me Get What I Want"
While it was the B-side of the 1984 single "William, It Was Really Nothing", Smiths fans adore "Please, Please, Please Let Me Get What I Want" as much as any of the band's alt-hits. The song has been covered on several occasions, most notably by UK trio The Dream Academy (think the 1984 single, "Life in a Northern Town") and an instrumental take of their version was used in the 1985 Matthew Broderick breakthrough film, Ferris Bueller's Day Off.
In 2012, A Journal of Musical Things rated "Please, Please, Please Let Me Get What I Want" at number one in its "Top Ten Most Depressing Alternative Rock Songs" list, which seems vastly unfair, given it is a thing of beauty that has truly stood the test of time.
"Stop Me If You Think You've Heard This One Before"
Written following the Hungerford Massacre (a shooting spree in the UK in which 27-year-old Michael Ryan killed 16 people) and banned by the BBC as a result, "Stop Me If You Think You've Heard This One Before" is from The Smiths' final album, Strangeways Here We Come, and was the last international single release before they announced their 1987 break up.
In 2020, Rolling Stone's Rob Sheffield rated it as the band's 14th best song in his mammoth 73-song ranking. 
"Suedehead"
Wasting no time in early 1988, Morrissey made an excellent start to his solo career with "Suedehead", the first single from his debut album Viva Hate (although the first Australian pressing of the album carried the different title, Education In Reverse).
While the wistful video pays tribute to the late James Dean, it's said that the song itself is about a figure from Morrissey's formative years, and he's never publicly disclosed just who that might be. 
"Everyday Is Like Sunday"
"Everyday Is Like Sunday", the second single released from Viva Hate, was co-written with album producer, Stephen Street. Musically, it felt like a classic from the get-go, with Street on bass, The Durutti Column's Vini O'Reilly on guitar, and Morrissey's voice crooning beautifully despite the song being about a drab English seaside town.
In Morrissey's 2014 Autobiography, he stated that R.E.M. singer Michael Stipe loved the song so much that it had him weighing up whether he should go solo. 
40 Years of Morrissey
Tickets available via livenation.com.au or livenation.co.nz
Friday, December 1st
Perth Concert Hall, Perth, WA
Monday, December 4th
Palais Theatre, Melbourne, VIC
Tuesday, December 5th
Palais Theatre, Melbourne, VIC
Friday, December 8th
Fortitude Music Hall, Brisbane, QLD
Sunday, December 10th
State Theatre, Sydney, NSW
Monday, December 11th
State Theatre, Sydney, NSW
Thursday, December 14th
The Civic, Auckland, NZ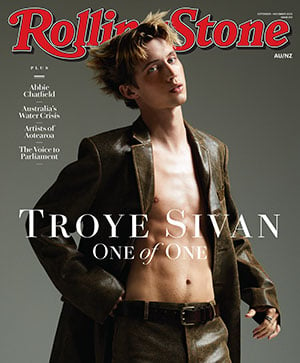 Get unlimited access to the coverage that shapes our culture.
Subscribe
to
Rolling Stone magazine
Subscribe
to
Rolling Stone magazine