The very idea of a farewell tour is pretty much a farce in this day and age. The term has been sullied by artists who announce retirement after retirement, hiatus after hiatus, pairing each with an increasingly lucrative outing that makes them rethink whether or not saying goodbye is such a great idea.
All things being equal, saying farewell could just be the best way to relaunch your career, and when you do eventually come back for another Okay, I'm Serious This Time, Guys, I'm Really Retiring World Tour, no one will complain because your fans enjoy seeing you so much.
That's why it was almost refreshing to see Mötley Crüe put their money where their mouths are, so to speak. Despite their reputation as the most excessive of the '80s glam metal bands — a scene known for its excess as much as its music — the band are legally bound never to tour again.
Between their herculean drug intake, appetite for women, and run-ins with the law, Mötley Crüe are as much symbols of the excessive '80s as Gordon Gekko and Charles Keating. But as much as we like hearing about all that stuff, no one wants to pay to see it on a stage.
Despite their status as the bad boys of rock and roll, not giving a fuck before it was cool, Mötley Crüe have always understood that a ticket is a contract between the fans and the band, agreeing that you'll give them everything they want to see and more (again, excess).
That's why few were even surprised to see drummer Tommy Lee ascend above the Melbourne crowd gathered inside Rod Laver Arena last night and begin to spin as though his drum riser had been taken hostage by some demented roller coaster ride come to life – the band have dubbed it the 'Crüecifly drum coaster'.
Impressive as it was, it was par for the course. After all, it's the Crüe we're talking about here, this is what the fans came to see. That, and flaming pentagrams, a fire-spitting bass guitar, buxom backup dancers, fireworks, and all manner of other pyrotechnics.
Oh, and there was music, too, of course. But before one gets to all that, a history lesson is in order. This is where Alice Cooper comes in. The pairing of Mötley Crüe with Cooper essentially gave everyone gathered in Rod Laver Arena a crash course in shock rock with its two greatest exponents.
Cooper's set was lean and consisted solely of hits that the audience would be familiar with from their extensive use in popular culture, if not the timeless records on which they first appeared. Cooper is a consummate showman precisely because he knows what people want to see.
Cooper's voice holds true throughout 'I'm Eighteen', 'Billion Dollar Babies', 'Poison', and 'Welcome to My Nightmare', and his band, which consists of a dirty-glamourous set of international musicians, all prodigiously talented and packing rock flare in spades.
Like Crüe, the godfather of shock rock has pulled out all the stops for this tour. 'Feed My Frankenstein' sees him electrocuted upon a table before a giant Frankenstein effigy comes out to sing the final chorus. During 'Ballad of Dwight Fry', he's entangled in a straight jacket before he's executed amid a performance of 'I Love the Dead'.
Soon it's time for Mötley Crüe to take hold of the torch, quite literally. As Vince Neil struts across the stage, Nikki Sixx sings into a roof-suspended mic adorned with a highly flammable pentagram, Tommy Lee provides diesel-powered rhythmic backbone, and Mick Mars cuts a solemn figure, face obscured by the shadow of his top hat.
Much like Cooper, their set sticks to the hits and doesn't stray too deeply into their catalog. After a quick spiel from Neil, the band show off their love for punk with a fairly ramshackle cover of the Sex Pistols classic 'Anarchy in the U.K.' which has the whole crowd pumping their fists.
Neil's voice isn't what it used to be and the high notes are taken care of by the crowd or two backup singers cum dancers, who also provide ample eye candy, when attentions aren't being captured by the high-rise pyrotechnics or extensive light setup.
They run through all of the fan favourites — 'Same Ol' Situation (S.O.S.)', 'Looks That Kill', 'Too Fast for Love', 'Dr. Feelgood', a blazing rendition of 'Shout at the Devil', 'Live Wire', 'Girls, Girls, Girls', and 'Kickstart My Heart' — before a largely crowd-sung version of 'Home Sweet Home' on the band's B-stage.
The performance was the culmination of more than 30 years of excess, instilling their antics with a certain poetic grace. Giving the fans all they could possibly want and more is the name of Mötley Crüe's game and it's the only way they could ever truly say 'farewell'.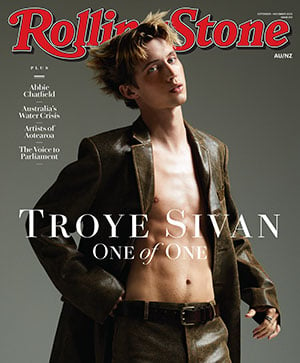 Get unlimited access to the coverage that shapes our culture.
Subscribe
to
Rolling Stone magazine
Subscribe
to
Rolling Stone magazine