Far too often true musical pioneers become forgotten heroes and the music they played such a part in creating is forgotten along with them. Music Maker Foundation are fighting the good fight to keep the blues and southern roots music alive and pay homage to these incredible musicians.
This inspired and inspiring non-profit North American organisation is dedicated to give back to the roots of American music. After truly moving, humbling and beautiful performances over the years at Bluesfest, everyone knew 2013 would be the year to take this incredible foundation on the road. This year we'll be presenting The Music Maker Blues Revue featuring Boogie Woogie legend Ironing Board Sam, Guitar slinging siren Pat Wilder, Alabama bluesman Dr. Burt and Zydeco giant Major Handy, with Albert White, Nashid Abdul Khaaliq and Ardie Dean.
Ironing Board Sam, a singer, songwriter and piano player, was a house musician on the first televised African-American music revue called "Night Train" and then became one of the best-loved entertainers on the Crescent City's music scene.
Dr. G. B. Burt plays his twelve-string guitar with his own special tuning, morphing his guitar into the raw sound similar to that of an organ or a piano accompanying his haunting vocals that mesmerises audiences the world over. "At 72 the door has opened for me." He claims and when we hear his music, he reciprocates opening and reopening the door to a totally traditional, totally original musical world.
Pat Wilder's musical foundation is rooted in jazz, rock, R&B, blues and gospel and is known as "one of the most exciting blues guitarists/vocalists to come out of the bay area in a long time." – Lee Hildebrand, The San Francisco Bay Guardian.
Major Handy's 40-year career in music, playing the accordion and the guitar, has seen him touring much of the world and fronting many of his own bands. With his career long and varied, Handy is not sure how many 45s were released under his name, but it was not until late 2009 that he released the album Zydeco Feeling and began to gain international attention.
Albert White, from Atlanta, G.A., has toured Europe with the Music Maker Blues Revue and frequently plays festivals with former band-mate Beverly "Guitar" Watkins.
Nashid Abdul Khaaliq, is one of the great versatile bass players, graduating from Berkeley College of Music, playing bass with Muddy Water's son Big Bill Morganfield as well as releasing an incredible Jazz album.
Ardie Dean has drummed for Ernie K-Doe, Bo Diddley, Jerry McCain, Greg Allman, Taj Mahal, and Henry Grey since he began playing the blues in 1969.
For more information visit: www.musicmaker.org
MUSIC MAKER BLUES REVUE
Australian Tour Dates
Tickets $40 +bf – on sale 9am 23 Jan
Details at www.bluesfesttouring.com.au
Wed 27 March – Northcote Social Club – MELBOURNE
www.northcotesocialclub.com/
Thur 28 March – Blue Beat – SYDNEY
www.bluebeat.com.au/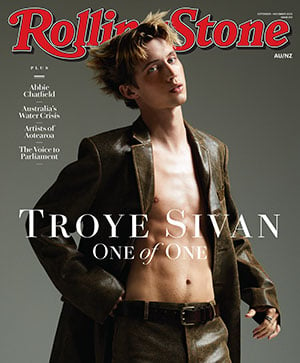 Get unlimited access to the coverage that shapes our culture.
Subscribe
to
Rolling Stone magazine
Subscribe
to
Rolling Stone magazine