If I asked you to picture Nathan Cavaleri, it's almost certain that you would picture a cute ten-year-old, possibly with a gelled, grown out spike haircut and a denim jacket. Not surprisingly, Cavaleri is no longer a ten year old (spoiler!), and has been touring as a musician with his own band Nat Col and the Kings for well over a decade – a band that was previously titled The Dirty Skanks, before they probably realised there's a limit to the shows you can book with that name.
But it's the younger version of Cavaleri we are here to discuss, thanks to a post he wrote reminiscing about jamming with Diesel, including one time he screwed up at the Australian Music Awards. He writes:
"Everything was going great, until I was taught my first major lesson in jamming.
"For the most part of blues music, common jam ethics says that the guy who is soloing will decide when he's done. Generally it's a couple of rounds of twelve, this allows for a good climax. But nobody fucking told me that! Diesel takes his solo and towards the end of only one round of twelve, his licks were coming to a climax. He went for another round and I cut him off and didn't stop. Ouch! When practicing, my dad would "play" Diesel and only take one round. That's what I was used to. He knew as little as I did about jam ethics. Any guitarist could watch that clip and see that it was the most obvious "cut off" ever! Diesel's retreat was classic. How fucking embarrassing. Great first impression numb nuts!"
Elsewhere he recalls playing his first gig, supporting Jimmy Barnes and Diesel, in front of thousands of people.
"Four feet of me backed by two bricklayers and the drum tech would play to thousands of drunk and rowdy Jimmy and Diesel fans. I played the first gig humbly with hesitance. The stages were mostly entertainment centres. Huge! It was nothing like busking or playing on TV.
"After every set, I'd stand side of stage with the Barnes kids and watch Diesel and Jimmy do their thing. I couldn't help but absorb it all. From the clothes they wore, to the way they interacted with the crowd. The way they charged onto the stage and played and sung every note like it was their last. Guitars slinging 20 feet in the air in between songs. The energy coming from the band. The dynamic fluctuations in the set. Lights. Sweat. Horns. Backing singers. The lot. They weren't just playing the songs. It was a full show from start to finish. Everything had a purpose. They took every single soul in that room to the moon and back.
It wasn't long before I was wearing sleeveless white shirts, a chain around my neck and a tub of "mud" in my hair. I found a ball of fire within myself that launched me miles above self-doubt onto the stage with purpose."
He recalls another time, when he fluffed a solo on stage with Diesel.
"During the years that followed, Diesel would bring me up at the end of his sets to jam over Crying Shame. The first time was a fucking disaster. My cue to walk on stage had arrived, the guitar tech dropped Diesel's Les Paul on me without adjusting the strap. So I'm playing this beast, stringed with 13's (to me, fencing wire), down around my knees. When he gives me the nod to rip up a solo, all I could hear were bum notes! Thinking that I was in the wrong key I yelled, "What key?" and he says, "E". But for some reason I thought he says "A". So I shift to "A", and it's sounding even worse. He keeps yelling "E!! E!!!". And I'm still hearing, "A! A!" FUCK!
"So, bit by bit I retreat back to my amp, turn my volume down a little, but he thinks that I'm getting shy. So like a lion with a cub, he pushes me with his shoulders toward the front row. I resist, but he doesn't let up. I'm sliding in the direction I don't want to go. To a confident performer, the front row are people who are high on music. To an 11-year-old guitarist playing in the wrong key, they were vampires waiting to drink my blood for messing up the song! But, I found one note that seemed to work, so I just kept hammering it. The crowd were responding so it couldn't have been too bad."
Read the entire post here.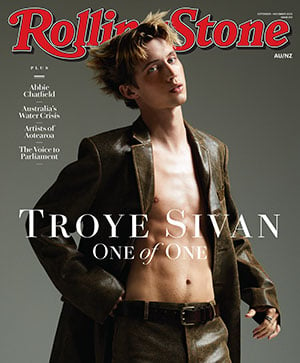 Get unlimited access to the coverage that shapes our culture.
Subscribe
to
Rolling Stone magazine
Subscribe
to
Rolling Stone magazine