What a busy week it's been for Neil Young…
In the lead-up the Canadian musician's newest album Psychedelic Pill, due October 29 and his first (aside from Americana earlier this) with legendary backing band Crazy Horse since 2009, Young confessed – in his new memoirs – that the death of good friend and grunge icon, Kurt Cobain 'fucked him up'.
But that's not even the biggest news, with the unveiling that the singer-songwriter has announced his plans to battle Apple for portable music supremacy with a new music player that focuses on audio fidelity, letting music lovers hear music the way it was intended to be heard.
Appearing on The Late Show with David Letterman, the musical icon unveiled his new work of art: digital music player Pono. Expected to launch next year, Pono will offer a music download store, a line of portable music players, but most importantly, a revolutionary approach to the way we listen to our favorite tracks.
Young has been busy developing a high-resolution portable music device for fans of analogue quality sounds, with practicality being the key feature. The device will enable users to convert their digital music catalogue into high quality analogue tracks, with the intention to bring listeners the true sounds of the recordings, fresh from the studio. Fitting nicely into the pocket, the Pono is out to combat the monopoly currently held by portable music giant, the iPod.
But this was not always Young's intention. Rolling Stone reports Young to have approached Apple with the concept of providing fans with high quality tracks.  "I have consistently reached out to try to assist Apple with true audio quality, and I have even shared my high-resolution masters with them."
Young said that he traded emails and phone calls with Apple CEO Steve Jobs about Pono before the tech king's death last October. Apple declined to comment on whether a collaborative or competitive relationship with Pono exists.
While Young acknowledges in his new memoirs, Waging Heavy Peace – so named from a response Young gave to the question of whether he was declaring war on Apple – that current digital media will play on Pono devices, he did outline that his service "will force iTunes to be better and to improve quality at a faster pace."
Young's development team consisted of numerous analogue music enthusists, including Craig Kallman, chairman of Atlantic Records. The pair came together in mid-2011 to start developing the product and since then has gained a large industry following.
Kallman, speaking to Rolling Stone, said: "This has to be an industry-wide solution. This is not about competing – this is about us being proactive… This is all about purely the opportunity to bring the technology to the table."
Contrasting Apple's lack of interest, Warner Music Group, Atlantic's parent company, is excited about the prospect of having a high-resolution digital catalogue.
The industry heavyweight has already signed on for the Pono project, with other record company competitors sitting up and taking notice, most interestingly two more of the 'big four', Sony and Universal.
Warner Music Group currently has over 8,000 songs, transferred from high quality analogue tracks on standby, awaiting the arrival of the Neil Young's new digital music player.
Not only has Young received a backlog of support from industry experts, the Pono is generating a list of musicians pledging support for the analogue device.
Red Hot Chili Peppers bassist, Flea, has thrown his support behind the product and a strong believer in providing listeners with the highest quality musical productions.
The Australian born bassist was "stunned" after hearing the quality of Aretha Franklin's ​'Respect' playing through Young's gizmo, ​but also excited at the prospect of hearing more favourites being produced of that quality. "It's not like some vague thing that you need dogs' ears to hear. It's a drastic difference" Flea said.
Yong also showed off his new music player to members of Mumford & Sons and My Morning Jacket at Bonnaroo last year. My Morning Jacket frontman Jim James said that he was excited by the product's potential, and that Young's "premise was cool," but was sceptical about its necessity. "I think that's somewhere that he has to be careful: I've already bought Aretha Franklin's 'Respect' a lot of times. Do I have to buy it again?"
The support thrown behind the Pono from musicians will no doubt prove dividends for Young, who has placed focus on providing the utmost best product possible, rather than solely focusing on business. Many other companies have waged war on the iPod, hoping to snare a share of the market, however, many have attempted to emulate, rather than recreate. This is where Young has capitalized.
In related news, Young headlined the New York based Global Music Festival, a music event designed to use social media and a ticket ballot to fight global poverty, which featured an all-star bill, including Foo Fighters, The Black Keys and Young's band, Crazy Horse.
Crowds were blessed with an onstage spectacular, as Young closed his set by calling up Foo Fighters frontman Dave Grohl alongside Black Keys guitarist Dan Auerbach to jam alongside him; a once in a blue moon event which entertained 60,000 lucky crowd members and streamed live to millions worldwide.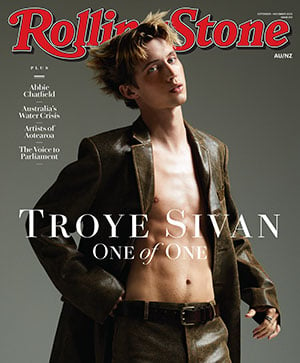 Get unlimited access to the coverage that shapes our culture.
Subscribe
to
Rolling Stone magazine
Subscribe
to
Rolling Stone magazine