Wanna hear the brand new single from Cut Copy? Well, congratulations if you live in rural Western Australia. Bad luck, if you live anywhere else.
The Melbourne electrowave quartet have unveiled a brand new track to the world, entitled 'Free Your Mind', from their forthcoming new, but in the vein of the guerilla release for 'Let Me Show You' in July, it was through a rather obscure means that sent fans on a wild goose chase to six specific global locations to hear the new tune.
Fans needed to follow co-ordinates posted by the band on their social media accounts giving specific Google Maps locations to unlock the new track via cutcopy.net through their smartphone.
In Australia, the listening location was at Moora, located 200km north of Perth, while extra locations were available at obscure locations around the world in Mexico City, Chile, Detroit, a small town in South Wales, and the Californian desert in the US.
Diehards who headed to the 'Free Your Mind' billboard locations around the world posted their reactions on Cut Copy's Facebook page, mostly to positive reviews, while others vented their frustrations at not being able to hear the new track. "Nice idea, however it's a pretentious one too," wrote one commenter, while others lamented, "someone leak the song please." This of course being the digital age, it wasn't long before someone obliged.
At first listen, 'Free Your Mind' follows in the '90s rave' vein of 'Let Me Show You', featuring canny piano lines, layers of tropical percussion, gospel vocal samples, Dan Whitford's laconic croon, and a dance groove that shows that the band have probably been poring over their copy of Primal Scream's e-fuelled 90s cornerstone, Screamadelica. 
The 'Free Your Mind' marketing campaign that sent fans scurrying to specific locations continues Cut Copy's bizarrely original marketing tactics for their new, as-yet untitled studio album, which seems to be part of an overall trend towards global debuts (such as Kanye West projecting his face on buildings, Boards Of Canada's mystery vinyl and desert listening party, and Arcade Fire's Reflektor ad campaign).
The lead single, 'Let Me Show You', was originally released at the Chicago-based Pitchfork Music Festival in July where copies of the single were printed onto a limited run of 120 12" vinyl copies and selling them exclusively at the CHIRP Record Fair at the festival – marking the band's first recorded work since their 2011 Zonoscope album.
The limited edition press of the Modular label darlings' new single made it an instant collector's item, with each lucky fan that managed to buy a copy of the new dance jam getting their name engraved into the wax. Cut Copy then produced a rather hypnotic (but eye straining) music video for 'Let Me Show You', which came complete with an epilepsy warning.
Details on the band's new studio album are slim, but earlier in the year the four-piece had been working on mixes for a fourth album in New York, with a slated October release. The four-piece also debuted another new song called 'Explorers' live earlier in the year as part of a string of American headline shows, as SPIN reports, but aside from international touring, an Australian gig from the Melbourne electro-wave group has been a long time coming (aside from a few DJ sets here and there).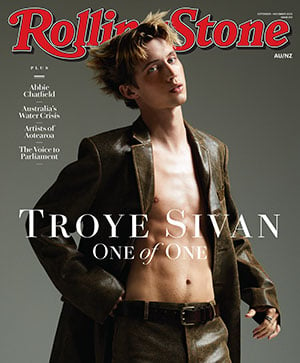 Get unlimited access to the coverage that shapes our culture.
Subscribe
to
Rolling Stone magazine
Subscribe
to
Rolling Stone magazine