Following the South Australian government's recent introduction of hefty new liquor licensing fees, with new tariffs for late night venues; vastly affecting the business and culture of many Adelaide-based clubs and live music venues, New South Wales now looks dangerously to follow suit.
The Shout points out that the Foundation for Alcohol Research and Education (FARE) has revealed a ten-point plan to offer the NSW Government to 'Reduce Alcohol Harm' in the state.
The plan was commissioned by FARE's chief executive, Michael Thorn, who indicates that alcohol-related violence affects 34% of people in NSW, saying that the state government is "at the crossroads", saying that the new licensing and alcohol-serving restrictions for Kings Cross proposed by NSW Premier Barry O'Farrell do not go far enough.
Following the death of teenager Thomas Kelly in a senseless attack in Sydney's King Cross last month, the issue of alcohol-related violence has become a political platform for pokie-lined pub venues and politicians alike.
Thorn and FARE propose that the implementation of their ten-point plan across the state will help reduce such incidents. "The people of NSW know only too well the devastating effects of alcohol use and misuse and they also understand that those harms extend beyond the drinker and impact people in the broader community," says Thorn.
Adding that, "now is the time for the Premier to implement positive alcohol policy reforms that would address the concerns of the wider community and result in a safer and healthier NSW."
FARE's proposal includes more public consultation and control on new liquor applications, as well as supporting the introduction of more late night transport in high density areas – like Sydney's Kings Cross – with licensing times factored into these crowd management schemes.
Among the ten-point plan is a call for banning the sale of shots in bars, a limit on the number of purchases per patron and prohibiting the sale of particular mixed drinks after 10pm.
The biggest potential affect these restrictive new laws has on the live music scene is in calling for late night hours being stunted to 3am, with a 1am lockout for pubs and clubs across the state.
FARE wants to roll out a 12-month trial period that it wants "independently evaluated to ascertain the social, health, crime and economic effects of these trading controls." The controversial scheme also includes a "risk-based licensing fee" on venues to contribute to the cost of alcohol-related harm.
Last not but not least, the ten-point plan proposes there are "too many licensed venues in NSW" to begin with, calling for a "cluster controls" policy. FARE proposes licenses should not be issued in areas perceived to already have a high density of venues, which could potentially have a devastating effect on music venues – as scarce enough as they are – having to compete for liquor licenses, which help draw the crowds, from other local venues.
The ten-point-plan has a number of similarities with working group set up a few months ago at the instigation of NSW Police Commissioner Andrew Scipione and backed by Premier O'Farrell.
The group recommended to the government that bars and clubs should be forced to renew their liquor licences every year, and that 1am or 2am lockouts should be enforced across New South Wales. Police have publicly backed extending the early-morning lockouts that have driven down violence in Newcastle, where patrons are not allowed to enter bars after 1am.
The introduction of the SA Government's changes to liquor licensing had damaging effects to the Adelaide CBD and its live music scene, causing backlash from venue owners opposing the changes and contributing to the closure of venues – like The Crown And Sceptre in July.
Sydney's live music scene arguably has enough troubles as it is without further aggravation from government intervention as it is. Including the current controversy surrounding The Sando going into receivership and accusing bank creditors with shifty practises.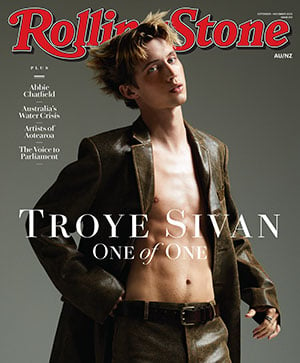 Get unlimited access to the coverage that shapes our culture.
Subscribe
to
Rolling Stone magazine
Subscribe
to
Rolling Stone magazine