US-based artist Olivia Neutron-John has announced a name change in the works, after being hit by a cease and desist letter from the project's namesake.
Throughout music history, we've often seen projects drawing inspiration from real-life figures and even name-checking them in their musical monikers.
Why, we've seen the likes of The Tony Danza Tapdance Extravaganza, Dale Earnhardt Jr. Jr., Andrew Jackson Jihad, and even the Butthole Surfers, who once went by Kathleen Turner Overdrive.
However, in all of these cases, the inspiration for the name has managed to see the lighter side of the situation, chuckling at the fact they've managed to serve as an origin for some humorous band names.
One person who isn't laughing though is Olivia Newton-John, who recently put a similarly-named American musician in her sights.
If you've paid attention to some of the musical tastemaker sites in recent years, then you might have heard of Olivia Neutron-John, the name of Anna Nasty's music project.
Self-describing their music as "post-bro", Olivia Neutron-John has released some rather eclectic tunes over the years, with a self-titled EP receiving praise across the board earlier this year.
Sadly, a recent New York City show will serve as the farewell of Olivia Neutron-John, with a reinvention and name change on the horizon.
Taking to Instagram earlier today, Anna Nasty revealed that they will no longer be using their humorous, yet apparently controversial, moniker from here on in.
"The show with Stereolab at Brooklyn Steel was my last show as Olivia Neutron-John," they wrote on Instagram. "I thought about booking a goodbye show, but I couldn't have planned a better way to go out.
"In July, before the record had even been out for two months, I received a cease & desist from Olivia Newton-John's legal team. Because I have very limited resources, I was unable to fight it.
"I am going to take this as an opportunity to step back and reinvent. Although it has been very difficult and emotional closing this chapter of my life, I'm excited for a new beginning. I'll be back again, under another name. Thank you again for everything. It's been such an incredible year."
While the exact reason for Olivia Newton-John serving the US artist with a cease and desist letter is unclear, we can only the acting icon either saw the musician as a point of confusion for potential fans, or just didn't quite get the joke.
Fans on Instagram have been quick to suggest new names, including John Travoltage, which we reckon is probably a good compromise until new legal threats are incoming.
Check out 'March' by Olivia Neutron-John: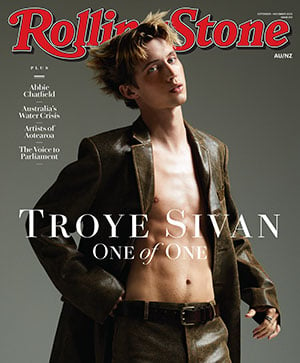 Get unlimited access to the coverage that shapes our culture.
Subscribe
to
Rolling Stone magazine
Subscribe
to
Rolling Stone magazine