Calling in to chat to Omar Rodriquez-Lopez, one expects to be passed from manager to a few other various assistants, put on hold and eventually being connected to the artist.
In this case, the guitarist/actor/director/composer surprisingly answers his own phone with a chirpy "yes, this is Omar."
Not only does he take his own calls, Rodriguez-Lopez quickly proves himself to be an intense, passionate and wildly intelligent soul.
Bouncing from the critically acclaimed At The Drive-In, to The Mars Volta with ATD-I bandmate Cedric Bixler-Zavala, and then onto his own solo projects. His most recent project, Bosnian Rainbows, is quickly gaining momentum not to mention a solid following during their first Australian tour.
Having recently visited Australia in July this year for the anticipated At The Drive-In reunion shows at Splendour In The Grass, Rodriguez-Lopez is quick to point out that the experience is much different this time around.
"One show is not the same as a tour," he begins. "When you do these one-off shows you don't really get to see anything or go through the process of enjoying that like a real tour around the country. The last time I toured Australia was last December so it's almost a year later and so I'm crazy to go back, for me it has been too long."
For the Rodriguez-Lopez, it's as much about catching the in-between moments of transit. "Even if you're doing a smaller tour and you have to be on the go the whole time to make it work, just being in the van for those long drives and actually seeing the countryside – it might sound like 'whatever' to somebody else, but it is such a defining part in the experience of travelling the country. "
After touring extensively as the Omar Rodriquez-Lopez Group, this tour sees the maiden voyage of Bosnian Rainbows, a prospect which excites the guitarist. "I have put together a whole new group that I will be pretty much touring indefinitely.""I'm not a musician, I'm not anything really, all I can aspire to is to be everything."
The lineup consists of Le Butcherettes' Teri Gender Bender (Le Butcherettes), current Mars Volta drumming wizard Deantoni Parks, and Nicci Kasper "who is sort of this New York City legend of electronic and hip hop music," explains the ringleader.
While Rodriguez-Lopez may be happy to describe the act as "a four piece, very stripped down affair," the combination of his energetic, frenzied playing style coupled with Teri Gender Bender's ferocious stage presence is nothing short of electrifying.
The new group has also put on a different spin on the way the guitarist crafts his sound. "I think the sound changed just depending on whatever mood I was in or what material I wanted to play. Now, definitely with this new group, the sound will have a new spark to it because it is a whole new, exciting experience, it is collaborative and it's a whole different type of energy," he explains.
He concedes that "I've spent the last 11 years just doing whatever I wanted or just sort of dictating the parameters of everything, having things very set and controlled."
2012 has also seen Rodriguez-Lopez indulge his other passion: filmmaking. His most recent offering Los Chidos, is making its Australian debut at the Hola Mexico Film Festival.
Relishing the different experience he admits "it's nice to take a break from touring. For me it's all the same I guess. I'm not a musician, I'm not anything really, all I can aspire to is to be everything. It's a really nice change of pace because it is a whole different experience and you live in a very different way."
As far as getting into creating cinema, Rodriguez-Lopez says simply: "it is always what I wanted to do… Filmmaking was just something that always spoke to me since I was little."
"I made my first film in 2001 and I have been making films since," says Rodriguez-Lopez, "It's nice too because after the film is made you can go travel to the places."
With a fatigue inducing touring schedule, as well as a seemingly endless creative output, one would be forgiven for thinking Rodriguez-Lopez is at best – a workaholic, at worst – a control freak.
According to the man himself he is neither. "I take lots of breaks from it. I know there is this outside perception, I get asked this a lot – 'when do you have time to sleep'?" he laughs.
"The point I want to make is that I have all the time in the world. I mean I make films, I make music, I write books, I have wonderful conversations with people, I have hours of just sitting there staring at trees, I go to the beach, I have days off just sitting in and literally doing nothing; all that stuff that anyone sane does. The point that I want to make is that it's not that I do a lot of stuff – others do very little."
He elaborates, "that gives the perception that I'm working all the time but it is again just going back to this media fed stereotype of a record being made every three years, and then you have me, and I put out eight records a year and people think 'oh my god, you do so much' but it's like 'no, those guys put out one record in three years'. It's crazy, it's fucked up."
"Just think about it," he stresses, "most of us who have been lucky enough to play music for a living now, we were doing it since we were kids or teenagers and everybody was telling us that 'You have to decide on your major, you have to decide on what it is you're going to do in life' and then one day a person comes to you and says 'do you know what? We're going to pay you to do music, you can do music for the rest of your life'- what would you do? Would make one record every three years or would you make eight records in a year? What sounds healthier?" The 37 year-old asks incredulously.
"There are 12 months a year, 365 days, 24 hours in a day. I have been making records for 19 years, if it takes you more than a month to make a record, you might want to consider a different profession."
"There are 12 months a year, 365 days, 24 hours in a day. I have been making records for 19 years, if it takes you more than a month to make a record, you might want to consider a different profession," says the guitarist bluntly.
"It all comes down to parameters and why people are doing what they're doing. I make records, I make films and I have plenty of time for my family, for doing nothing, for doing something, for going out and seeing a movie – you know?"
So what is it that spurs on the never ending creative well? "Death."
Perhaps realising the finality of his statement, he goes on to clarify the point. "Like everyone else, it is death and the fear of death and love and sex, the same things that drive everyone else. The only people who aren't expressive or creative are the people who are really, really suffering. That is the kind of guy or girl that ends up lashing out at the world and creating a lot of destruction. Destruction can be walking into a mall with a gun or drinking yourself to death."
Rodriguez-Lopez waxes philosophical as the call comes to an end. "We are all trapped inside these bodies and we are all confined by language and by culture, and yet we are all having the same worries and the same thoughts and the same penetrating questions like 'What is death? What comes after?' so we each start to pick something to believe in," explains the musician.
"I happen to have picked existence" he pauses, appearing to weigh up what he has just said, and then laughs loudly "people are only limited by what they see."
For Omar Rodriguez-Lopez' many ventures, head to rodriguezlopezproductions.com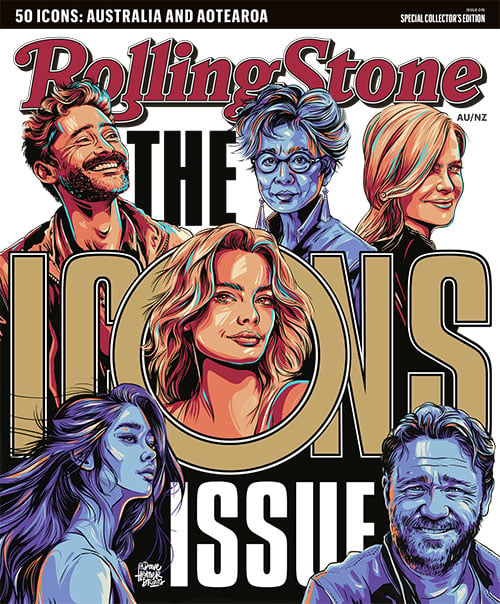 Get unlimited access to the coverage that shapes our culture.
Subscribe
to
Rolling Stone magazine
Subscribe
to
Rolling Stone magazine